In Defense of Being Basic
It's time for the term to die.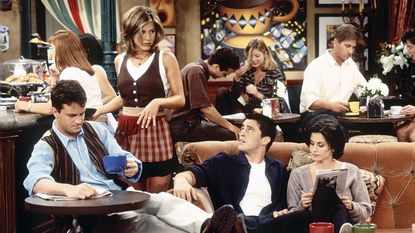 (Image credit: NBC)
It all started with a glittery phone case. A colleague walked by my desk one day and saw me holding it—a bright, girly, polka-dotted thing I actually like a lot. "Could you bitches be any more basic?" she blurted.
By common cultural wisdom, to be basic is bad. And I never thought I *was* basic. I never Instagram my misspelled name on my Starbucks cup. I layer cool edgy shows into my traditional TV-watching fare. I am complex! I am interesting!
But you know what? Being interesting is exhausting, especially in New York City. I dutifully attend Tilda Swinton-esque modern art exhibits, or stay awake on Saturday nights to locate underground clubs in back alleys of Chinatown. I push myself through reading obscure Roman poetry. And for whose benefit? If I'm really honest with myself, the majority of these things aren't fun.
It wasn't always like this. I grew up on the east side of Las Vegas and all I wanted was to fit in with everyone else. I desperately wanted to afford JNCO jeans and a wallet chain so I would resemble the predominant skater culture. I wanted a different last name and an accent, so I could sound like the kids in my neighborhood. Like so many teenagers, my goal wasn't to be interesting. It was to blend in. When did that change?
Being seen as basic—or accepting of and interested in mainstream, popular culture—is the bane of the modern woman. (Though sidenote: Why is it okay for men to be basic, with their celebrated universal love of sports/beer/big boobs/dad jeans?). But if our perceptions shifted once, I would like to propose they shift again. Things are popular for a reason. Friends was a hit because it's actually really funny. My glittery phone case is a bestseller because it's actually really cute.
Sure, let's go ahead and sign up for the erudite or complex pursuits because they intrigue, excite, or challenge us—but let's not do them just because we're scared of what it might mean if we cave to the mainstream. To things we, you know, enjoy.
In fact, consider the popularity of your habits as a privilege. Taylor Swift is a heck of a girl-power symbol, and her songs are just really damn catchy. Fro-yo is delightful in the summer, and Uggs are a necessary source of relief when it's bitterly cold. If you can afford to buy into that stuff, which many people can't, you should feel lucky.
And if you ever need a reminder, look for me among the scores of brunette Manhattanites. I'll be the one getting a blowout at Drybar while drinking a pumpkin-spiced latte. #blessed.
Chelsey Sanchez is the Associate Social Media and News Editor for Harper's BAZAAR, where she covers politics, social movements, and pop culture. She lives in New York City.