TV's New Revolutionary: How Jill Soloway Is Singlehandedly Changing the Game
Step aside, boys. With the second season of her groundbreaking Amazon series, 'Transparent', premiering in December, Soloway is flexing her newfound clout.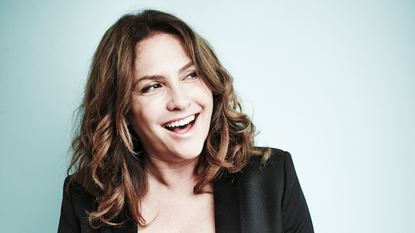 (Image credit: archives)
"Can we just, like, have a dance party?" Jill Soloway asks the cast and crew of Transparent, who just found out this morning that their show has been nominated for 11 Emmy Awards. And with that, Sia's "Chandelier" starts blasting from an amp in the corner of the room, and everyone is on their feet. Technically, this is a workday. The cast has gathered to read the script for an episode shooting in a few hours, and the editors, writers, and others who make the show tick are here, too.
But the atmosphere is more family reunion than office party—one writer has brought her newborn. Soloway's son, Isaac, is here (she also has a 7-year-old, Felix, with Bruce Gilbert, the show's music supervisor, whom she married in 2011). And Joe Lewis, the head of comedy for Amazon Studios, has Skyped in for the occasion. In black-and-white platform sandals, black jeans, and a blue blazer, Soloway, who earned Emmy nominations in the comedy series writing and directing categories, is dancing harder than anyone.
"I mean, what the hell, guys?!" she says after the music dies down and the cheers have subsided. "There's nothing to say. I remember telling people I sold a series to Amazon and them saying, 'Cool, I'll look out for your Web series.'" The joke being, of course, that while Transparent is produced by Amazon Studios and distributed on the company's streaming video platform, it is a far cry from your average amateur Web series. Now filming its second season, it won a Golden Globe last year for Best TV Series, Musical or Comedy, the first streaming show to do so.
The 11 Emmy nominations are further confirmation that Soloway's unorthodox style as a boss and a director make her a force to be reckoned with. "This is how I spell 11," she says, holding up two middle fingers, to another round of applause. (The show went on to win five, including Soloway's Emmy for Outstanding Directing for a Comedy Series.)
At 50, Soloway has only begun to realize her vision for feminist storytelling. After earning a communication arts degree at the University of Wisconsin-Madison, she got her start producing hilarious stage shows like The Real Live Brady Bunch and spent 10 years as a TV writer for series like Six Feet Under and United States of Tara. But she always knew she wanted to direct and run her own show. After watching Lena Dunham translate indie-movie success to the HBO series Girls, Soloway decided to try a similar path. She made a short film called Una Hora Por Favora and took it to Sundance in 2012. When handed her festival badge, it was the first time she'd seen her name with the word director underneath it, and it made her hunger for even greater things. The following year, she made the feature-length independent film Afternoon Delight, about a married mom who befriends a young exotic dancer and upends her life in the process.
Soloway was inspired to create Transparent when her own parent came out as transgender, around the time of her first trip to Sundance as a director. She knew right away that she'd found the theme of her future show. "I don't know what would've happened if my parent hadn't come out," she says. "I think I would've continued to be a filmmaker, but my work would have had blind spots in it. And big ideas don't really have room for blind spots."
Transparent seems especially ambitious because it comes at a time when transgender issues are gaining political prominence. The show is about the Pfefferman family, but it centers on Maura Pfefferman—played by Jeffrey Tambor, whom Soloway cast, in part, because he looks so much like her own parent. Maura, in her late 60s, has just begun to transition from living as a man to living as a woman. Her story is deeper and more complex than the tabloid treatment often given to transgender celebrities like Caitlyn Jenner.
In season two, which premieres December 4, Soloway promises Maura is going to be less heroic and more human. "There is absolutely a social-justice mission to what we do in addition to creating art," says Zackary Drucker, who, along with her partner, Rhys Ernst, was hired by Soloway as a consultant to ensure the show was portraying transgender lives authentically. "Jill's really shown herself to be such a huge ally to the community."
"It's about the chances Jill Soloway gives people," says actress Cherry Jones, who appears in season two, addressing the group at the table read. Transparent has more transgender and gender-nonconforming people (36) in its cast and crew than any other show in television history. One of the show's nine writers, Ali Liebegott, was a novelist working at a grocery store until Soloway asked if she wanted a TV writing job. Nearly everyone, from the leading actors to the assistant editors, describes working on Transparent as the most exciting experience of their entire career. "She starts every big shooting day with an inspirational speech," says costume designer Marie Schley. "She directs and leads from a place of gratitude." Adds Liebegott, "We all are very vulnerable with each other."
Much of this is due to Soloway's directing process. Tambor calls her "a great alchemist," meaning she gets the right people in the room and allows the magic to happen. Which isn't to say they don't work hard. Other shows must stick to the script, but not this one. "It's one of the greatest sets I've ever been on," Tambor says. "There's not a heart or a mind that's not turned to what we're doing." If a scene that seemed good on paper isn't translating on camera, the actors and writers and Soloway will rework it again and again.
"It's like, you're chasing a feeling and whatever we have to do to arrive at this feeling is what is right," explains actor Jay Duplass, who plays Josh Pfefferman. "That's something that Jill has refined along the way."
A few days after the celebration, I meet up with Soloway at her office. It's in a building at the other end of the Paramount Pictures lot, but it seems more like a teenager's bedroom than the workplace of a Hollywood power broker. The walls are covered in collages that are essentially vision boards for each episode of this season. (She made collages as a kid growing up on Chicago's South Side, and started doing it again when she was plotting out Afternoon Delight.) It's also impossible not to notice the full-size bed, covered in a patterned duvet and piled with pillows. "I'll always try to take a nap in the middle of the day, because I'm always looking for big ideas," she explains, "and the big ideas come from staying off the Internet and communing with your own unconscious." For when she's on the Internet, she has a small desk, and a single chair for visitors.
I ask her what makes Transparent so different. "We are part of a revolution," she says. "The movement is one of freedom and gender equality and feminism. And so when we show up on the set, we're not actually trying to deliver a product to the network; we're not actually focusing on, 'That'll be good, because I want an award.' We're focusing on changing the world."
It's all part of a bigger project for Soloway. In July, she appeared at an event in Los Angeles sponsored by Wifey.tv, a website she cocreated that showcases video and film projects for women. She spoke about the "state of emergency" for female filmmakers. Of the top-grossing 250 films of the past year, only 7 percent were directed by women. And across Hollywood, women are so vastly underrepresented in every powerful behind-the-scenes role that the American Civil Liberties Union is calling for an investigation into discriminatory practices. "It's not funny anymore what's going on with us," Soloway said at the event. "It's immoral, the way that we are kept from our voices. It's not just a matter of our numbers. There is a real all-out attack on us having subjectivity." Her movies and shows, she tells me, are from an explicitly female point of view, and this is what makes them so revolutionary.
She's been working with some women directors on this season of Transparent, and Soloway plans to hire more for season three. In addition, along with executive producer Andrea Sperling, Soloway is creating a new production company, Topple, at Amazon to develop several pilots with women at the center. "Point of view is precious," she says, "and the people who are given point of view almost always are white males."
In her off-hours, Soloway is a big part of the Jewish community in her hip-epicenter L.A. neighborhood of Silver Lake. In 2010, she cofounded East Side Jews, "an irreverent, upstart, nondenominational collective" that hosts Shabbat dinners and movie screenings. She also cofounded a popular local open-mike event called Sit 'N Spin, where film-industry types read humorous, personal stories. Soloway is also working on a new book. "I looked around at all my heroes, Lena Dunham and Tina Fey and Amy Poehler and Roxane Gay, and felt like, I want to write a book, too," she says. Her first was a 2006 memoir of her wild teenage days, Tiny Ladies in Shiny Pants. For the new one, to be published by Crown, tentatively titled Would You Still Love Me If, she's "going spelunking" in deeper parts of her history—the mistakes she's made with dating, parenting, sex, and family.
Soloway recalls a 2011 conversation with her directing coach, Joan Scheckel. "She's like, 'Oh, your purpose on this planet is to heal the divided feminine,'" she recalls. Soloway has since embraced it as a unifying theme for her work: "If all women were in connection with their whole- ness, just imagine the ways in which the culture would shift...I feel like it's within our reach."
This article appears in the November issue of Marie Claire, on newsstands now.
Celebrity news, beauty, fashion advice, and fascinating features, delivered straight to your inbox!