Don't Call Them Instagram Poets
How the social media outlet is providing a platform for a new generation of authors—and what they want you to know.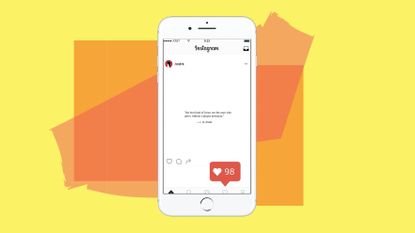 (Image credit: Design by Travis McHenry)
Marie Claire Newsletter
Celebrity news, beauty, fashion advice, and fascinating features, delivered straight to your inbox!
Thank you for signing up to Marie Claire. You will receive a verification email shortly.
There was a problem. Please refresh the page and try again.
The Instagram feed: my best source of inspiration and my worst nightmare. I've done a purge of many accounts to avoid the latter, which has, in turn, magically led me to find more and more posts that stop my thumb in its tracks—ones that declare what I'm experiencing in that exact moment, as if somebody opened a door into my mind and described the feelings I've been struggling to put into words for months. Such is the world of Instagram poetry—a no-filter, minimalist counterpoint to the oversaturated posts that populate the network.
Over the last five years, poets across the world have turned to the social media platform to share excerpts of their work—lines that are "particularly seismic, made in earthquakes" as poet Nikita Gill describes. In posting these lines, Gill has found herself in a growing group of writers, including Rupi Kaur, R.M. Drake, Atticus, Amanda Lovelace, Cleo Wade, and Nayyirah Waheed, often referred to as "Instagram poets."
RELATED STORY
When you've accrued a massive following for a social media account that's solely dedicated to your work, the "Instagram" denotation doesn't exactly come as a surprise. And massive they are: Kaur, who mainly posts excerpts from her two books Milk and Honey and The Sun and Her Flowers, currently has 2.6 million followers on Instagram. Atticus (669k), Nayyirah Waheed (542k), and Cleo Wade (371k) have a staggering amount of followers as well. Yet many of these poets utilized other online platforms like Tumblr (remember her?) or were published in print before turning to Instagram. So why are they now suddenly labeled "Instagram poets?"
Like many of these writers who have made a name for themselves via social media, Amanda Lovelace—a 2016 Goodreads Choice Award-winning poet who has 39.9k Instagram followers—struggles with the term. It's just a medium, like canvas or film. In the past, Lovelace was on Tumblr posting variations of her poetry and prose.
"In its prime, Tumblr didn't have nearly the same reach as Instagram does now, so it's easy to assume that Instagram was where I began," says Lovelace. But it's not: Lovelace didn't even start posting her poetry on Instagram until after she'd self-published her first collection, The Princess Saves Herself In This One. She believes that "some people call us 'Insta poets' as a way to differentiate us from 'real poets'—a.k.a. dead white, straight, cisgender, males."
When I read Lovelace's newest book, The Witch Doesn't Burn In This One, her style reminded me of Kaur's—an Indian-Canadian poet who started publishing her work on Instagram in 2013, and whom I have been following since 2015—and I subconsciously classified Lovelace's work in this Instagram poet category, even though I was reading her book in print. Lovelace unofficially classifies this style as "tagline poetry," a type of poetry under the free verse umbrella in which, you guessed it, the verses are summarized in short tag lines. Though neither are writing their verses for Instagram specifically, these concise musings do fit perfectly on the platform.
While both Kaur and Lovelace focus on themes of love, loss, trauma, healing, and femininity, Lovelace's latest work is filled with timely political and cultural references. They center on the simultaneous rage and empowerment many women are feeling during Donald Trump's presidency and the #MeToo era. (Lovelace is a sexual violence survivor herself.) Mentally placing her under the "Instagram poet" header wasn't meant to discredit her individual work, but rather to reference the style and themes that so many of these Instagram poets use and touch on.
Lovelace emphasizes Instagram is a "convenient" platform for readers—a place where poetry is "happening" right now because it's so organized and visually appealing; we use it as a small escape. Social media outlets like Facebook and Twitter "mostly facilitate socializing, not art," she says. Still we don't call authors published in print "book writers" or "book poets," so why do we refer to these specific authors by the medium they're currently using to share their work?
Perhaps it's the striking relatability produced by this generation of authors sharing their work on this platform. These writers don't need to curate their poems to make them "motivational" or "sharey," they already are—whether it's a line referencing heartbreak after a relationship or hope in a world filled with political turmoil. That relatability originates in paperback, but the platform drives the connection—not just with the writer but with the world. With two taps of our thumb we can proclaim, "this speaks to me."
Robert Drake, best known as R.M. Drake on Instagram and the sidewalks of New York and Miami, started his Instagram account @rmdrk in 2012—building his following up to 1.8 million, with a celebrity fanbase that includes Khloé Kardashian and Kylie Jenner (both have reposted his poems), Sophia Bush, Camila Mendes, and Lucy Hale.
Drake, like Lovelace, is also published in print (two full-length novels, one collection of short stories, and a few poetry books) and leveraged social media as a tool to connect with readers. "I'm a writer at heart," he says. "If the Beats had social media during their day then they would be using it for the same reason, too."
Gill, a 3o-year-old London-based writer, was rejected by 137 publishers before she self-published her first book, Your Body is an Ocean: Love and Other Experiments, in 2012. She also posted frequently on Tumblr before joining Instagram in 2015 and credits her rise in popularity to Buzzfeed's article about her Instagram poems. Gill is often compared to Kaur because of their shared Indian origin—an unfair classification for two women who may touch on similar themes, but have entirely different ways of writing and presenting their work.
"By lumping us into a box it's not just discrediting her or myself, it's also discrediting all other young women who are sharing their work on this platform," explains Gill. "A majority of this movement is led by people of color, specifically women of color, who have found a different way of presenting their writing to the world. We're just two of the many different voices that need representation."
Instagram often serves as a digital mask (you know, the whole "Instagram vs. reality" idea)—there's a certain level of invisibility afforded these writers, despite their highly-regarded work and large fanbases. Most of their followers have no idea who they are, or know anything about their backgrounds—great for anyone who truly wants to remain anonymous. But it's problematic for people of color who are too often discredited or overlooked, even when they have the opportunity to stand (or, post) in the spotlight.
"Up until last year, nobody knew what I looked like. They didn't know I was Indian. They didn't know I was an immigrant and I came to the U.K. five years ago by myself. They didn't know English was my second language," recalls Gill. "They made snap judgements about my work without realizing that there's a certain amount of struggle I've had to do to get to where I am now. I'm very fortunate to have my audience, but it's only gotten there because I took the chance of posting my work on Instagram."
That's why, of course, Instagram also has its benefits: Social media has given these writers a leg up in the traditional publishing world; if there's already clear evidence of a fanbase, it's takes out the risk of a failed investment for a publishing house. They've also been able to use Instagram to connect with each other, and sincerely admire each other's work—so much that Gill and Lovelace, amongst other writers including Sara Bond and Yena Sharma Purmasir, are collaborating on an upcoming anthology titled, [Dis]Connected.
While these poets foster new connections with each other, they're empowering millions of people by unapologetically exposing truths about their experiences within the modern world. "A lot of my recent work is highly influenced by Donald Trump, Brexit, and gun reform," says Gill. "I don't think anybody can afford not to be political these days."
By doing this, they're also inspiring a new generation of raw, emotional storytellers—the young millennials and Gen-Zers, who you'll often find scrolling on Instagram and making a difference in their communities. The least we, as followers, can do is absolve these artists of this narrow classification of "Instagram poets," and acknowledge that their work does not begin and end on the platform.
Celebrity news, beauty, fashion advice, and fascinating features, delivered straight to your inbox!
Rachel Epstein is a writer, editor, and content strategist based in New York City. Most recently, she was the Managing Editor at Coveteur, where she oversaw the site's day-to-day editorial operations. Previously, she was an editor at Marie Claire, where she wrote and edited culture, politics, and lifestyle stories ranging from op-eds to profiles to ambitious packages. She also launched and managed the site's virtual book club, #ReadWithMC. Offline, she's likely watching a Heat game or finding a new coffee shop.