What Am I Supposed to Call My Dad's Ex-Boyfriend? A Modern Woman's Dilemma
He helped raise me for 10 years—but there's no label for what he is to me.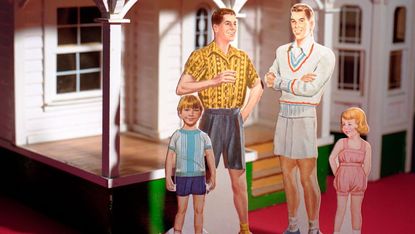 (Image credit: Universal History Archive)
Marie Claire Newsletter
Celebrity news, beauty, fashion advice, and fascinating features, delivered straight to your inbox!
Thank you for signing up to Marie Claire. You will receive a verification email shortly.
There was a problem. Please refresh the page and try again.
When my father introduced me to Dale, it was 1990 and I was 11 years old.
I hadn't seen my dad in weeks because he'd been "traveling for business," so when his face came through the door, I was elated. There was his dad mustache and his dad glasses—and beneath them, a look of surprise.
"I didn't know you'd be here," he said nervously. "I have five minutes to grab a few things and get back to work." He darted off to my parents' bedroom, leaving me alone with his new friend Dale.
Dale was so tall his head almost touched the ceiling. "I work with your father!" he told me to fill the silence.
[pullquote align='C']"He brought that man into our home?"[/pullquote]
Quickly my dad came back with a stack of blankets and a small TV. "Why are you taking the TV?" I asked.
"I'm spending way too much money on hotels," he said, "so I'm getting an apartment with Dale." Before I found the words to ask, they were both halfway out the door. "I'll call you later sweetie."
Dale smiled and waved goodbye. He seemed unsure of what else to do.
Usually the children of divorce call their new family members their step-parents. But since my dad and his boyfriend could never marry, or even be completely open about their relationship, I never knew what to call Dale. And in some ways, I still don't—a modern dilemma for children of parents with non-normalized partnerships.
This ambiguity started from the day I first met him: When I told my mom that dad had come by with Dale, she gritted her teeth. "He brought that man into our home?"
"That man" was what stayed with me—a lingering term that I would hear whispered among family members for the next 10 years, even as Dale assumed a more prominent place in my life.
When my friends asked me who Dale was, I often said that he was my dad's roommate (true), but like a family member too (also true). I even told my mom one day, "I love Dale. It's like I have two dads."
She seethed. "You can call Dale 'dad,' but not Monty?" Monty was her new boyfriend she wanted me to call "dad," but I resisted: I felt like I already had a dad. (Maybe two).
By high school, I had moved in to live with my dad and Dale full time. We lived in a maze of secrets—me hiding my dad and Dale's relationship from my family, my dad and Dale hiding their relationship from the world, me hiding my growing father-daughter relationship with Dale from my dad for fear he might get jealous.
Like my dad, Dale cooked dinner for me, gave me hugs and kisses on the cheek, and listened to me complain about school and boyfriends. He felt, in a very real way, like a father.
When I was around 19, my dad and Dale seemed like they were growing apart. I came home from college at Christmastime to find that things were not improving. By spring, my dad moved back to Texas without Dale. They had broken up.
I wanted to reach out to him, but I didn't know how. I didn't know what the protocol was for the daughter of someone's boyfriend, especially a boyfriend no one else in my family acknowledged—and I don't think I'm alone in that weird, pseudo-divorce confusion.
For those of us who grew up in families that were treated like dirty secrets, defining the relationships that result is still a struggle—particularly when they end. I have 10 years of vacations, Christmases, birthdays, and graduations with someone who never formally held a place in my family, and who lays no claim to any kind of title that would validate our relationship—and help us stay connected when it ended.
Admittedly, I didn't navigate this well: Throughout my 20s, I lost touch with Dale, unsure of how to even address him or articulate our changing "status" given that he and my father were no longer together. I also felt the need to console my dad, to show him where my loyalties lay.
But when I got engaged, I came right out and told my dad that I wanted Dale to be at the wedding. I didn't care how much time had passed. My life growing up had been full of pictures of all three of us. I wanted one more: my dad and Dale walking me down the aisle.
When I finally called him, Dale sounded exactly the same: patient and loving. I was so mad at myself for not reaching out sooner—I could have used him in my life so many times.
I think maybe too much time had passed, or perhaps he'd integrated into too different a life now, but Dale couldn't make it. I was heartbroken. At the same time, I understood.
A year later, my dad and I went to Miami for my cousin's wedding, and I called Dale to see if we could visit him in Sarasota. I distinctly remember the sound of his voice when he said, "Yes, I'd love that."
After a half-hour of scouring the parking lot, I saw a tall figure walking in our direction. It was Dale. My father stood up to meet him and they embraced. It was incredibly affirming for me to see, especially after all these years: This was my family.
"Sorry for being late. I had to tell my coworkers I was leaving," he said. When they asked how long it'd be until he returned, Dale said, "I don't know when I'll be back. My daughter is here today."
Follow Marie Claire on Facebook for the latest celeb news, beauty tips, fascinating reads, livestream video, and more.
Celebrity news, beauty, fashion advice, and fascinating features, delivered straight to your inbox!