My Meeting With the Long Island Medium
Sure, her show is entertaining, but could she actually connect me to my dead father?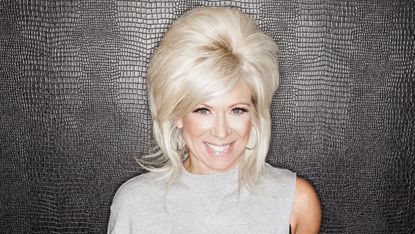 (Image credit: Sharon Suh)
Theresa Caputo, the Long Island Medium, as she is known, has found fame and fortune as a result of her claim that she can communicate with the dead. I started watching the middle-aged mom with her hip Aqua-net platinum pomp, fingernails like Angelina Jolie's Maleficent, flashy Louboutins and Chanel bags, as my guilty pleasure. I love her wacky family drama and her accent; it's entertainment. But also, it makes me feel better knowing that the dead go to someplace nice and can see us and be with us through spirit.
One night I was binge-watching at three in the morning, when I saw an episode that was very similar to me. A woman had lost her father and Theresa was saying all this stuff that the woman's father was saying to her. I got goosebumps; tears filled my eyes. I felt like I was meant to see that. I went to the show's website and emailed the contact, writing that this particular episode touched me deeply and I felt like my dad was talking to me and that I thought I was destined to meet Theresa. I used to watch the show when my dad was very sick and after he died because it made me feel better.
Maybe two days later, somebody contacted me, "We got your email, it resonated with us, and we want to talk to you." And I was like, I knew this was gonna happen. So weird. I knew, though! I knew it.
About five years ago, I was living in L.A., working as a photo editor at Los Angeles magazine. My parents lived in Orange County, and when my dad didn't feel well, my mom and I took him to the doctor. The next day, something wasn't right. His blood cells were low. The doctor called me instead of my parents and said he had stage three colon cancer. I was the first to know.
While my mom took over the family business, I took him to every appointment. I left my job and moved into my parents' O.C. mini-mansion to be his main caretaker. I had been a photo producer for 12 years, and when you're doing photo production, you have to be detail-oriented and organized, so it was natural for me to take on the role of caretaker. If he was gonna die, I was gonna do everything I could to make sure that nobody fucked up.
We did this for a year, and when he went into remission, I moved out and everything was good for a while—he visited my sister in New York, his hair grew back. Then I went to a psychic in L.A., who said she saw speckles and that my dad was still sick. So I told my family, "I hate to be one of those freaks, but I want to do another CAT scan just in case." Turns out he had non-Hodgkin lymphoma. I moved back in with them while he had chemo for seven months—it was harder the second time. The medicine was harder.
After 11 months of remission, we went for a checkup. The cancer had spread to the brain. The doctors said he had three months to a year if he was lucky. I didn't really believe it. I thought, My dad has been in remission twice, he's gonna go into remission again. It's called denial, when you're in the thick of it. When someone you know is dying, you really never believe they are dying.

Eventually, he passed and I moved back to New York. I was working successfully, getting really big projects, always thinking, Is he helping me from the other side? when I saw that episode. A producer called me, and we talked for about an hour. It was meant to be 15 minutes, but it just went on. Two weeks later, they're like, "We're going to tape you. Can you come in two days?" And I'm like, "Fuck, yeah."
I've watched every episode, so I knew where she lived—Hicksville, Long Island. I knew what the house looked like. I knew how they would film it. I was expecting it to be like the show where she kind of blurts out everything right away, but it was a little awkward, sitting still in her kitchen with her. A bit surreal. And then she kind of started, "I sense this female energy," and I felt like I did when I found out Santa wasn't real. I was so upset that she didn't get my dad right away.
During that hour-long vetting call, the producer told me things I already knew from the show—she isn't computer savvy, doesn't Google anybody, they want to know the least amount of information about people.
We continued, and again, she was like, "There's a woman trying to get in touch." I was dismayed, so whatever she said the woman was trying to tell me, I wasn't really listening. Then she's like, "I see a male figure that's passed." This is what I came for. "Is it like a father figure?" she asked. "Yes." She was like, "Okay, let me validate he's trying to come through." She wrote "yellow" on the famous notepad she always uses, and then she wrote "Batman." And then I knew it was real. I started crying. My favorite photo of me and my dad is of us in my yellow bedroom with a yellow canopy bed when I was 6. I had been looking at it a few days earlier when I was cleaning out my stuff. The second thing... I don't really tell people, but my dad was a tae kwon do master who trained all these famous people in the '60s—Elvis, Walt Disney, congressmen. The biggest thing for me and my brother was that he taught Batman and Robin—Adam West and Burt Ward—and they came to my birthday party when I was 5. So when she said that, I freaked out.
Then she said, "Your dad wants you to know that he's very grateful; you didn't do anything wrong."
There were two things that I have always felt guilty about. One was the decision to set his do not resuscitate order. The second was the decision not to be in the room when he passed.
It was the middle of the night, and I was alone at the hospital with him. The nurses were saying, "We have to decide now whether to put a tube through his throat to give him air or to let him die in peace." I called my brother and he said, "I'll be there." But there was no time. We had to decide right then and there. I told the nurse, "I don't really know what to do." I was kind of hysterical. My dad and I never talked about it.

While we were waiting for my family to get there, I couldn't be in the room. I was too emotional. I took my sister's daughter home and waited for the call. Within 20 hours, he was dead.
Theresa told me things I needed to hear, like, "You couldn't have done anything differently; you weren't supposed to be in the room." Another thing that freaked me out was when she said, "He heard everything you said; you were saying something in a different language." When the nurses injected the final dose of morphine to give him a pain-free death, I was whispering in Korean in his ear, "I love you, I love you, I love you" over and over again.
I had put this whole ordeal in a box for a couple years, and so when I saw her and talked about it all over again, it was really hard. I was kind of speechless. I thought I had gotten over all this stuff. It's not anything I didn't know, and whether or not she is fake or not, whether there is a way that she could have Googled "yellow," I left there feeling relieved.
I went back and looked at all of the old seasons—she says very similar things because I think that people basically want to hear the same thing, which is, don't regret. You want to know you did everything right, that you didn't fuck up.
The whole mother figure thing turned out to be my grandmother—my dad's mom—who was there to receive him. I never knew her. That's why it wasn't on my radar. My dad was orphaned at 12 during the Korean War. He never had anybody to take care of him, so I wanted to do that for him.
When I drove back from the taping, the Phil Collins song, 'You'll Be in My Heart,' came on the radio. I insisted on playing that song at my dad's funeral because when we used to drive an hour-and-a-half to chemo, it would always come on. I had to pull over.
I wished I had asked her, "Where is he? Is he some place good?" I think she said he's very happy.
It's been two months since seeing Theresa, and I'm still shaken by it. But I am at peace. And he is at peace on the other side. I think my days of talking to my dad are done. I just needed that one last thing.
Sharon's episode of Long Island Medium aired on TLC on Monday, October 22. You can watch it here.
RELATED STORY
Celebrity news, beauty, fashion advice, and fascinating features, delivered straight to your inbox!