Inside the Androgynous Sexual Wasteland of Silicon Valley
What tech-land is really like for women (who can't wear dresses) and men (who aren't driven by sex).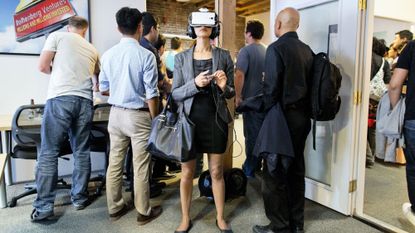 (Image credit: Laura Morton)
Marie Claire newsletter
Celebrity news, beauty, fashion advice, and fascinating features, delivered straight to your inbox!
Thank you for signing up to . You will receive a verification email shortly.
There was a problem. Please refresh the page and try again.
Alexandra Wolfe spent two years charting the experiences of young men and women starting out in Silicon Valley for her book Valley of the Gods (opens in new tab). One such subject is Laura Deming, 22, a partner and founder of The Longevity Fund, a venture capital firm focused on aging and life extension. Wolfe follows Deming as she moves from Boston to California to take part in the prestigious Thiel Fellowship, which gives $100,000 to young people to pursue big ideas and start companies instead of attending college.
Laura Deming soon realized that being female in Silicon Valley was different than it was on the East Coast. The conversations women had with one another and with men were different, to start—as were the clothes they wore and the social circles they aspired to join. Deming found that walking through Mountain View, Sunnyvale, or Palo Alto in a dress was akin to getting ready for the prom at noon—or it would label a woman as an East Coast visitor or maybe a costume-party guest. Few women wore heels, and walking down University Avenue, Palo Alto's main drag, you'd be hard-pressed to find a single lingerie shop. Most ready-to-wear clothes were for camping. Wrap or shawl? Forget it. Polar fleeces were for throwing on after the sun went down.
The more that brand logos were replaced with company logos, the better. Instead of flaunting big-name brands—a big no-no—any logo or slogan should refer to a tech company (preferably one like Facebook, Google, or Apple, that was, by its bank accounts, bigger than the brands it was replacing). The earlier in the company's history the T-shirt was made, the more preferable it was—2005 was almost nascent, for example—because that would signify how much equity you might have and how wealthy you could indirectly say you were.
Wearing a Facebook T-shirt made in 2007 was a stronger symbol than driving a Ferrari, since a Ferrari costs about $150,000, while an early- stage employee at Facebook in 2007 could have made tens of millions of dollars after the IPO. Some men even wore Steve Jobs' favorite New Balance sneakers to prove that they had something in common with the tech master—whose legacy lived on in his stock price and user interface.
The less cutesy, feminine, and frilly you could be as a Silicon Valley woman, the better; proving that you were not a slave to stereotypes of sexuality was essential. Jeans were the uniform for both sexes. Women's jeans could be loose or tight, but pants were a must. Skirts were only OK if they had pockets, similar to jeans, or somehow resembled construction-type attire, showing one's toughness. Of course, all women like to feel attractive, which you are allowed to do, as long as it is mostly through toning, rather than an expensive dress. "Someone told me I was dressing like an idiot because I was parading around in a bunch of teenager-ish dresses from college without thinking about how I looked," Deming remembered. "The advice was basically to look more professional—lose the short skirts and start wearing blazers and stuff." She followed the advice for the most part, tossing out anything delicate, lacy, or detailed, which could make her look weak, but she kept the miniskirts and a pair of combat boots.
The androgyny extended to mating behavior. Silicon Valley was a sexual wasteland, many coders found at first. Men, who made up roughly 60 percent of the population, were too busy coding to do anything else. When they were really working—in "flow"—coming up with a program, racing against the clock to build something before the next person did, their physicality was basically irrelevant. They acted nothing like the testosterone-fueled bankers on the East Coast. Their feet were planted. Their sexual rage didn't come out in boozy pool parties, but on late-night online "dates," if they were lucky.
Instead of attractive athletes or suave businessmen, the most desirable men in Silicon Valley for women looking at that kind of thing were numbers five, six, and seven employees at big tech companies. Standing in line at University Café, a popular hangout in Palo Alto, one day, a girl nearby pointed to a pudgy redhead ahead of her and squealed, "He was number five!" Deming found that women commonly mated with younger men because of the social demographics. The young men were the wealthy ones, having grown up working as early-stage employees at big tech companies. Single women preyed upon them at places like the Rosewood Sand Hill hotel in Menlo Park.
While Deming didn't mind the gender imbalance—she never felt out of place being the only woman at a party, or in her house, which she shared with six male Thiel Fellows—she soon realized that many women around her were angry about the role reversal. The women complained that men were "beta," while women were "alphas"—especially those who followed Facebook COO Sheryl Sandberg's Lean In cause, the movement inspired by her best-selling book that encouraged women to take control of their careers. It led other women to feel that they should act like they could play with the boys and not have to dress like they wanted to attract them.
The über-go-getter female cabal of Silicon Valley women working in tech and VC worshipped some women and despised others—often the more feminine ones overshadowed by their husbands. As a result, many of the women who were married never talked about their husbands. They didn't want to be the "wife of." But while these women may have seen themselves as the alphas, they weren't so sure they were happy with the results at cocktail parties, where the more feminine wives seemed to stand out.
Early on, Deming heard about Aileen Lee, a partner at the influential venture capital firm Kleiner Perkins Caufield Byers (KPCB). One night, in 2014, sitting in jeans and a T-shirt outside on the deck behind the Rosewood, Lee told me: "I'm obviously thinking a lot about gender. People are racially sensitive and disability sensitive, but they're just not gender sensitive. I mean, the Tinder situation?" She was talking about Whitney Wolfe, the Tinder cofounder and vice president of marketing who sued the company for sexual harassment in 2014. The case was ultimately settled, and Wolfe left the company to start Bumble, a competing dating app, that same year. Then there was Ellen Pao, the KPCB partner who had charged the VC firm with gender discrimination in 2012. Pao famously said she was routinely passed over in favor of male partners, excluded from all-male company ski trips, and subjected to harassment from a male partner. Pao lost her case in 2015, but she ended up opening a conversation about gender equality in Silicon Valley. On top of those scandals was Snapchat CEO Evan Spiegel, whose female-denigrating fraternity rant was leaked to Valleywag in 2014. (Spiegel promptly apologized.)
Lee started her own firm, Cowboy Ventures, in 2012. Its mission would be to seed early-stage companies that improve daily life through technology. Leaning in over the lounge table between us, she said she found herself tougher on women, because she thought they needed to be tougher in this world. "There's an attitude that is, 'Boys will be boys,' and there's no societal consequences," Lee complained.
She argued that women were responsible for much of the online purchasing on the Internet. They shopped more at e-commerce companies. They played more social and casual games online than men. She saw them as responsible for the success of many tech companies. In a widely shared article on TechCrunch, Lee said that female users drove most traffic and made most companies successful—a feat for which they weren't properly recognized. "Women are the routers and amplifiers of the social Web, and they are the rocket fuel of e-commerce," she wrote in the article. "The ongoing debate about women in tech has been missing a key insight. If you figure out how to harness the power of female customers, you can rock the world." Such power could be harnessed to force companies to treat women better, both their employees and their customers. Lee had a friend who thought the public should boycott companies that treated women badly, the same way people boycotted South African companies during apartheid.
Two years later, though, Lee told me Silicon Valley had made some improvements in its attitude toward gender. In part because of the dustup over Pao, Lee thinks companies are now more sensitive to the problem. "The number of women in venture capital has actually decreased in the past decade, but the awareness and sensitivity has hopefully improved in the past five years," Lee said in the fall of 2016. "If you look at tech companies, they are starting to report their diversity numbers publicly." But there's still more work to be done. "We're very far as an industry from being a reflection of our country and from reflecting the college graduate population, however," she added.
In Silicon Valley women's conversation, gone were the light, feminine mysteries of the non-tech set. Here, boys would be boys, and girls would be boys. Husbands' last names were often not taken, and girls stuck together. To Deming, it felt like such a small world. Everyone seemed to know everyone else. She never knew who she would meet there or who would give her the next break. These people she met, weirdos for sure, existed to break every rule and disrupt every institution: automotive, with electric cars and sharing apps; relationships, with loose definitions of fidelity; and politics, with pervasive libertarianism. Here she could do whatever she wanted, she thought.
Copyright © 2017 by Alexandra Wolfe. From the forthcoming book Valley of the Gods: A Silicon Valley Story (opens in new tab) by Alexandra Wolfe, to be published by Simon & Schuster, Inc., on January 17. Printed by permission.
This article appears in the January issue of Marie Claire, on newsstands now.