'Back to Life' Is the New Show You Need to Binge
The show's creator and star, Daisy Haggard, talks to us about female incarceration, second chances, and all of those Fleabag comparisons.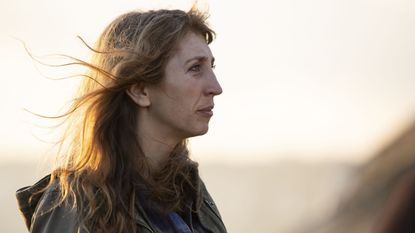 (Image credit: Luke Varley)
Marie Claire Newsletter
Celebrity news, beauty, fashion advice, and fascinating features, delivered straight to your inbox!
Thank you for signing up to Marie Claire. You will receive a verification email shortly.
There was a problem. Please refresh the page and try again.
Back to Life (available now on Showtime) is one of those shows that can't easily be described on paper: Miri a 30-something woman is released from her 18-year-long stint in prison for murder and must rebuild her life. That sounds simple enough, but it doesn't nearly capture the breadth and careful nuance of the show, which is more a thoughtful character study than a sloshy crime drama.
The show begins on the day of Miri's release from prison (the details of her crime are not immediately known, a mystery that quietly buzzes in the background of the season) as she begins to try and rejoin her small, sleepy costal town, adjusting to a world where Prince has died, her neighbors leave boxes of poo on her doorstep, her mother hides the kitchen knives, and her first love is married (with twins!). The six-episode series (which originally appeared on BBC) is a poignant, sometimes sad, often sharply funny look at a a plucky woman trying to start over and the community that will never forget. Part of Back to Life's allure is that it gives the viewers the power (and burden) to judge her: Can we really hate someone who we watch passionately eat celery, the first crisp veggie she's had in years? It's in these subtleties that the show, created by and starring Daisy Haggard, thoughtfully shines. Below, Haggard talks about how the series came to be, the portrayal of women in the media, and the power of second chances.
Marie Claire: You've been working on Back to Life for 5 years. What was your initial inspiration for the project?
Daisy Haggard: I've always been interested in how we treat women versus how we treat men. And the strange nostalgia of looking back on your teenage years. And I love a coming-of-age film; a film about people learning and doing things for the first time. Those are concepts that I've always been drawn to. So I loved the idea of pulling all these things together and having a show about an adult with a terrible past and the strange, eerie nostalgia as well. All of this came tumbling out of my mouth in a pitch. A very clumsy pitch, which so happened to be heard by Two Brothers Pictures, a.k.a. Harry and Jack Williams (the executive producers of Fleabag).
MC: The tone expertly balances poignancy and humor with darkness and mystery. As a writer, how do you nail that balance?
DH: I've always felt that life is not one thing. It's not just funny or sad or dramatic. It's everything. I've always written in a way that was fluid between them. There may be funny moments that are really dark and that's life. However, when you're writing something like that, you're constantly shaping and molding it and finding the precise voice. There would be moments when we'd look at the script and go, "that's too heavy, it needs more lightness and humor."
[image id='c0c5b951-6ea9-40c3-bdca-95fa890f17fd' mediaId='4dcece75-2578-4d40-a69f-ed02a01125d2' align='center' size='medium' share='false' caption='' expand='' crop='original'][/image]
MC: What was it like playing a character that you created?
DH: I think in a funny way it was easier than playing a character I didn't write because the voice came from within me. I didn't analyze it.
MC: Miri is definitely a complex, imperfect female lead. How do you make a murderer someone the audience can empathize with?
DH: Without giving away the end for those who haven't seen it, I suppose what we were most keen on is learning Who is she now as a person? You're left to judge her as a person in the show, which is a span of three weeks in her life. We wanted her to be an optimist. She should have this relentless hope and innocence. People will watch it, and ask themselves, Is she a bad person or not? What we see on screen is someone who's desperately trying to start their life. What we find out about her past is something we can then piece together. It's hard enough for women in their 30s getting bombarded with questions like "Have you met anybody? Do you have a good job?" Then you have Miri, who has been in prison for 18 years. Things get a whole lot harder. The show wouldn't work if she wasn't so full of hope.
MC: Do you feel like Miri was more sensationalized as a criminal because she was a woman?
DH: Yes. In the show, there are scenes where you see news clips from her arrest, and they show pictures of her that are sexualized. The implication is that the sexualization put her away for a longer time. In society, it's more shocking if a woman does something bad than if a man does it; women aren't supposed to do bad things. When doing research for the show, I spoke to some really interesting women in prison, and that's how they felt. I asked them questions like, "What did you want to eat when you left? What's the first thing you wanted to do?" Things like registering for a bank card can be hard. These are fictional stories, but they're founded in truth.
MD: The show is getting a lot of comparisons to Fleabag. How do you think they're similar and different?
DH: It's a fair comparison to make. They're both female-authored shows, but the tone is different. I'm honored to be mentioned alongside Fleabag. I think it's amazing, but we've got different voices. When people watch it, they find that [the shows are] different.
MC: What's your opinion on second chances?
DH: That's a very personal thing. Obviously, there are situations and times where people may not deserve a second chance. But, I think that Back to Life shows that I'm an optimist. I like to believe in people.
For more stories like this, including celebrity news, beauty and fashion advice, savvy political commentary, and fascinating features, sign up for the Marie Claire newsletter.
RELATED STORIES
Celebrity news, beauty, fashion advice, and fascinating features, delivered straight to your inbox!
Megan DiTrolio is the editor of features and special projects at Marie Claire, where she oversees all career coverage and writes and edits stories on women's issues, politics, cultural trends, and more. In addition to editing feature stories, she programs Marie Claire's annual Power Trip conference and Marie Claire's Getting Down To Business Instagram Live franchise.