The 45 Best TV Shows of All Time
Ready your Netflix queue.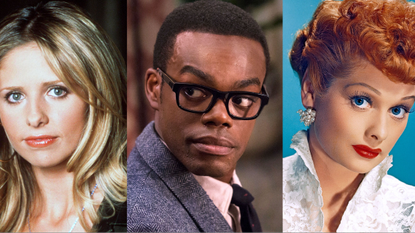 (Image credit: Getty Images)
Marie Claire Newsletter
Celebrity news, beauty, fashion advice, and fascinating features, delivered straight to your inbox!
Thank you for signing up to Marie Claire. You will receive a verification email shortly.
There was a problem. Please refresh the page and try again.
In the days of yore, before Netflix and Hulu allowed us to stream our favorite show whenever we pleased, people used to plan their evenings and weekends around cable schedules. In other words, television has always been American's most cherished pastime. These days, modern technology has given us the gift of getting to pick from, oh, just every single TV show ever, all of which are available to stream at any moment of your choosing. And it's overwhelming! I don't know about you, but I end up frozen on my couch, endlessly scrolling through Netflix's "New Releases" category, struggling to narrow down my options. What do I feel like? What would bring me the most joy at this moment? Who am I?!
Anyway. That's why we made this list—to narrow things down for you. If you're looking for a truly great TV show, you've come to the first place. Behold: The 45 best TV shows of all time.
'Fleabag'
Original run: September 16, 2016 — May 17, 2019
Starring: Phoebe Waller-Bridge, Sian Clifford, Olivia Colman, Andrew Scott
Premise: The award-winning play-turned-TV show follows a woman and her life in London, and should be subtitled "A series of unfortunate events." The episodes are quick, the jokes are insanely witty, and you'll finally understand the pop culture reference of "hot priest."
'How I Met Your Mother'
Original run: September 19, 2005 — March 31, 2014
Starring: Cobie Smulders, Neil Patrick Harris, Josh Radnor, Alyson Hannigan, Jason Segel
Premise: Throughout nine seasons, we follow Ted Mosby as he tells the story of how he met his kids' mom. It's a love story told in reverse told through the memories of Mosby and his equally crazy but charming friends. When the season finale of the last season aired, there were a lot of opinions—but we'll let you be the judge.
'Full House'
Original run: September 22, 1987 — May 23, 1995
Starring: Bob Saget, John Stamos, Lori Loughlin, Dave Coulier, Candace Cameron Bure, Mary-Kate and Ashley Olsen
Premise: A recently widowed father calls in his brother-in-law and best friend to help raise his three young daughters. The Tanner family gave us laughs and a young John Stamos; launched the careers of the Olsen twins; and became one of our favorite families to watch on TV. "Have mercy!"
'Stranger Things'
Original run: July 15, 2016 — Present
Starring: Winona Ryder, David Harbour, Millie Bobby Brown, Finn Wolfhard, Natalia Dyer
Premise: If Stephen Spielberg did TV, boom, you'd have Stranger Things. In 1983 in Hawkins, Indiana a boy goes missing out of thin air, and it's up to his mom, preteen friends, a girl who goes by the name "Eleven" and a struggling police chief to find him before the mysterious thing that took him takes him away forever.
'Gilmore Girls'
Original run: October 5, 2000 — May 15, 2007
Starring: Lauren Graham, Alexis Bledel, Kelly Bishop, Edward Herrmann, Scott Patterson
Premise: This dramedy follows the relationship of a close-knit single mother and her daughter and their lives in the town of Stars Hollow, Connecticut. While the city alone sounds like something out of a Hallmark Christmas movie, the narratives of first loves, friendship, and family will make you wish you were a Gilmore girl too.
'BoJack Horseman'
Original run: August 22, 2014 — January 31, 2020
Starring: Will Arnett, Amy Sedaris, Alison Brie, Aaron Paul, Paul F. Tompkins
Premise: All right, this could get some heat, but this is arguably the best show on Netflix. What looks like a less crude version of Family Guy from its trailer is anything but what it seems. Over six seasons, you watch BoJack Horseman, a once-famous 90s star now alcoholic, and his friends navigate life in "Hollywoo." It's a show we wished would've lasted forever. Bring tissues, and lots of them.
'Saved by the Bell'
Original run: August 20, 1989 — May 22, 1993
Starring: Mark-Paul Gosselaar, Tiffani Thiessen, Dustin Diamond, Mario Lopez, Elizabeth Berkley, Lark Voorhies
Premise: Oh, to be a high school student at Bayside High School in Palisades, California. Whether you watched this when it was on the air or caught a re-run on TBS when you couldn't sleep, Saved by the Bell made you want to relive high school again. Sure, the episodes always ended in some cheesy life lesson, but we ate it up like there was no tomorrow. Here's hoping the reboot is just as good.
'Barry'
Original run: March 25, 2018 — Present
Starring: Bill Hader, Henry Winkler, Stephen Root, Sarah Goldberg, Anthony Carrigan
Premise: A former marine who now works as a hitman gets sent on a mission to Los Angeles and ends up catching the acting bug. Unfortunately, leaving a life of crime isn't always easy. Yes, since its leading man is SNL veteran, Bill Hader, it has some laughs, but it also tackles topics of PTSD, acceptance, and more.
'American Horror Story'
Original run: October 5, 2011 — Present
Starring: Sarah Paulson, Evan Peters, Jessica Lange, Emma Roberts, Kathy Bates
Premise: When this horror anthology series dropped, television got a little bit more creepy. Who knew blood and gore could have a deeper meaning? Seasons range from stories of a coven of witches to a killer clown. Picking a favorite season would be like a parent deeming who their favorite child is, but if we had to choose, we recommend just starting with season 1.
'Broad City'
Original run: January 22, 2014 — March 28, 2019
Starring: Ilana Glazer, Abbi Jacobson, Stephen Schneider, Hannibal Buress, John Gemberling
Premise: This comedy was for the girls, and oh my god was it outs. Out of all the television shows about twenty-somethings living in a big city, this is one of the more realistic ones. Broad City followed two friends, Abbi and Ilana, and their all-too-relatable troubles of living in New York.
'Veep'
Original run: April 22, 2012 — May 12, 2019
Starring: Julia Louis-Dreyfus, Anna Chlumsky, Tony Hale, Reid Scott, Matt Walsh
Premise: A former senator becomes the Vice President of the United States, and she realizes it's nothing like she thought it would be. The comedy wasn't like the usual all-too-serious shows about life in the White House. Instead, we got a vulgar, funny, and honest look on life on Capitol Hill, and we're thankful.
'Mad Men'
Original run: July 19, 2007 — May 17, 2015
Starring: Jon Hamm, Christina Hendricks, Elisabeth Moss, John Slattery, January Jones
Premise: A story about an ad executive in the 1960s and the women in his orbit, Mad Men made Don Draper one of the most legendarily complicated characters in TV history. Bonus points for the series' finals reveal that the show was kind of about its female characters all along.
'Big Little Lies'
Original run: February 19, 2017 — Present
Starring: Nicole Kidman, Reese Witherspoon, Laura Dern, Zoe Kravitz, Meryl Streep, Shailene Woodley
Premise: A group of well-to-do moms in affluent Monterey try to keep up appearances...until they're all involved in a murder. Is it too soon to call this being one of the best shows of all time, given that it only has two seasons so far? That cast list suggests it can't really go wrong.
'Curb Your Enthusiasm'
Original run: October 15, 2000 — September 2011, then renewed with a ninth season that aired in October 2017 and a tenth season set to air in 2020.
Starring: Larry David, Cheryl Hines, Jeff Garlin, Susie Essman
Premise: The misanthropic creator of Seinfeld plays a much cringier version of himself as he adjusts to married life in Los Angeles.
'The Americans'
Original run: January 30, 2013 — May 30, 2018
Starring: Keri Russell, Matthew Rhys
Premise: Elizabeth and Philip Jennings are a perfect married couple, living in the sleepy Washington, D.C. suburb of Falls Church, Virginia in the 1980s. Oh, except they're secretly spies for the KGB who are deep undercover as they try to get the dirt on state secrets. Classic family stuff!
'Scandal'
Original run: April 5, 2012 — April 19, 2018
Starring: Kerry Washington, Tony Goldwyn, Darby Stanchfield, Katie Lowes, Bellamy Young, Guillermo Diaz
Premise: Scandal was groundbreaking for a lot of reasons. First, it proved the Shonda Rhimes was a showrunning powerhouse who could make an entire night of television worth tuning into, at a time when networks were feeling a little passé. Second, Olivia Pope became an icon in women who get things done. And third, it showed that a diverse cast didn't pigeonhole a show, but in fact just made it more relevant to everyone who tuned in. And TV hasn't been the same since.
'Friday Night Lights'
Original run: October 3, 2006 — February 9, 2011
Starring: Kyle Chandler, Connie Britton, Taylor Kitsch, Minka Kelly, Jesse Plemmons, Michael B. Jordan
Premise: Who knew that a show about a high school football team in Texas would make for not only must-watch TV, but a show that's eminently binge-able even over a decade after it first aired? Friday Night Lights never garnered the audience it deserved during its original run, but its legacy lives on.
'Sex and the City'
Original run: June 6, 1998 — February 22, 2004
Starring: Sarah Jessica Parker, Kim Cattrall, Kristin Davis, Cynthia Nixon
Premise: Four thirtysomething best friends in New York City talk frankly about friendship, family, and, of course, sex in this legendary HBO series.Though parts of it seem a little dated now, it opened the door to other shows that wanted to finally take women's lives seriously—and did it in style.
'Downton Abbey'
Original run: 26 September 2010 — 25 December 2015
Starring: Hugh Bonneville, Dame Maggie Smith, Michelle Dockery, Dan Stevens, Lily James
Premise: A glimpse into the inner lives of an English estate during the sunset of the British aristocracy, Downton was a quiet show that occasionally broke your heart. Though it got a little melodramatic at times, if you had told someone in 2009 that everyone would spend the next few years talking about a Julian Fellowes period drama about a wealthy family and the servants that cater to them, you would have been pretty surprised. And yet here we are!
'The Daily Show'
Original run: July 21, 1996 — Present
Starring: Craig Kilborn, Jon Stewart, Trevor Noah
Premise: A daily satirical current events series that, sometime in the early 2000s when Jon Stewart was hosting, became the most trusted news show in America. Now under the leadership of Trevor Noah, it's proof that sometimes the most sane thing in politics is absurdity.
'Law & Order'
Original run: September 13, 1990 — May 24, 2010
Starring: Jerry Orbach, Sam Waterston, Chris Noth, Benjamin Bratt
Premise: The landmark procedural that lasted 20 seasons may have wrapped in 2010, but its offshoots like Criminal Intent and Special Victims Unit live on. Even though the O.G. aired over 400 episodes, it was always surprising to find out who actually dunnit.
'Freaks and Geeks'
Original run: September 25, 1999 — October 17, 2000
Starring: Linda Cardellini, James Franco, Busy Philipps, Seth Rogen, Jason Segel
Premise: This show from Judd Apatow followed two groups of kids in high school around the year 1980: Painfully nerdy Sam and his misfit older sister Lindsay. Both of them are just trying to get through high school without being too humiliated, and the results are hilarious, poignant, and sometimes a little beautiful.
'The Office'
Original run: May 24, 2005 — May 16, 2013
Starring: Steve Carrell, John Krasinski, Jenna Fischer, Rainn Wilson, Angela Kinsey
Premise: Though it was initially just a remake of the Ricky Gervais-starring UK show of the same name, the Steve Carrell-starring version that aired in the U.S. took the premise of cringingly terrible bosses and the employees that suffer under them and injected it with a surprising amount of heart. Now if only we could get that reunion show...
'Twin Peaks'
Original run: April 8 , 1990 — June 10, 1991
Starring: Kyle MacLachlan, Joan Chen, David Lynch, Sherilyn Fenn, Lara Flynn Boyle
Premise: This movie is what happens when you let a film auteur like David Lynch play with a serialized format—a concept that seems like a no-brainer now, but which was somewhat unheard of in 1990. The story of FBI Agent Dale Cooper, sent to the Pacific Northwest to investigate the murder of teen girl Laura Palmer paved the way for a bunch of the other shows on this list—though we're still waiting for that gum we like to come back in style.
'I Love Lucy'
Original run: October 15, 1951 — May 6, 1957
Starring: Lucille Ball, Desi Arnaz, Vivian Vance, William Frawley, and Richard Keith
Premise: We all know this one. Ricky Ricardo is the band leader at the Copacabana. His wife Lucy is an aspiring and usually overzealous wannabe entertainer. Cue mishaps. Cue Lucy crying. Cue laughter.
'The Twilight Zone'
Original run: October 2, 1959 – June 19, 1964
Starring: Various
Premise: Anthology series are enjoying a major comeback today, but nothing (nothing!) beats The Twilight Zone.
'Star Trek'
Original run: September 8, 1966 — June 3, 1969
Starring: William Shatner, Leonard Nimoy, and DeForest Kelley
Premise: The show follows the crew of the USS Enterprise as they explore the galaxy and "boldly go where no man has gone before."
'Saturday Night Live'
Original run: October 11, 1975 – present
Starring: So many talented comedians over the years, but currently: Beck Bennett, Aidy Bryant, Michael Che, Pete Davidson, Leslie Jones, Colin Jost, Kate McKinnon, Kyle Mooney, Cecily Strong, and Kenan Thompson
Premise: Hilarious live sketch comedy, delivered weekly.
'The Golden Girls'
Original run: September 14, 1985 — May 9, 1992
Starring: Beatrice Arthur, Betty White, Rue McClanahan, and Estelle Getty
Premise: Four older women live together as roommates in Miami and share adventures, memories, and lots (and lots) of cheesecake.
'Seinfeld'
Original run: July 5, 1989 – May 14, 1998
Starring: Jerry Seinfeld, Julia Louis-Dreyfus, Michael Richards, and Jason Alexander
Premise: Comedian Jerry Seinfeld plays comedian Jerry Seinfeld in a show that is literally about nothing. Seriously. Some of the best episodes are about things like waiting for a table at a restaurant and looking for a car in a parking garage.
'The Simpsons'
Original run: December 17, 1989 – present
Starring: Dan Castellaneta, Julie Kavner, Nancy Cartwright, Yeardley Smith, Hank Azaria, and Harry Shearer
Premise: The longest-running animated series on television, The Simpsons follows a dysfunctional family and ruthlessly parodies American culture in the process.
'The X-Files'
Original run: September 10, 1993 — May 19, 2002 (and then again from January 24, 2016 – March 21, 2018)
Starring: David Duchovny, Gillian Anderson, Robert Patrick, Annabeth Gish, and Mitch Pileggi
Premise: Two FBI agents—a skeptic and a believer—investigate paranormal cases. Also aliens. Lots of aliens.
'Friends'
Original run: September 22, 1994 — May 6, 2004
Starring: Jennifer Aniston, Courteney Cox, Lisa Kudrow, Matt LeBlanc, Matthew Perry, and David Schwimmer
Premise: Six best friends hang out in New York, drink coffee, and live way beyond their apparent means. Could this show be any funnier?
'Buffy the Vampire Slayer'
Original run: March 10, 1997 — May 20, 2003
Starring: Sarah Michelle Gellar, Nicholas Brendon, Alyson Hannigan, Charisma Carpenter, Anthony Stewart Head, David Boreanaz, Seth Green, James Marsters, Marc Blucas, Emma Caulfield, Michelle Trachtenberg, and Amber Benson
Premise: High school is hell—but, like, literally—and Buffy has to juggle the terrors of adolescence with the terrors of the supernatural.
'The Sopranos'
Original run: January 10, 1999 – June 10, 2007
Starring: James Gandolfini, Lorraine Bracco, Edie Falco, Michael Imperioli, Dominic Chianese, Steven Van Zandt, Tony Sirico, Robert Iler, and Jamie-Lynn Sigler
Premise: Tony Soprano is just a guy trying to balance his home life and job. And that job happens to be the mafia.
'The West Wing'
Original run: September 22, 1999 — May 14, 2006
Starring: Rob Lowe, Moira Kelly, Dulé Hill, Allison Janney, Richard Schiff, John Spencer, Bradley Whitford, and Martin Sheen
Premise: A look inside the inner workings of the Oval Office and the role POTUS' senior staff plays in running the government.
'The Wire'
Original run: June 2, 2002 — March 9, 2008
Starring: Dominic West, John Doman, Deirdre Lovejoy, Wendell Pierce, Lance Reddick, Sonja Sohn, Seth Gilliam, and Domenick Lombardozzi
Premise: Season by season, The Wire focuses on different groups in Baltimore, from drug dealers to the press.
'Arrested Development'
Original run: November 2, 2003 — February 10, 2006 (and then again in May 2013)
Starring: Jason Bateman, Portia de Rossi, Will Arnett, Michael Cera, Alia Shawkat, Tony Hale, David Cross, Jeffrey Tambor, and Jessica Walter
Premise: When it comes to dysfunctional family comedies, no one does it better than Arrested Development. Also notable: AD kicked off the trend of Netflix bringing back beloved canceled shows.
'Veronica Mars'
Original run: September 22, 2004 – May 22, 2007
Starring: Kristen Bell, Percy Daggs III, Teddy Dunn, Jason Dohring, Amanda Seyfried, Francis Capra, and Enrico Colantoni
Premise: Veronica Mars is a teen private eye (you know, like many teens are) working to solve the mystery of her best friend's murder. The first season is pitch perfect.
'30 Rock'
Original run: October 11, 2006 — January 31, 2013
Starring: Tina Fey, Alec Baldwin, Tracy Morgan, Jane Krakowski, and Jack McBrayer
Premise: A hilarious comedy about what goes on behind the scenes of a sketch comedy show filmed at 30 Rockefeller Plaza (NBC's real-life headquarters).
'Breaking Bad'
Original run: January 20, 2008 — September 29, 2013
Starring: Bryan Cranston, Anna Gunn, Aaron Paul, Dean Norris, Betsy Brandt, RJ Mitte, Bob Odenkirk, Giancarlo Esposito, Jonathan Banks, Laura Fraser, and Jesse Plemons
Premise: An average high school chemistry teacher gets diagnosed with cancer and turns to a life of crime—cooking meth. You know, normal.
'Parks and Recreation'
Original run: April 9, 2009 — February 24, 2015
Starring: Amy Poehler, Rashida Jones, Aziz Ansari, Nick Offerman, Aubrey Plaza, Chris Pratt, Adam Scott, Rob Lowe, Jim O'Heir, Retta, and Billy Eichner
Premise: A chronically optimistic city employee named Leslie Knope works tirelessly to help make her apathetic hometown of Pawnee a better place.
'Modern Family'
Original run: September 23, 2009 — present
Starring: Ed O'Neill, Sofía Vergara, Julie Bowen, Ty Burrell, Jesse Tyler Ferguson, Eric Stonestreet, Sarah Hyland, Ariel Winter, Nolan Gould, Rico Rodriguez, and Aubrey Anderson-Emmons
Premise: The series follows three branches of the same family and hilarity ensues. Yes, "family comedy" is a tried and true premise in television, but Modern Family's execution of it is next-level.
'Game of Thrones'
Original run: April 17, 2011 — May 19, 2019
Starring: Emilia Clarke, Kit Harington, Peter Dinklage, Lena Headey, Nikolaj Coster-Waldau, Sophie Turner, Maisie Williams, and Gwendoline Christie
Premise: An epic battle for the Five Kingdoms, complete with political intrigue, a startling amount of incest, ice zombies, and not enough dragons.
'The Good Place'
Original run: September 19, 2016 — January 30, 2020
Starring: Kristen Bell, William Jackson Harper, Jameela Jamil, D'Arcy Carden, Manny Jacinto, and Ted Danson
Premise: A not-so-nice woman is mistakenly sent to the Good Place (basically heaven) when she dies and has to try to figure out a way to stay. Pretty much every episode ends with a twist.
Celebrity news, beauty, fashion advice, and fascinating features, delivered straight to your inbox!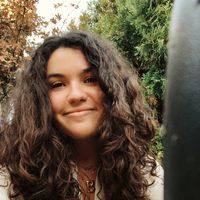 Bianca Rodriguez is the Fashion & Luxury Commerce Manager at Hearst Magazines, covering fashion, beauty, and more for Cosmopolitan, Elle, Esquire, Harper's BAZAAR, and Town & Country. She likes lounging about with a good book and thinks a closet without platform sneakers is a travesty.