The 45 Best TV Shows of All Time
Ready your Netflix queue.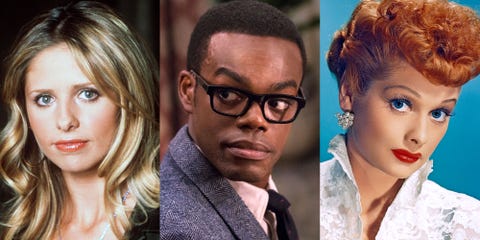 In the days of yore, before Netflix and Hulu allowed us to stream our favorite show whenever we pleased, people used to plan their evenings and weekends around cable schedules. In other words, television has always been American's most cherished pastime. These days, modern technology has given us the gift of getting to pick from, oh, just every single TV show ever, all of which are available to stream at any moment of your choosing. And it's overwhelming! I don't know about you, but I end up frozen on my couch, endlessly scrolling through Netflix's "New Releases" category, struggling to narrow down my options. What do I feel like? What would bring me the most joy at this moment? Who am I?!
Anyway. That's why we made this list—to narrow things down for you. If you're looking for a truly great TV show, you've come to the first place. Behold: The 45 best TV shows of all time.
This content is created and maintained by a third party, and imported onto this page to help users provide their email addresses. You may be able to find more information about this and similar content at piano.io