'Ginny & Georgia' Season 3: Everything We Know
Netflix has left us with another HUGE cliffhanger.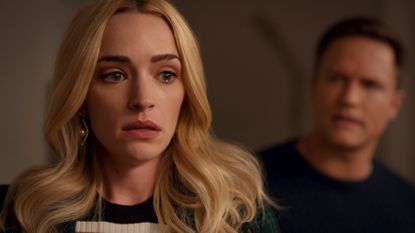 (Image credit: Courtesy of Netflix)
The genre-bending Netflix hit Ginny & Georgia has finally returned for its second season, filled with laughs, tears, and another huge cliffhanger. The small-town thriller picked up right where it season 1 ended (opens in new tab), as Ginny (Antonia Gentry) was left reeling after learning that her mother Georgia (Brianne Howey) murdered her late stepfather to protect her. Throughout the season—which thankfully doesn't keep Ginny away from Wellsbury for long—both the mother and daughter have to reckon with Georgia's past, which continues to haunt her in the lead up to her wedding with town mayor Paul (Scott Porter).
Just like the first installment, season 2 ends with a lot of unanswered questions, including a final scene that completely blows up the Millers' lives. It's an ending that demands another season, and series creator Sarah Lampert already has plans for what could come next. Read on for everything we know so far about Ginny & Georgia season 3. Huge spoilers for season 2 ahead.
Has 'Ginny & Georgia' been renewed for a third season?
Not yet. Though it's been weeks since the season 2 premiere, Netflix is known to take a while even to renew its biggest hits (*cough* Wednesday *cough*). In an interview with Deadline, Lampert confirmed that there hasn't been any talks about season 3 yet, citing Netflix's "regimented" renewal process.
"So there's very much a strategy in place where I think we'll drop it, and then we have to wait to see how it does and if we're going to see Season 3," Lampert told the outlet. "But I certainly hope we do because it's going to be a wild ride."
We have high hopes for the continuation of the series, which hit no. 1 immediately after its premiere and only dropped down to no. 2 in the past few days. Also, Netflix co-CEOs Ted Sarandos and Greg Peters even name-checked Ginny & Georgia as a "phenomenal US success" in a recent Bloomberg (opens in new tab) interview. (The one where they claimed that they've "never cancelled a successful show.") The season 2 renewal announcement came two months after the first season's premiere, so we'll be looking out for news around spring.
When could 'Ginny & Georgia' season 3 come out?
Even if we get a quick renewal, the show will likely take a while to return. Production on season 2 wrapped in April 2022 and had to go through a lengthy post-production process before arriving in January 2023. Even though the season itself was done by October 2022, per Howey, it takes a while for Netflix to translate the series into 180 different languages(!) for its global release.
"That takes about four months," the actor told E! Online (opens in new tab) last year. "So it's actually not the show itself. The show is done."
That being said, season 3 could arrive quicker than the two-year gap between seasons 1 and 2. Though the season 2 renewal was announced in April 2021, it didn't begin filming until late November. If the show resumes filming quicker, we may see new episodes around late 2024.
What could season 3 of 'Ginny & Georgia' be about?
Just when we thought that season 2 would end with the beautiful scenes of Georgia and Paul's town hall wedding (that cape! that dress! Milkshake!!), it was ruined as PI Gabriel and the cops crashed during the couple's first dance, arresting Georgia for the murder of Cynthia's husband, Tom Fuller. Of all of Georgia's past crimes, she finally got caught for the most recent—the one with an actual witness. Unfortunately, that witness was her son Austin, who assured to Ginny that he "didn't tell anyone" before running off behind the cop car that was taking his mother to jail. (They really need to get that kid into therapy.)
There are SO MANY threads that the show needs to explore just based on Georgia's arrest: How can Georgia stay out of jail? Will Paul continue to stand by her and the kids? Has the arrest tanked his re-election chances? Where do things stand with Cynthia and Georgia? What will Ginny and Austin's reactions be now that they know the whole truth about their mother's past? There's also the question of Gil, who plans to keep fighting for custody of Austin and will likely try to use Georgia's arrest to his advantage. Somehow in the middle of all that, the show will also have to balance all of its core relationships, including Ginny and Marcus' post-breakup friendship (relationship? situationship?) and the simmering attraction between Georgia and Joe.
Though an official renewal is still in question, Lampert has assured fans that there's a plan to balance all of the "surprises" the creative team has in store for season 3. She also told Deadline (opens in new tab) that Ginny and Georgia will probably evolve into a different form in the new season.
"I think it's this idea that the show is going to look really different in season 3 — if we were to get one — because this was a woman who was a superhero at what she did, and now she's been caught," she said of Georgia's arrest. "It's almost like Superman got taken down. We'll see if she can get out of this mess she's found herself in."
The creator also spilled on some of the conflict that's been set up, including which parent or step-parent will take over the care of Ginny and Austin.
"I think we've set up a lot of really great possibilities in the sense that, just playing out hypotheticals, if Georgia is being charged with this crime: we have Zion, he's Ginny's dad; we have Gill in the picture now," she said. "I think previous to this, he had no chance at custody because he was a convicted felon, but who knows now? And we've got Paul, who's the stepdad. We have so many golden possibilities for storytelling based on how rich these characters are and based on how many surprises we want to throw into season 3 that I'm being coy about, but we do have it planned out."
What have the cast and crew said about season 3?
Lampert also touched on several of the characters' love lives in the wide-ranging Deadline interview, including Georgia and Joe, Ginny and Marcus, and Maxine and Silver. When asked whether Ginny and Marcus could end up getting back together, she hinted that some big changes could happen once the writers start working.
"In terms of season 3, all bets are off," she said. "Maybe there are new characters, who knows? We don't have a season 3 yet. The process of the writers room is very much, [showrunner Debra J. Fisher] and I going in with our plan. We have it all planned out, we have some really structured ideas of what we want it to look like. But then in the writers room, everything always changes, you have so many more brains coming to the table, and you have a better idea... The best idea wins in the writers room, so I could tell you right now what the plan is, and it might not be at all what shows up on screen."
Gentry has her own opinion on whether the teens should end up back together, telling TV Guide (opens in new tab) that they should probably stay friends for now. (After all, Ginny has a lot going on.)
"Ginny has that layer of like, 'My mom's a killer,' all this stuff," she told the outlet. "I think they should be friends right. I think they need to be there for each other in a way that doesn't have strings attached."
Fisher has also shared her thoughts on season 3 with The Hollywood Reporter (opens in new tab), telling the outlet, "If you can convince Netflix to give us a season three, we will gladly tell you everything we have planned for season three."
"I will say this, Sarah Lampert and I, we do know exactly where we want to go and we'll be addressing all of those things — where we left Georgia, getting arrested at the wedding and Paul," she continued. "Right now, Marcus and Ginny are in a very positive place as friends. Zion lives just outside of Wellsbury in Boston, so he's going to be around. Season three is going to be a big roller coaster, just like season two, given the cliffhanger that we left you with."
The showrunner also added a bit of insight into Netflix's decision process, saying that the streamer waits for 30 days and reviews the numbers before discussing a renewal with their show's creative teams. She added that she and Lampert have a plan, but they've yet to start pre-production.
"We're not writing any scripts or anything like that, but we know where we want to go. We would love to get in a writers room up and running to get going with this. Seeing everybody watch the show and seeing all the excitement for the show, I will say that it's been hard to not think about season three and where we want to go. Because when Sarah and I pitched the show to Netflix, we did pitch four seasons, so we know what we want the end game to be. We know what we want the last episode to be," Fisher said.
Contributing Culture Editor
Quinci LeGardye is a Contributing Culture Editor who covers TV, movies, Korean entertainment, books, and pop culture. When she isn't writing or checking Twitter, she's probably watching the latest K-drama or giving a concert performance in her car.