Magi Was Excited to Be the First Ethiopian on 'The Bachelor.' Then Came the Tigray Conflict
Her fellow contestants rallied around her during ethnic cleansing in her Ethiopian home.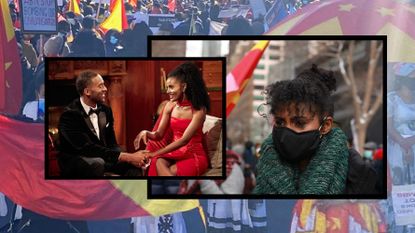 (Image credit: Craig Sjodin via Getty Images + Courtesy of Magi Tareke + Courtesy of Emily H. Johnson)
On November 3, 2020, as the United States was preoccupied with the presidential election, Mearg "Magi" Tareke had just returned home to Washington, D.C. from the Pennsylvania resort where she had been filming season 25 of The Bachelor.
Excited to tell her mother about her experience as the first Ethiopian contestant ever to appear on ABC's blockbuster reality dating show, Tareke picked up the phone but couldn't get through. It was her first clue something was wrong back home in Tigray.
"All the connections were cut off," she says. "I didn't even get to talk to her about what happened. Now I was freaking out about her safety, my entire family's safety."
Government forces in the Ethiopian capital of Addis Ababa had launched a military offensive in Tigray, the northernmost region of the country and the home to an ethnic group known as Tigrayans (or "Tegaru"), an estimated 7 million people with a distinct language and culture. Thirty years ago, the Tigray People's Liberation Front (TPLF) political party overthrew the Mengistu dictatorship, and has dominated Ethiopian politics for much of the last three decades. Their refusal to be part of a 2019 merger of ethnic parties into the countrywide Prosperity Party set the stage for the current conflict: In early November, the regional government—controlled by the TPLF—besieged a key Ethiopian military base in the Tigrayan capital Mekelle. In response, the Ethiopian National Defense Force (EDNF) quickly ousted the militia and took control of the city.
Since then, reports have emerged of rape and massacres of Tigrayan civilians committed by Ethiopian and allied Eritrean soldiers, including hundreds killed on November 28 at the Church of Our Lady Mary of Zion. The church, believed to be the home of the Ark of the Covenant, is located in the holy city of Aksum, about 15 miles from Tareke's hometown of Adwa.
Ethiopian Prime Minister Abiy Ahmed—who won a Nobel Peace Prize in 2019—has denied the atrocities, but recently U.S. Secretary of State Antony Blinken used the term "ethnic cleansing" to describe the violence. "We are seeing very credible reports of human rights abuses and atrocities that are ongoing," Blinken said during a House Foreign Affairs Committee hearing on March 10. The Ethiopian government released a statement calling his accusations "unfounded and spurious" and expressing willingness to cooperate with international human rights investigations. (In February, the United Nations had announced the Ethiopian government's approval to allow humanitarian aid in the Tigray region.)
But with no journalists or aid workers allowed unrestricted access into Tigray, the conflict has been slow to receive the kind of international attention that tends to accompany such dire warnings. Activists in the Tigrayan diaspora have been working to amplify videos and witness accounts on behalf of those back home who have been muzzled by the communications blackout—and in recent weeks, thanks to Tareke, they have received a boost from a seemingly unlikely place: the fandom collectively known as "Bachelor Nation."
"My sweet friend @magitareke needs our help, please spread awareness," Rachael Kirkconnell posted to her Instagram stories on March 7, sharing Tareke's International Women's Day post about weaponized rape and hunger in Tigray to her nearly half a million followers. "Donate if you can. Pray." (Kirkconnell, who has been criticized for a pattern of problematic social media behavior—more on that below—was revealed during the March 15 finale as the woman Bachelor Matt James had given his final rose, though he had already broken up with her by the time it aired.)
Fan-favorite Abigail Heringer re-shared one of Tareke's posts to her 450,000 followers. And Serena Pitt, who made it to the final four before self-eliminating, wrote: "Please check out @magitareke page to learn about what is happening in Tigray and how you can help," with a link to a relief fund.
The flurry of International Women's Day posts by these and more than a dozen of Tareke's fellow cast members came just as the season headed into its buzziest stretch. "Her contribution has been tremendous," says protest organizer Marta Niguse, a member of multiple Tegaru diaspora organizations in the greater Washington, D.C. area, who credits The Bachelor with helping the movement expand its reach to people beyond Tigrayans in the United States and around the world. "The video campaign [that Magi participated in] is by far the most widely viewed and shared by [the] non-Tigrayan diaspora."
Having a sense of purpose has been a lifeline for Tareke, who found herself in the surreal position of being thrust into the national spotlight during the most difficult time of her life. When the show premiered in January she was sick with worry over her family, of whom there was still no word. "I couldn't celebrate because I'm crying inside," she says. "I couldn't laugh knowing my family's lives are in danger, with all this killing, all this looting, everything going on. I don't know how I survived the last three months."
Bundled in a puffy black coat against the New York chill on February 11, Tareke was one of hundreds of protesters gathered outside the United Nations to mark 100 days since the start of the conflict. The red and yellow flag of Tigray fluttered throughout the chanting crowd alongside homemade signs that read "STOP GENOCIDE."
"Who are we?"
"Tegaru!"
"What do we want?"
"Peace!"
Her face covered by a black mask, Tareke might have been indistinguishable from any other protester, but a group of Tegaru teen girls spotted her and stopped in their tracks.
"Are you Magi?" one of them asked.
Tareke posed for several photos with the girls before thanking them for coming. After she left their circle, they spoke about what it meant to them to see someone like her on a show at the pinnacle of popular culture.
"She's an inspiration to all of us," says Zeima Sebhatu, 16, who came up from the D.C. area to attend the protest. "We're glad that we met her today because it's really rare to meet a famous Habesha [Ethiopian], especially one from Tigray."
Tareke, 32, came to the United States 10 years ago after winning the green card lottery (a.k.a. the U.S. Department of State Diversity Visa Program). A pharmacist who also works as a model, she was scouted by The Bachelor casting folks, who reached out and invited her to be on the show.
She was a little nervous about how conservative Ethiopians might react to seeing her date a man who was simultaneously dating dozens of other women. Still, she agreed to be on the show, she says, because Matt James was her type. It wasn't his race that mattered to her, what was important was that he was Christian and seemed to really live his faith by doing nonprofit work with children. Remembering her own mostly barefoot childhood in Ethiopia, Tareke herself was already the founder of a nonprofit providing shoes to schoolgirls in developing countries.
"I always wanted to be with someone who likes helping people," she says. "So I thought that was sweet." She enjoyed her time on the show, becoming close with many of the other women. She didn't get much screen time, but fans warmed to the understated, mature way she carried herself.
"A lot of girls ask me, 'Magi, why didn't you fight for Matt? Why didn't you make out?' But for me, in my culture, we take our time with a guy," she says. She made it about halfway through the season before James let her go, setting off a torrent of tweets calling for "Justice for Magi!"
Her supporters needn't have worried. The day her elimination aired, she got something far better than televised validation from a man: She finally got a call through to her mother. She found out her family was safe.
"The first time hearing my mom's voice was… I just cried," she says.
Because young men of fighting age have been targeted, she learned, one of her brothers had fled to neighboring Sudan. The rest of the family reported they were holding up well at home. She spent the next two days on the phone sending money and finding out how the last few months had been for them with limited access to water and food.
Finally, she got around to sharing her own news.
"I said, 'Hey, you remember how I told you I'm going somewhere and don't worry about me, everything is good, and I will call you? So, you know… it's called The Bachelor.' "
Her mother needed a little explanation.
"She was in shock," Tareke says, adding, "but she's happy I'm happy."
Over the course of the show's season—which has been notable for a reckoning over racism it has brought about—Tareke has found herself speaking out about more than the conflict in Tigray. Longtime host Chris Harrison took a step back from the franchise after publicly defending Kirkconnell, when photos emerged that showed her attending an antebellum-themed party in 2018, among other insensitive behavior. Harrison later apologized for "speaking in a manner that perpetuates racism" and promised "to do better."
In the finale, it was confirmed that James—the first Black Bachelor to be cast in the show's history—had split up with Kirkconnell after these revelations.
"When I first heard about [the racism], I felt like, is there any safe place for me?" Tareke says. "I can't go to Tigray, and here I'm fighting this. I'm fighting for my people, and in America I'm fighting for me."
Most of the women from this season banded together to release a joint statement denouncing any defense of racism. Tareke remains close with Kirkconnell, who has been supportive of her both publicly and behind the scenes during this painful time. But Tareke was shocked and disappointed by Harrison's interview because, she says, he had become one of her favorite people over the course of filming.
She thinks it's too soon for Harrison to come back as host of spinoff show Bachelor in Paradise—though she says she would consider an appearance on that show if invited. "It's on the table," she says.
"Chris Harrison promises he's doing his best, he's learning," she says. "The learning is not something that comes really quick. Racism is a very sensitive thing. I don't think it's doable to learn in a month or two."
It's something she herself was naive about in the United States, her chosen home. "When I came here, I was like, everybody is going to live happy. You're Black, you're white—okay, so what? We are all the same people created from the same God. What's the problem? That's what I used to think," she says. "It's going to be 10 years in this country and I still have so much to learn."

The international response to the crisis has been gaining steam, which Tareke finds heartening. But as she receives videos of new atrocities in Tigray almost daily with a hunger crisis looming—because of missed harvests and a breakdown of infrastructure, the U.N. estimated in January that 4.5 million people in the region need food aid—she worries that many people who are displaced or in hiding may be running out of time. She has tried to send food, but the shipments have been confiscated en route.
Tareke says she has received online harassment from anti-TPLF Ethiopians who seek to discredit the reports of war crimes. She believes it shouldn't be controversial to point out that Tigrayan civilians need not pay the price for TPLF's actions.
"I am not political; I stand for humanity," Tareke says. "I had never been to a protest ever before. The one thing that pushed me was my family: They can't speak. We are their only voice."
Celebrity news, beauty, fashion advice, and fascinating features, delivered straight to your inbox!
Emily H. Johnson is an independent multimedia journalist who has reported across East Africa and Asia. She is on the journalism faculty at Baruch College in New York City and is currently based in Brooklyn.