The Do-Gooder Ploy
"Hey, wanna collab?" It's the social-media version of "You up?" but, as our investigation shows, more insidious—and may be preying upon your desire to create social change.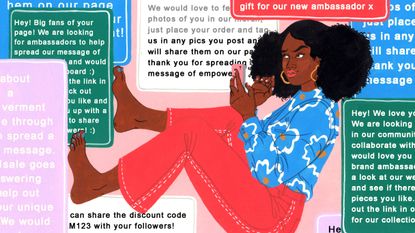 (Image credit: Laura Callaghan)
Marie Claire Newsletter
Celebrity news, beauty, fashion advice, and fascinating features, delivered straight to your inbox!
Thank you for signing up to Marie Claire. You will receive a verification email shortly.
There was a problem. Please refresh the page and try again.
In October 2020, someone—or something—slid into Nicole Blair's Instagram DMs.
"We would love to collaborate with you as an ambassador," read the message sent by Made With Melanin, a company selling T-shirts, jewelry, and key chains emblazoned with phrases like "Black Lives Matter." "We would love to share a discount with you for everything on the site."
Many Instagram users have grown accustomed to receiving such messages. Oftentimes, the missive is sent not by a person but by a bot aiming to convince an eager user to buy cheap product up front and promote the brand on her own channels later. The request hinges on a desire to commodify our social-media reach, to seem influential, and, perhaps, to align with a company that shares our values.
Over the past few years, amid a national push for social justice and racial equality, brands with rah-rah messaging have sprung up all over social media, selling slogan-covered products promoting and claiming to support causes that many young socially and politically active customers care about. Like the classic multilevel marketing scheme, these companies depend on ambassadors to spread the good word. Unlike one, reps are not always buying and reselling product; instead, they use their own social capital to help the brand increase its follower count and, thus, sales, with the hope of getting reposted. Boost your own following while supporting a good cause and demonstrating your enlightened political views? Who wouldn't want in?
Blair wanted in. With hundreds of thousands of followers, Made With Melanin seemed legit. Its grid was filled with images of Black women, fists raised or smiling proudly in T-shirts that read "Black Girl Magic." Purchases ostensibly gave back: "At Made With Melanin, we are the [sic] beyond blessed to be able to support the Black Lives Matter movement," its home page claimed ungrammatically. Blair, a 19-year-old Black woman, was thrilled to be asked to be an ambassador for an ally brand. She followed the instructions Made With Melanin sent her and used a 30 percent discount code to purchase a necklace and a T-shirt. The brand messaged her (smiley face included) to post photos in her swag; in return, it might tag her.
Weeks passed. Blair didn't receive any tracking info or an anticipated delivery date. Months later—still no package. "I DM'ed the Instagram account and I didn't get a response," Blair says. She asked for a tracking number over email but didn't get one. When her package finally arrived, the materials felt cheap, the size of her shirt was wrong, and the design didn't match the advertised photos. The products were so off, she threw them away. In frustration, she turned to the Internet to see if other people had complaints.
The Better Business Bureau (BBB), a nonprofit that tracks grievances about American businesses, was littered with warnings about the brand; reviews were grim. Blair's search led her to YouTube, where she watched Kimberly Renee, a 38-year-old entrepreneur, unveil the findings of her own investigation. Renee and her friend had messaged Made With Melanin to find out if it was Black-owned and where it donated. "Being a Black woman business owner and watching someone use the stock image of a Black woman to suggest Black ownership—and take advantage of a moment that me and my ancestors have waited centuries for—makes me want to throw up," Renee says.
Renee's initial inquiry was met with an auto reply encouraging her to become a brand ambassador. Suspicious, she started digging. Made With Melanin's website listed a North Chatham, Massachusetts, PO Box address for returns. She Googled the address and found that multiple e-commerce sites had recently used it. That's when Renee realized this might be bigger than one rogue account. All of the companies were eerily similar: They sell low-quality merchandise (like flimsy bracelets and thin tees, some of which never arrives or arrives late, according to disgruntled customer reviews), recruit young brand ambassadors, proclaim a social mission, and tout their support for aligned organizations. There was Backed by Nature, which claims that "each purchase plants a tree" (address listed on the website: 123 Fake St., Toronto, Canada); the Love Bracelet, which purports that jewelry sales will help end domestic violence (alarmingly, the fine print on its website states, "[We] are not responsible if information made available on this site is not accurate, complete, or current"); the Buddy Bandana and Made by Meow, both of which insist they support animal shelters (the latter says it donates to "Best Friend's Organization," an apparent misidentification of nonprofit Best Friends Animal Society); and Her Team, which has 621,000 Instagram followers and advertises support for "women's empowerment."
By the time Marie Claire began reporting, three months after Renee's first video, Made With Melanin had changed its address for returns to a private mailbox in Boston. This one has also been used recently by Her Team and additional nearly identical sites, including the ecofocused Friendly Cup, which (nonspecifically) "prides itself on giving back"; Tht [sic] Sounds Gay, a brand that says it supports the LGBTQ+ movement; and Education Inspiration, which helps kids around the world who need "educational support," full stop. (Shortly after Marie Claire ordered from Education Inspiration, the website shut down. Still waiting on that package.) The Friendly Cup even erroneously lists the Love Bracelet in its refund policy (with no acknowledgment of a connection). Meanwhile, the Buddy Bandana, Made by Meow, and the Friendly Cup have all been linked to the same North Reading, Massachusetts, PO Box.
While some of the brands are vague about if and how much they donate and where, making it difficult to confirm authenticity, Education Inspiration's website had declared a relationship with UNICEF and Build a School Foundation Inc. Neither UNICEF USA nor Build a School says it has a record of ever receiving donations from Education Inspiration. Backed by Nature doesn't share how purchases plant trees, but on Facebook an apparent brand ambassador links it to the NGO One Tree Planted; One Tree Planted told us it had previously asked Backed by Nature to stop using its name. (It is possible that any of the brands donated anonymously or via another name.)
Some of the brands did follow through with their professed charity. For example: Her Team advertises donations to "a wide variety of organizations" and says that "a portion of every sales [sic]" helps women; Marie Claire was able to confirm two donations to one group, the gender-equality nonprofit Global Fund for Women, though a spokesperson shared that Her Team's usage of its logo on social media is in violation of its policy. One animal shelter provided statements proving donations from Made by Meow; it's unclear what percentage of the company's profits that accounts for. We did verify donations by the Buddy Bandana to shelters; the biggest it touts is $14,000 to the Animal Hope and Wellness Foundation. AHWF confirms it has received donations, but it has faced its own scrutiny. A representative from Black Lives Matter Global Network Foundation can confirm one donation of $1,076 from Made With Melanin, dated after Renee posted her video.
Marie Claire reached out to all of the companies multiple times to inquire about ownership, donations, and more. We heard back from only three. None addressed all of our questions, and all stopped responding. The Buddy Bandana denied any connection to the other brands. Her Team also refutes any affiliations—yet it shares a merchant recipient with Tht Sounds Gay and a similar former Instagram name with Made With Melanin (Boss Babes Co). A woman named "Stacey" from Made With Melanin told us the brand shut down because of "harassment and misinformation from reporters, journalists, and others on the Internet." The Backed by Nature and Friendly Cup websites shut down days after we reached out. The websites for Tht Sounds Gay, Her Team, the Buddy Bandana, and Made by Meow soon followed. At press time, the reason was unknown. It's also not known if the shutdowns are permanent or if any of the brands will emerge with new names or Instagram handles.
Bots were answering Renee's messages, but someone had to be behind this social-justice cottage industry. In sleuthing through the companies' domain names and addresses, Renee connected some of the dots back to two 20-something men in New England. Our reporting found that the first man's marketing agency shares a PO Box with Backed by Nature, and the address on his LLC filing matches the merchant payment address for Education Inspiration. He did not reply to numerous requests for comment. The second man owns the trademark for the Buddy Bandana via his LLC, and payment to the brand matches the address on his LLC; Marie Claire reached out for comment, and he affirmed involvement with the Buddy Bandana and maintained the company is aboveboard and is not connected to the others. The merchant address for Her Team and Tht Sounds Gay is associated with a third man—who appears to be friends with the second, per social media. Notwithstanding the web of overlapping contact information, the existence, nature, and extent of the relationship between or among the brands and these three men is unclear.
Socially conscious ambassadors are literally buying into companies that they think support worthy causes. In many cases, brands are tokenizing—and monetizing—minorities or Good Samaritans. Blair might have gotten a few new followers if Made With Melanin had reposted her pics, but it wasn't offering a paid role; worse, it could have jeopardized her social capital. When influencers endorse a company, it validates that brand to their followers. While victims might not be stuck with thousands of dollars' worth of leggings, they are still a mouthpiece for a fishy brand. It's a pyramid scheme of promotion.
But these sketchy brands can be difficult to take down; accounts change their handles and URLs in minutes, evading detection. At the time of writing, Made With Melanin had changed its website name to Black Magic Co and its Instagram handle to @OfficialBlackMagicCo. Katherine Hutt, a national spokesperson for the BBB, shares that a lot of brands "mask their identity." Last fall, the BBB issued a "scam alert" about phony companies recruiting brand ambassadors on Instagram after it received more than 100 complaints. More users were likely misled: Many of the items sold are inexpensive, with fees too trivial (around $30) for most people—including law enforcement—to do anything about it.
As for the platforms hosting the fly-by-night sellers and their sales transactions? Instagram pointed us to tools that enable users to report suspicious accounts and its "About This Account" feature, which shows if a brand's handle has changed. But it's available only for accounts with a certain (undisclosed) number of followers. In a statement to Marie Claire, a Shopify spokesperson said, "We have multiple teams who handle potential violations of Shopify's Acceptable Use Policy." It forbids "deceptive commercial practices," which could include claiming some proceeds are donated. The platforms can adopt stringent use policies, but ultimately they're playing a game of Internet whack-a-mole. Outside of lodging complaints, users are left with two simple but strong tools: intuition and Google. "It's crazy how often it happens," says influencer Jermany Coney, 28. "If something seems off or too good to be true, it probably is." Practice due diligence when shopping brands that "give back." If you're approached as an ambassador, check if the company works with an agency, like Coney does. It's a matter of recommending only brands you trust—which is a solid influencer strategy anyway. And if it talks like a bot and answers questions like a bot (instantaneously but nonsensically), it's probably a bot.
For now, Renee's crusade against the brands continues. "I don't want anyone else to have their money spent in a way that they did not intend to," she says. "If someone still wants to support [these brands] after knowing who they are, then do it," she says. Blair, for one, has changed the way she approaches brand-ambassador partnerships. We can't say the same for the company that catfished her. In January, Official Black Magic Co (ahem, Made With Melanin) reached out. "Hey, I am from Black Magic, Happy New Year!" the DM read. "We are looking for brand ambassadors who support BLM. Please send us a message." And then, like it's done before, Black Magic disappeared.
This story appears in the April 2021 issue of Marie Claire. In the days between going to press and digital publication, several of the companies listed here changed their names and/or URLs.
MORE FROM OUR APRIL ISSUE
Celebrity news, beauty, fashion advice, and fascinating features, delivered straight to your inbox!