Why 'Fearless (Taylor's Version)' Hits Different in 2021
By re-recording her iconic albums, Taylor Swift isn't only taking control of her music. She's taking back control of her narrative.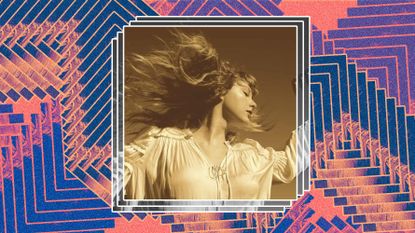 (Image credit: Courtesy)
Marie Claire Newsletter
Celebrity news, beauty, fashion advice, and fascinating features, delivered straight to your inbox!
Thank you for signing up to Marie Claire. You will receive a verification email shortly.
There was a problem. Please refresh the page and try again.
By the time Taylor Swift was 20, she had penned not one but two hit albums of love songs, though—by her own admission—she had "never been in a relationship." Songwriting came second-nature to Swift. She became a working songwriter at age 13 when she "earned the respect of the big writers in Nashville;" she walked away from a development deal at RCA Records at 14, because she "didn't want to be somewhere where they were sure that they kind of wanted me maybe." She had a forensic obsession with love, "studying it and watching it." She sold out stadiums singing about Romeo and Juliet, popular boys who dated cheerleaders, and her raging crush on a guy named Stephen. Even today, writing witchy ballads set in the "folkloric woods" and serenades about hometown hookups, Swift is both "the best CEO in music" and a total romantic.

During her early career, these two sides of her persona—the daydreaming girl in love and the assertive, budding mogul—seemed, to some, like a contradiction. How could someone be so naive when it came to dating, yet so self-assured about business? But that duality is part of the reason she became such a success. Here was a teenager who could articulate the psychic tornado of adolescence in evocative, pithy lyrics. She owned her emotionality, inspiring fans to do the same. She marketed her early work with coded messages in liner notes and offered other "Easter Eggs" on MySpace and YouTube as early as 2008, filling a Harry Potter-sized hole in girls' hearts by creating a rich mythology about herself. In doing so, Swift not only validated the experience of having a crush, but she created a serious business from the mania of infatuation—which society considered fundamentally unserious. Years before "girlboss" became a (ultimately reductive) term for female leadership, Swift's girl-ness was her superpower, and she understood how to deploy it.
That second part scared people. Despite her success, relatability, and fandom, she became—like many young female artists—a target for haters who just couldn't stop hate, hate, hating on her. Soon, she became a "national lightning rod for slut-shaming." (You probably remember some of the headlines.)
That's why her most recent album, Fearless (Taylor's Version) is so monumental. Re-recording and re-releasing six of her early albums is, yes, a statement that artists should own the rights to their work. But something else is happening, too: In re-introducing those albums, Swift is divorcing her music from the (sexist) media narrative that followed her during her adolescence, inviting listeners and critics to engage with the same songs today without as much gender bias. Listeners who didn't believe she was a feminist before (for whatever, sexist reason) can't deny the feminist undertones of becoming the industry spokesperson for artists' rights.
Considering these two important facets of Swift's persona—romantic confessionalism and auteurism—Fearless hits differently in 2021. Three-plus years into the #MeToo reckoning, women are done being called "too emotional." Creators like Emerald Fennell (director of Promising Young Woman) are tackling that "crazy" label on television shows like Killing Eve, I Love Dick, and Crazy Ex-Girlfriend. Today's Swift confronts rage head-on in newer songs from the albums Folklore and Evermore, like "Mad Woman," "Tolerate It," and "No Body, No Crime." But classics like "Tell Me Why," "You're Not Sorry," "Picture to Burn," "Should've Said No," and "Dear John" tell a similar story. The lyrics were ahead of their time, overshadowed in 2008 by the tabloid frenzy and narrative of Swift's "serial dating."
Take "Mr. Perfectly Fine," a previously unreleased song from the "vault," which was cut from the original Fearless album and is reportedly about ex-boyfriend Joe Jonas. We'll never know how it would have been perceived in 2008 (another "man-hating, hit piece," as the trolls would say, perhaps?), but in 2021, we're not bothered by the media-constructed drama. Sophie Turner (Jonas's wife) shared the new song on Instagram Stories and wrote, "It's not NOT a bop," which Taylor in turn shared.
At this stage of her career, and with social media as the primary way of dispensing information to her fans, Swift finally gets to control the narrative—the "crazy" element has been stripped away from her critically-acclaimed music, allowing her musical prowess to take center stage. In a way, the re-release is not just to take back ownership of her songs. It's to take back ownership of her story.
In sharing Fearless (Taylor's Version) now, Swift tells the story of a powerful, 31-year-old woman in business who was once a lovestruck teenager. She offers a way into her music for audiences who couldn't connect the first time around: In the Houston Chronicle on Friday, one writer revoked her status as a "Taylor Swift Hater," writing: "Where I buried my emotions under a brave face and sarcasm, Taylor Swift reveled in hers and brandished them proudly in a catchy hook. And I hated her for it, the way she embraced a part of life I felt like I couldn't have."
There's time, glorious time, to thank. Enough years have passed to forget the "petty" minutiae that overwhelmed the Swiftiverse of yore. When Red is re-released, few will remember the days the artist spent in Hyannis with the Kennedy family. No one will care that some of the "girl squad" featured heavily in the "Bad Blood" music video from 1989 has since dispersed (people change and grow apart, after all). And when Reputation makes its comeback, people may finally consider the album as an album, and not strictly a response to that Kim and Kanye situation.
It's difficult to say whether Swift could have reached her stratospheric level of success without that early self-mythologizing. But if this re-recording project has proved anything, it's that her music is timeless. And that Swift is always ahead of the times.
RELATED STORIES
Celebrity news, beauty, fashion advice, and fascinating features, delivered straight to your inbox!