5 Female Musicians You Should Know
For these women, being amazing at their instruments is just the tip of the iceberg.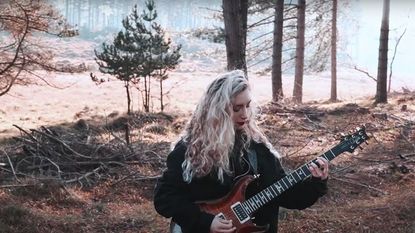 (Image credit: Ellie Godden)
Marie Claire Newsletter
Celebrity news, beauty, fashion advice, and fascinating features, delivered straight to your inbox!
Thank you for signing up to Marie Claire. You will receive a verification email shortly.
There was a problem. Please refresh the page and try again.
Presented by PRS Guitars
---
Look, it's 2021: We know that women play instruments and make incredible music doing so, and we probably don't need a "Women in Music" story that comes out once per year to tell us about it. But why, then, does it feel like we still need to highlight the contributions women and non-binary folks are making to the industry? Well, maybe it's that women and those outside the gender binary still don't get the same opportunities in music that men do. A 2019 study that looked at gender inclusivity in mainstream music found that, of the top 100 charting songs every year from 2012 to 2018, there were still 4.8 male artists to every one female. That's not because women aren't making music, of course: It's because the industry that drives songs to be produced, marketed, and sent to the outlets that will play them tends to favor men. In the same sample, only 12.3 percent of the songwriters credited in those songs were female. It's time for a change.
PRS Guitars supports women musicians around the world by highlighting their work, providing gorgeous instruments, and giving these women a platform to share their art with a bigger audience. Below, we highlight five female musicians who you should know right now:
The Warning's Dany Villareal
Three sisters from Monterrey, Mexico who went viral for playing Metallica covers when they were just little kids? Yeah, that's cool. The fact that The Warning took that viral fame and turned it into an actual kickass music career, became actual friends with Metallica, and now will open for the Foo Fighters and release their third album? That's some rock and roll stalwart behavior. And that makes guitarist Dany Villareal practically a rock veteran at just 21 years old.
---
Guitar Gabby
Gabriella "Guitar Gabby" Logan is an Atlanta-born musician, writer, and environmental lawyer who graduated from Vermont Law School after studying environmental and music law. Wanting to support more folks entering the industry, she also started TxLips Band, LLC, an international touring collective of Black women and non-binary musicians that wants, as they put it, "to challenge the boundaries set in the music industry." Check out more of Guitar Gabby's work here.
---
Sophie Burrell
Sophie Burrell is a 21-year-old British rock prodigy who's been playing guitar since she was a kid. She's super metal, and has garnered almost 300,000 followers on Instagram by virtue of her...well, virtuosity. Seriously, this girl plays Slash riffs better than Slash does. Check out her single "Tranquility" to see what we mean.
---
The Beaches' Kylie Miller
The Beaches formed in 2013, though three of its members—sisters Jordan and Kylie Miller and Eliza Enman-McDaniel grew up playing music together. Named for a neighborhood in their native Toronto, the group play stomping, snarling rock that winks to the 1970s—thanks largely to Kylie Miller's roaring guitar sounds. The Beaches is currently on tour.
---
Lauren "LT" Taneil
Bassists are often the under-appreciated heroes of rock bands, but it's hard to miss the brilliance of Lauren "LT" Taneil, who grew up playing music with her family and went on to become the bassist for Beyoncé's badass, all-female touring band. Yeah, that Beyoncé. LT's also played for Normani, Jasmine Sullivan, and Fantasia, and plays with her sisters in the band The GG's. Check her out on Instagram here.
Celebrity news, beauty, fashion advice, and fascinating features, delivered straight to your inbox!