Must Read: Cassette from My Ex: Stories and Soundtracks of Lost Loves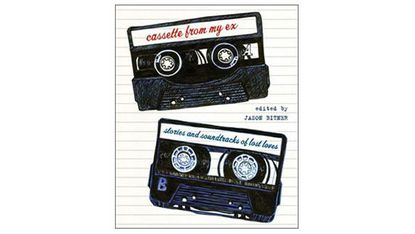 (Image credit: St. Martin's Griffin)
Do you remember your first mixtape? Whether you made or received mixtapes in the past, Cassette from My Ex: Stories and Soundtracks of Lost Loves will surely strike up some nostalgia. Edited by Jason Bitner, Cassette from My Ex contains a collection of 60 essays about relationships and mixtapes from musicians, magazine editors, VJs and more. Packed with comical and poignant tales of first love, friendship and heartbreak, the stories are relatable and at many times, bittersweet.
At the New York launch party, Bitner informed the audience of the origins of the project. After finding an old suitcase filled with 60-70 cassettes in his basement, one tape stood out. It was a mixtape he was given junior year of high school by his first girlfriend. Instantly transported back to January of 1991, Bitner realized if he held onto the tape for so many years, he surely could not be alone. Thus began Cassette from My Ex.
Joe Levy (editor of Maxim), Claudia Gonson (pianist/drummer of The Magnetic Fields) and Michael Hearst (musician and writer) provided insight into their mixtape days. The panel debated the mixtape process with Bitner, who hosted the evening. Whether it was spending countless hours tracking the tape to perfection or delicately designing the artwork to accompany the tape, all agreed that nothing was more satisfying than sitting on the floor with their record collection and crafting the perfect mixtape. Move over iTunes playlists; let's bring back the mixtape.
From the hilarious hand-me-down tale of a woman who discovers two of her boyfriends dated the same woman, Melissa, who made them both the same mix (a huge don't in the mixtape world) to the heartbreak of learning of an ex's suicide, each story is written from the heart and begs the reader to turn the page and discover the story behind the next mixtape.
"We made each other tapes because we believed that music articulated what we could not otherwise express," Ben Greenman wrote in his essay, "Sorrowful, Standing." Vincent Chung seemingly agreed in his write-up, "Snowball's Chance in Hell." "To me, receiving mixtapes isn't about discovering new music expertly mixed with sweet transitions. They simply have to encapsulate the author's personality, and the cassettes were always ideal in their imperfections."
Cassette from My Ex will surely find you laughing and when finished, in search of your old mixtape, or possibly inspire you to make one for someone else. Either way, Jenny Reader said it best. "Times change, people change, but the tunes that become entwined in the fabric of your life? That's as gritty and real, and as unchangeable, as it gets."
Annie Reuter is a freelance writer and music blogger who covers concerts and music festivals around the country. In constant pursuit of the next show to attend and band to interview, Annie keeps up her own music blog, You Sing, I Write, where you can read more on the latest up-and-coming bands.
Marie Claire email subscribers get intel on fashion and beauty trends, hot-off-the-press celebrity news, and more. Sign up here.