10 Things Only Single Girls Understand About Valentine's Day
Yeah couples, love, cute, hearts, blah blah blah.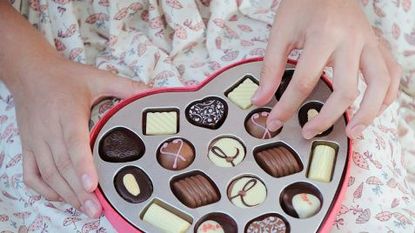 (Image credit: Archives)
1. I love an excuse to wear a bold red lip, sip champagne, and eat a pound of chocolate any day.
2. I'll buy myself fresh cut flowers, thank you very much.
3. I can still go out for an obscenely overpriced prix-fixe meal, or I can spend my money the way I really want to: on an obscenely expensive but totally worth it anything.
4. I don't have to bore my girlfriends with my anxiety-ridden thoughts about how my kind-of boyfriend might blow me off.
5. I'm not worrying about what my ex is doing this Valentine's Day. If he's got a new girlfriend, he has to spend money on her. And I know how much he hates that.
6. Bars on Valentine's Day are like an unofficial singles night. #bringyourAgame
7. I don't have to worry about a very bloated V Day canoodling sesh after that seven course tasting menu.
8. I actually love rom-coms, so bring on the 24-hr "My Best Friends Wedding" binge-fest on TBS.
9. Let's be honest—there's a part of all of us that thinks this holiday is just ridiculous, whether you're single or attached.
10. The next day is all about those three magic words: Half Priced Candy.
Celebrity news, beauty, fashion advice, and fascinating features, delivered straight to your inbox!