I Was Ambivalent—Until I Wasn't: How I Became a Mother at 42
"A short-term affair resulted in a long-term blessing."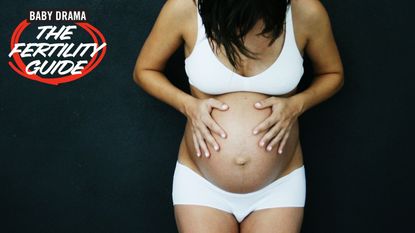 (Image credit: Getty Images)
When did getting knocked up get so complicated? Once upon a time, all that my friends and I wanted was not to get pregnant. Then something changed. Birth-control prescriptions lapsed. The finger-crossing started to reverse. If you want kids, it's that straightforward, right?
Not really. Sometimes it just happens, and sometimes...it doesn't. But there are lots of ways to make it happen. You can be artificially inseminated with donor sperm or freeze your eggs for in vitro fertilization (IVF) or a surrogate. You can be straight or gay or married or single.
Still, just because the clock is ticking doesn't mean you're ready, emotionally or financially. You might still be all jumbled. I know I was. I just needed a little more time: to find the right father, to make a bit more money, to somehow feel ready. I knew I wanted a child, but it always seemed like something for the future. I turned 40 and quietly agonized over dwindling choices while my insides wrung with anxiety.
Now I am 42 and the mother of a newborn. A short-term affair resulted in a long-term blessing. Just like that, I was single and pregnant, and life would never be the same. I didn't plan it—but I was ready. When people clucked about how hard it was to be a single mother, I said, "You know what else is hard? Living with regret."
I'm not saying it isn't daunting. It is. But I have my amazing family—and the eleventh-hour chance to make my mom and dad grandparents and my sister an aunt fills me with joy. My friends immediately closed ranks around me, showering me with love and baby clothes. The upside to doing this in my 40s is having had time along the way to collect a lot of great people to be there for me. For all the connotations of being a "single" mother, at no point during the whole pregnancy did I ever once feel alone.
If it hadn't happened by accident, would I have made it happen for myself? I don't know. I fear I would have waited myself out of contention. There's still only so much hedging we can do against biology, and ambivalence has a price. I don't know where this leaves you. But it's 2015, and you've never had more options.
This article appears in the July issue of Marie Claire, on newsstands now, and is a part of a week-long series on fertility. See the rest here.
Marie Claire email subscribers get intel on fashion and beauty trends, hot-off-the-press celebrity news, and more. Sign up here.