The NFL's First Female Coach on What It's Like to Be the Only Woman in the Huddle
Jen Welter takes you inside.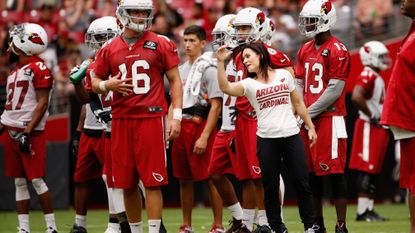 (Image credit: Getty Images)
Marie Claire Newsletter
Celebrity news, beauty, fashion advice, and fascinating features, delivered straight to your inbox!
Thank you for signing up to Marie Claire. You will receive a verification email shortly.
There was a problem. Please refresh the page and try again.
On July 27, Jen Welter made history when the Arizona Cardinals hired her as the first female coach in the NFL. For the month of August, Welter, 38, worked as a coaching intern under inside linebacker assistant coach Larry Foote at the Cardinals' summer training camp, running the athletes through plays, drills, and tactics. It wasn't her first time on the field with a bunch of dudes: After 14 years as a linebacker in women's football leagues, in 2014 Welter became the first woman to play a non-kicking position in a men's pro football league as a running back for the Texas Revolution, an indoor football team. She also became the first woman to coach in the league, Champions Indoor Football, this year. We asked Welter how training camp went and what's next for the rising star.
Marie Claire: What was it like going into training camp with the pressure of being the first woman to coach in the NFL?
Jen Welter: It was important to me to be great. Not good, great. The last thing I wanted to happen was for the NFL to say, "We tried a woman once, and it didn't go so well." That would be a potential barrier for other women later.
MC: How did you earn respect?
JW: I earned it when the players figured out I knew what I was doing. Some guys told me, "I saw you balling; I watched your highlight reel." They invested time to check into me, and that's a sign of respect. They saw the combination: I knew what I was talking about on the field, and I knew how to play. At one point, I was giving a rookie some instructions on a pass when Lorenzo Alexander, who's now with the Oakland Raiders, walked by. He's been in the game a long time and is a bit of a legend. The rookie asked him if what I had said was right, and Lorenzo said, "You need to listen to her, because what she told you is exactly what you need to do."
MC: Were you ever treated differently as a woman?
JW: The coaches and players would give me a hard time just like the guys, but they also introduced me to their mommas and girlfriends. The women would come up to me and say, "We're so glad you're out there with our guys." To me, that was huge. The guys also loved the fact that my coaching them was making history. They'd point it out all of the time and say, "Coach, this is a big deal. This is special."
MC: Any hurdles?
JW: I'm not only a woman, but also a tiny woman at 5'2". When the equipment guys asked my shorts size, I decided to err on the side of them being too big to avoid them being skintight. But when the shorts came in, they looked like short khaki pants on me. I could have taken them off without unbuttoning them. So I asked for the same mesh shorts as the players, and the adult medium reached halfway down my calves. Our media guy told us we got so many comments about those shorts that they needed their own Instagram.
MC: What are your thoughts on the domestic violence issue within the NFL?
JW: Domestic violence is a societal problem, not just the NFL's. A lot of the guys felt misunderstood—just because one guy did something to his partner didn't mean they were all like that. We need to help our guys not just be better players, but better people, and to do that, we need to put more into helping them understand difficult relationship situations or miscommunication, rather than addressing only the punishment. The guys felt comfortable talking to me about stuff. They knew I have a doctorate in psychology, so they'd find me and say, "Can I borrow you for a sec?"
MC: What's next?
JW: I don't know! Coaching in the NFL is very much a fraternity. It's about who you know and if you work with them well. Head coach Bruce Arians would give me the highest recommendation, and I've already had guys who said they would love to bring me with them to another team. Brentson Buckner, the defensive line coach, told me that the day he's a head coach, I'm his first hire.
This article appears in the December issue of Marie Claire, on newsstands now.
Follow Marie Claire on Instagram for the latest celeb news, pretty pics, funny stuff, and an insider POV.

Celebrity news, beauty, fashion advice, and fascinating features, delivered straight to your inbox!