This Is What a World Without Reproductive Rights Would Be Like
As the abortion wars rage here at home, El Salvador, the country with the strictest anti-abortion laws—where women are put in prison or risk death to avoid having a baby—shows how we might live in a world without reproductive rights.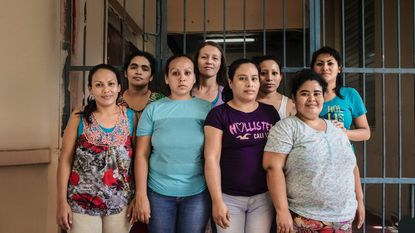 (Image credit: Juan Carlos)
Marie Claire Newsletter
Celebrity news, beauty, fashion advice, and fascinating features, delivered straight to your inbox!
Thank you for signing up to Marie Claire. You will receive a verification email shortly.
There was a problem. Please refresh the page and try again.
On the morning of her arrest in 2008, Carmen Guadalupe Vásquez woke up with the fetus of a stillborn child lying in a pool of blood between her legs. Nearly nine months before, the 18-year-old had been raped by a neighbor who'd warned her that her corpse would be found in a black plastic bag if she dared tell anyone. Vásquez, with long dark hair that cloaks somber eyes, had dropped out of school in second grade to work as a live-in domestic servant in San Salvador, El Salvador's capital city. Her mother needed the money Vásquez earned to support eight children after her father had abandoned them. Vásquez decided to keep the child and said nothing—not to her mother, who wondered why her belly was swelling without a steady man in her life, or to her employer, for fear of losing her $80-a-month job (she hid her bump with baggy clothes). "Every day, I asked myself, How can I give this baby a good life?" she recalls.
Several weeks before she came to term, in a small back room of the house where she worked, she experienced intense abdominal pain that knocked her unconscious, and she lost the fetus. Instead of calling for an ambulance, after she awoke, her boss shouted at her for making a mess. Finally, that afternoon, she broke down and took Vásquez to a public hospital where a doctor began interrogating her: How did you do the abortion? What exactly did you use? Did you throw the baby in the trash? Police officers handcuffed Vásquez to the bed, where she remained for the next four days under 24-hour guard. Her nightmare was just beginning.
Women's reproductive rights are restricted throughout staunchly Roman Catholic Latin America and the Caribbean. Abortion is out- lawed in all but three countries (Cuba, Uruguay, and Guyana), with exceptions made in several countries (Brazil, Mexico, Bolivia, and Peru, among others) if the mother's life is in danger. In March, Chile's lower house of Congress approved a proposal that lifts a ban on abortion in cases of rape, when the mother's health is at risk, or when the fetus is not viable (the measure needs Senate approval to become law). But for now, terminating a pregnancy remains illegal in all circumstances there and in Nicaragua, Honduras, Haiti, the Dominican Republic, and El Salvador—where women accused of having an abortion face up to 50 years in prison. With aggressive campaigns to impede abortion rights underway in the United States—according to the Guttmacher Institute, in the past five years, states have enacted 288 abortion restrictions— El Salvador illustrates what extremes are possible when women are denied reproductive care.
In recent months, the Zika virus has only intensified the risks that women in the region face. The virus arrived in Brazil in the first half of 2015 and is currently in 31 countries. The World Health Organization (WHO) declared a global health emergency in February, projecting as many as 3 million infections in the Americas this year. The WHO has also reported a "strongly suspected" link between the mosquito-borne virus and a surge of cases of microcephaly, a birth defect in which a baby is born with a smaller-than-average brain. Latin American governments have responded by advising women not to get pregnant: Colombia has urged women to delay pregnancy for at least six to eight months, while El Salvador has called on women to wait until 2018. (Brazil also advised women not to get pregnant but did not specify a timetable.) But in a region with a high prevalence of gender-based violence and where access to birth control is limited, not getting pregnant may not be an option. Which means, given the draconian abortion laws on the books in Latin America (only Mexico, Colombia, Cuba, and Panama allow abortions because of fetal impairment), growing numbers of women will face a stark choice: risk giving birth to a child with severe mental handicaps or undertake an illegal abortion that could land them in jail.
Vásquez was initially charged with the crime of abortion, but prosecutors later raised it to aggravated homicide, contending the fetus could have survived. Without any sex education, Vásquez insists she had no idea how to induce an abortion had she wanted to; regardless, her guilt was presumed. In court, her state-appointed lawyer advised her to waive her rights and plead no contest. Her sentence: 30 years in jail. While Vásquez was awaiting transfer to prison, a guard fumed that she was lucky—he would have cut off her head if she was his wife.
Vásquez's case is not unique. Between 2000 and 2011, El Salvador prosecuted 129 women for abortion-related crimes, and more than a third were convicted, according to the Citizens' Coalition for the Decriminalization of Abortion, an El Salvador–based advocacy group. (The rest of the cases were not brought to trial because prosecutors had insufficient evidence.) While some of these women willingly defied national laws prohibiting abortion, the majority lost their pregnancies to complications beyond their control (miscarriages, stillbirths, accidents). Human-rights activists say that a mix of religious fundamentalism and right-wing influence over the government and judicial system has produced a culture of paranoia so severe that Salvadoran women who have been victims of rape or incest, or who have had miscarriages and other emergencies, are being ruthlessly punished. "The options for El Salvadoran women who need abortions: suicide, death, or jail," says Dennis Muñoz, a lawyer who defends women incarcerated for reproductive crimes. Of the formal complaints lodged against the 129 women for abortion-related crimes, he notes, most were made by health professionals treating them for miscarriages and obstetric emergencies, in blatant violation of doctor-patient confidentiality and medical ethics. "Public hospitals have become detention centers," he says. "Scared doctors are calling the police and treating these women like criminals."
"What victims have in common is they are young, poor, and uneducated," says Sara García, an activist with the Feminist Collective, a Salvadoran women's advocacy organization. "It's a double standard." Middle- and upper-class women, including those from the right-wing Catholic elite, have access to abortion pills at private clinics, or they may fly to another country where abortion is legal, she explains. For everyone else, limited resources and information compel them to carry an unwanted pregnancy or take matters into their own hands. Although abortion pills have become cheaper and more widely available on the black market, they can be impossible to find in rural areas and cost as much as $200— a massive sum in a country where the average monthly income is about $330. Doctors can attest to the desperate measures taken by women, from coat hangers to caustic chemicals poured into the vaginal canal.
Overall, the WHO estimates that more than 35,000 Salvadoran women have clandestine abortions each year, though doctors and reproductive-rights activists say the figure is far higher. Accurate data is not available on the number of women who die each year as a result of botched home procedures, but the WHO indicates that 11 percent of women and girls who underwent a clandestine abortion died as a result. Across Central America, the WHO reports that 9 percent of maternal deaths are caused this way. (By contrast, women in regions where abortion is legal very rarely die from the procedure.)
An alarming number are young girls impregnated by rape. El Salvador has one of the highest rates of teenage pregnancy in Latin America (66 births per 1,000 teens aged 15 to 19), and nearly two-thirds of victims of sex crimes are girls under the age of 17, according to the Center for Reproductive Rights, a U.S.-based legal advocacy group. Faced with so few options, and so much social stigma, girls often see suicide as the only alternative to rape-induced motherhood; government figures show that suicide accounts for a third of deaths among pregnant women under 19.
Still, the country's absolute laws make no allowances for victims of sexual violence. Morena Herrera, another activist with the Feminist Collective, recalls the story of "Maria," a teenager from a low-income family who put powdered bleach in her vagina to end a pregnancy weeks after she was raped by two men near her school dorm in San Salvador. Friends found her covered in blood, but they knew that taking her to a nearby public hospital was "out of the question, like delivering her to prison," says Herrera. Fortunately, they contacted a women's rights group that was able to facilitate care at a private clinic.
The Santa Lucia Women's Readjustment Prison sits off a road in Ilopango, a dusty suburb of San Salvador. Originally built for 225 women, it now holds more than 2,000, from petty thieves to murderers. The dank, cinder-block cells are packed so tightly with bodies and dirty bedding that there is no space to walk. In the courtyard, where prisoners are permitted to walk around for a few hours each day bounded by caged metal, skeins of laundry are strung from bar to bar. The food is awful and inadequate. One church leader who recently visited the complex was quoted as calling it a "Dantean descent into hell."
Cristina Quintanilla arrived at the prison at 18 after enduring the loss of her second child in 2004, leaving her young son, Daniel, motherless. She had moved from the eastern city of San Miguel to Ilopango to be close to her aging mother, who cared for Daniel while she was in prison. Nearly seven months into her pregnancy, she says she was hit with severe stomach pains and passed out as she went into labor. No one responded when her mother called 911, so a neighbor unwittingly brought her to a public hospital where she woke up to police officers and handcuffs—an anonymous hospital worker had reported her to the authorities. There was no evidence that she had aborted the pregnancy, yet she was convicted of aggravated homicide and sentenced to 30 years. "My life was stolen from me," she says. "I was in total shock."
Behind bars, Quintanilla was vilified by fellow prisoners for being a "baby killer." Death threats were frequent, and other women imprisoned on bogus abortion charges were beaten up, she says. Instead of punishing the attackers, guards sent the abortion convicts to solitary confinement. She lost all hope of seeing the world outside. "If you can be convicted of a crime without proof, how can you expect them to realize they have done wrong?" she says.
Quintanilla was freed in 2009 with help from Muñoz, who convinced a judge that there wasn't enough evidence to justify her imprisonment. But 17 women who insist they had legitimate miscarriages—most of them laborers and domestic servants, including Vásquez—languished inside. Las 17, as they are known in the media, have drawn worldwide attention to the plight of Salvadoran women. The longest-serving is Mayra Veronica Figueroa, 33, a maid who was impregnated by rape and lost her baby near full term. So far, she has served 13 years of a 30-year sentence.
El Salvador's laws were not always so harsh. Prior to the civil war, which lasted from 1980 to 1992, abortion was permitted in cases of rape, malformations in the fetus, or when a mother's life was at risk. In areas controlled by the Farabundo Marti National Liberation Front (FMLN), an alliance of left-wing guerrilla groups that revolted against the government, women were free to have abortions. In the war's aftermath, however, the right-wing ARENA party mounted a campaign with the support of the Catholic Church to roll back reproductive rights. It culminated in a total ban on abortion in 1998. A year later, the constitution was amended to declare that "Right to Life" begins at conception. A fetus, in other words, is now entitled to the same legal protections as a person—much like the antiabortion lobby in the U.S. would like.
In 2009, the FMLN won the presidency, overturning two decades of ARENA rule. Despite its early record of supporting abortion decriminalization efforts, it has made no attempt to repeal laws because that would be akin to political kryptonite. Conservative values prevail across the population, and the Catholic Church is aligned with a powerful pro-life lobby that exerts influence on the Supreme Court, says Muñoz, the pro-choice lawyer. Right-wing-controlled media outlets defame women who have had abortions as well as organizations known to support them. Muñoz has been blacklisted as the "abortion lawyer" and says his daughter has been harassed at school. He walks the streets with the gnawing fear that he may be attacked, or worse. "It's an atmosphere of legal and physical insecurity," he says.
A new level of absurdity was reached in 2013 when the Supreme Court refused to authorize a medical abortion for "Beatriz" (as she was called in the local press), a pregnant 22-year-old poor woman with lupus. Believing herself to be pregnant, Beatriz had endured 15 days of fever and infected skin ulcers after suspending her medication to protect the child. Ultrasound tests confirmed she was more than three months pregnant; they also revealed that the fetus was anencephalic, or without a brain and skull. Doctors recommended removing the fetus since Beatriz's life was in great danger and the child would die outside the womb, but they dared not act, fearing prosecution. Weeks passed and Beatriz's health deteriorated, but the court was silent. As the story made waves around the country and abroad, José Luis Escobar, the archbishop of San Salvador, reportedly asserted that it would be "against nature" to allow Beatriz an abortion. "Since we need to consider both lives, we need to ask, Whose life is in greater danger?" he said. "We think the fetus is in greater danger." Nearly seven months into the pregnancy, Beatriz was finally granted a cesarean section. The baby died five hours later, as doctors had predicted. Beatriz survived, and her health has since recovered.
Pro-life groups that have worked with the Catholic Church to uphold the abortion ban were unmoved by Beatriz's case. "There is no scientific reason why a doctor should sacrifice the life of the baby to save the life of the mother," says Carla de Lacayo, director of Sí a la Vida (Yes to Life). "Both have the right to life." In cases of rape, she asserts that while the woman is a victim, the baby is innocent and undeserving of the "death penalty." "The crime of abortion is unthinkable to every Salvadoran," she says. "El Salvador is a country that is 100 percent pro-life."
But that may be starting to change ever so slightly. As the spread of Zika has intensified, so, too, have calls for Latin American countries to loosen their restrictive laws. In February, Cecile Pouilly, spokeswoman for the United Nations Office of the High Commissioner on Human Rights, challenged countries affected by Zika to allow women to access abortion. "We are asking those governments to go back and change those laws," she said. "Because how can they ask those women not to become pregnant but also not offer them...the possibility to stop their pregnancies if they wish?" Legal scholars in Brazil are planning to make the case to the Supreme Court to allow women with Zika to access abortion. In 2012, the court decided to allow the termination of anencephalic pregnancies; government officials have said they don't plan to add an exception for microcephaly. But activists there say individual women may petition judges to allow abortions, and one judge in the central Brazilian state of Goias said women expect- ing babies with microcephaly should be examined "case by case" to determine if they may get an abortion. Earlier this year in Colombia, a woman was allowed to terminate a pregnancy at 32 weeks because the fetus had severe cranial deformities and microcephaly.
El Salvador has seen far less progress on the issue, but there are early signs that societal attitudes are evolving. A 2012 study commissioned by Harvard University found that 57 percent of El Salvador's population favors a change in legislation to allow interruption of a pregnancy when a woman's life is at risk. At press time, no babies had been born with microcephaly in El Salvador, but as the virus was confirmed in the country in November, officials anticipate seeing cases in utero as early as this month (microcephaly doesn't present in fetuses until the later stages of pregnancy). El Salvador's deputy health minister, Eduardo Espinoza, has said the spread of Zika may trigger a debate that could revise the country's abortion law.
Late one afternoon in July, a clandestine abortion doctor we'll call Roberto agreed to meet us at a shopping mall café in a suburb of San Salvador. He had come to the capital from the northeastern province of Morazán. For the past decade, he has commuted three hours each way, twice a week, as a consultant for the Ministry of Health. On the side, he has spent the better part of his working years providing free abortions. If caught, he says he'd spend up to eight years in prison. Speaking under the din of weekend shoppers, Roberto explained that most women in the countryside "don't know abortions are possible." He performs about four pill-induced abortions a month at no cost and gives priority based on need. "No one will be denied," he says. The abortions are only offered in the first trimester, and he follows up with in-person checkups to ensure the drugs worked. In addition to his own work, Roberto coordinates an underground network of doctors across the country that offers free abortions and communicates through coded language.
Last spring, Roberto and his cohorts got a boost from Women on Waves, a Dutch nonprofit that uses boats and drones to deliver abortion pills in places where they are illegal or difficult to obtain. Roberto was contacted by the organization and arranged to pick up an airdrop of pills that were then distributed to doctors in his network. With support from a Colombian NGO, Roberto's long- term hope is to cultivate a pan–Latin American network to assist disadvantaged women. "We will not stop," he says.
Some organizations are taking additional steps in the wake of the Zika crisis. The Center for Reproductive Rights is working to facilitate access to abortions, while Women on Web, an offshoot of the Dutch group, is providing free medical consultations to women with Zika—it also has offered to mail women pills to induce abortions. Because of these networks, women like "Claudia," 26, a fine-arts sculptor from San Salvador with a black belt in tae kwon do, can safely maintain control of their lives. Two years ago, she became pregnant in an unstable relationship while in the middle of her graduate studies. "I thought hard about having the baby," she says. "I was conflicted but [decided] I was not ready." She was worried she'd have to do what her sister's boyfriend had done—travel to the Honduran border to procure abortion pills of dubious quality on the black market—but a women's organization introduced Claudia to one of the doctors in Roberto's group, who issued a take-home dose of misoprostol. Her doctor, a woman, called her afterward to confirm it had gone smoothly. "I was so happy," she says. "To know there are options for help and we don't have to imprison ourselves."
Claudia has since had a second abortion and says six of her friends have had at least one abortion as well. She's now an activist, promoting reproductive rights on social media, and has taken part in rallies calling for the release of Las 17.
In February 2015, pro-choice activists were handed an unexpected victory: Carmen Guadalupe Vásquez, the maid who miscarried, was released from prison. The legislature approved a Supreme Court recommendation that she be exonerated after Muñoz, her lawyer, raised "reasonable doubts" about the evidence against her. Muñoz has seized on the reversal to appeal the cases of other women. Herrera, of the Feminist Collective, says the battle for social justice is just beginning on the legal front. "We have a long, long way to go," she says.
Months after her release, Vásquez wears the trauma of her ordeal. Chronic back pain and nausea caused her to vomit twice during our interview at a safe house in the capital. Her words came in a whisper, but she continued because it's her "duty to speak up until all the women in this country are safe," she says, noting that 15 of Las 17 are still incarcerated. One day she would like to start a family on her own terms. Now, her goal is to support herself by hawking handicrafts and baked goods, both skills she learned in prison.
Cristina Quintanilla, the imprisoned mother, also became an advocate for women's reproductive rights once she returned home in 2009. She reunited with her son and went on to have a daughter. But her criminal record condemned her to odd, informal jobs that left her unable to support her family. "All doors were closed to me," she says. "I had no chance." In 2014, she left El Salvador and crossed into the U.S. illegally, settling with relatives in the Chicago area. She had to leave her kids behind, as the journey was too dangerous. When she became pregnant for the third time, a doctor told her that if her health was at risk during the pregnancy, she would have to have an abortion. "It was such a strange thing to hear," Quintanilla, now 28, says. But this time it didn't matter: In August, she gave birth to a healthy baby girl. As long as the immigration judge handling her case sympathizes, her daughter will not be raised in El Salvador.
This article appears in the May issue of Marie Claire, on newsstands now.
Celebrity news, beauty, fashion advice, and fascinating features, delivered straight to your inbox!