"I'm Afraid Every Time": Cliff Diver Rachelle Simpson on What It's Like to Jump from 7 Stories Up
Hurtling toward the water at 50 MPH is what she lives for.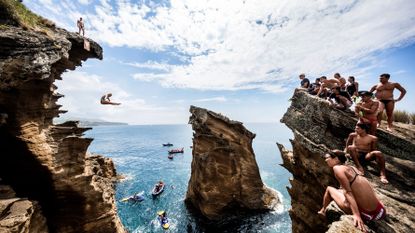 (Image credit: Dean Treml/Red Bull Content Pool)
Marie Claire Newsletter
Celebrity news, beauty, fashion advice, and fascinating features, delivered straight to your inbox!
Thank you for signing up to Marie Claire. You will receive a verification email shortly.
There was a problem. Please refresh the page and try again.
A towering monolith of volcanic rock in Portugal; spindly fjords off the coast of Kragerø, Norway; the cavernous cenotes on Mexico's Yucatán Peninsula: Rachelle Simpson never imagined she'd be perched on the edge of any of these places, preparing to plummet into the weightlessness of their gravity-defying descents. With the agility of an acrobat, the reigning Red Bull Cliff Diving world champion twists, twirls, and triple-somersaults through the air at more than 50 miles per hour before disappearing into the water's surface below. "I'm afraid every time," Simpson, 28, says. "But I'm also addicted to overcoming the fear."
The San Antonio-based athlete spent her childhood flipping and jumping around at the gymnastics school her parents owned. "My mom went into labor with me while she was coaching," she explains. "I was almost born in the gym." She joined a coed diving team in high school, earning the nickname "Rocco" for her rocking dives, and skipped college to perform with dolphins and beluga whales at SeaWorld in San Antonio before moving to Macau to join the cast of a Chinese water-based theatrical production. The show was the perfect training for her next act, which came in 2014 when Red Bull announced that its annual Cliff Diving World Series (launched in 2009) would open to women. Simpson sent in a diving video, Red Bull snapped her up for the women's team, and that same year, she became the first female champion.
"I love the competition because it's not just the cliff diving, it's also traveling to these incredible places around the planet," she says. Having kicked off in May in Possum Kingdom Lake, Texas, the seven-stop global tour culminates in October with a jump off Dubai Marina's Pier 7. (Female cliff divers jump from a platform up to 21.5 meters high, about 70 feet, or seven stories; in comparison, Olympic divers compete at 10 meters.) The leap into the Atlantic Ocean from the cliffs of the Azores archipelago is a favorite spot for Simpson: "You have to time your jump to the ebb of the tide and flow of the waves, which makes you really connect with the landscape and the ocean."
Getting practice in during the off-season, however, is perhaps the trickiest part of training: "We don't have the luxury of having cliffs to jump off in our backyards, so a lot of us go six months or so without being able to dive," Simpson explains. At home, she trains on an Olympic high board, splitting her dive in two parts: "I'll do the first 10-meter dive, then run back up and jump the other half."
She works out four hours a day, five days a week, adding in the occasional Tough Mudder endurance event. Having a personal trainer for a husband helps—he's gotten Simpson to go vegan and incorporate meditation and visualization into her daily routine. "Sometimes my husband doesn't watch when I'm up there on the platform," she says, laughing. "He's terrified of heights." He may have another reason to look away, as Simpson is already thinking of her next adventure: "I would be down for walking a tightrope across the Grand Canyon."
This article appears in the September issue of Marie Claire, on newsstands now.
Celebrity news, beauty, fashion advice, and fascinating features, delivered straight to your inbox!