The Big Picture: How One Woman Is Helping Young Refugees by Putting Them Behind the Lens
In teaching refugee children about photography, Sevilay Maria van Dorst is helping them see the world in a new light.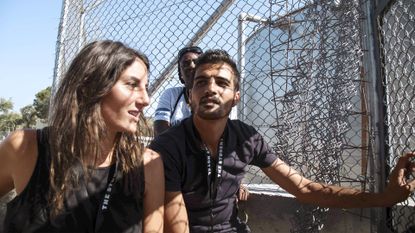 (Image credit: Sebastian Gil Miranda)
Marie Claire Newsletter
Celebrity news, beauty, fashion advice, and fascinating features, delivered straight to your inbox!
Thank you for signing up to Marie Claire. You will receive a verification email shortly.
There was a problem. Please refresh the page and try again.
As a photographer, Sevilay Maria van Dorst relies on images from around the world to stay on top of news events. But earlier this year, she found that despite all of the harrowing images coming out of the Syrian refugee crisis in Europe, she didn't feel like she had a solid grasp of what was unfolding there. "I honestly wasn't sure what to believe," van Dorst, 32, says. "I thought, You know what? I'm going to see for myself what's going on."
So in early February, van Dorst packed her bags and left her home in Amsterdam for Lesvos, Greece, an island widely viewed as a ground zero for the crisis because of its location as a gateway to the rest of the continent. (Roughly 30,000 migrants arrived in there in February alone.) She made her way to the Moria refugee camp, which at the time was home to about 4,000 refugees, where the severity of the crisis was palpable. "In an instant, I knew things were worse than I ever expected," she says. "You see their fear and a complete lack of understanding for what's going to happen. They've been going from smuggler to smuggler, treated like animals and just another number. But when I looked into their eyes, I realized they had names, families, hopes, and dreams. I thought, Oh, my God, you are not from a different world. You are me, and I am you."
Moved to help in any way she could, van Dorst began teaching English to some of the children through the camp's chain-link fence, using flip cards. (She hadn't obtained permission to work inside the camp.) She had a handful of students on the first day; more than 70 people, including adults, showed up on the second. Eventually, the English classes evolved into photography lessons. "I'm a photographer and an artist, so I always look for solutions through art," says van Dorst. Soon, she'd met two other photographers, Oliver Zimmermann and Sebastian Gil Miranda, who'd also traveled to Lesvos to witness the crisis for themselves. Together, along with a translator, Amir Asadi, who had recently come to Greece as a refugee from Iran, they founded Inside Light, a project to teach young refugees photography as a way of boosting their morale.
Over the next seven months, the Inside Light team passed disposable cameras under the fence and told the students, ages 9 to 16, to take photos of beautiful things. "They see this place in a very negative way, but when we ask them to look for special things, they begin to see their environment differently," van Dorst explains. "You start to stimulate positive thinking instead of, Oh, this is so bad." After the kids finished shooting, the photographers developed their images at a local shop and returned to talk with them about their favorite snaps, while offering basic tips on composition, lighting, and other techniques. In return, the children shared stories about their lives back home. "It is remarkable to me how these refugees don't have anything, but still want to give you something, to teach you something about themselves or their countries," van Dorst says. So far, Inside Light has worked with more than 50 kids; it plans to expand to other refugee camps in Greece and elsewhere next year, and has launched a fundraising campaign.
What the children choose to photograph sometimes surprises van Dorst. Once, a young boy whose father had left his family years ago was so excited about a picture he had taken that he pressed it to his chest for several minutes. When he finally put it down, van Dorst realized he had taken a selfie. "Was this a mistake?" she asked. "No," he replied. "It's not a mistake—I'm beautiful." The response left van Dorst speechless: "To know that he'd felt so unlikable because his father left and to then see him call himself beautiful told me I'd done my job."
For more information or to donate, visit ngotiator.org/product/donation.
This article appears in the December issue of Marie Claire, on newsstands November 15.
Celebrity news, beauty, fashion advice, and fascinating features, delivered straight to your inbox!