Gina Keatley: From Homeless to Pro Chef
One woman took the kindness she experienced in soup kitchens as a child and opened her own.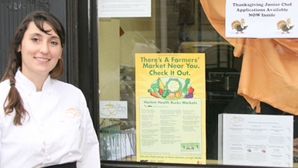 (Image credit: Scott Keatley)
At the age of 4, Gina Keatley — along with her 12-year-old sister and 15-year-old brother — left her parents. She didn't understand what was going on at the time, but she knew that she had to say goodbye because her father had gotten into legal troubles and her mother had health problems that prevented her from caring for them. In order not to get swept into the foster care system, Keatley and her siblings did everything they could to stay together.
"I think that's where I really learned that you have to decide your own future," says Keatley, 30, who is now a chef living in New York City.
Keatley and her siblings spent their childhoods moving from state to state, often living in their car or wherever her brother found work — at funeral homes and with mentally ill patients.
"We had no place to live, so I'd literally live in the funeral home, next to the embalming room," Keatley recalls. "It's very bizarre for an 8-year-old. That's maybe where my lust for Halloween began." She bursts out in laughter. In fact, she often sees the positive aspects of her life without a home. Moving around as much as she did allowed her to see the entire country.
It didn't, however, make her a good student. Keatley skimmed her way through school, eventually earning a high school diploma in Florida. Things didn't really start happening for her until she enrolled in a vocational program and realized where her skills lay — in the kitchen. Her solid grades from vocational school paved the way for her to go on to culinary school and then college.
"I felt it was important to graduate because I started learning that, if you go to college, your kids go to college," says Keatley. "And I wanted that. And I wanted to be 'in.' I didn't like not being allowed in the club."
After getting accepted to New York University and earning a bachelor's degree in nutrition, she decided her skills were needed in one of the city's most obese and diabetic neighborhoods — East Harlem.
She opened a soup kitchen, the Nourishing Kitchen of NYC, there in 2008, and since then she's been serving up healthy, diabetic-friendly dishes ... with a little motivation on the side.
"I tell people, 'I don't care if you're poor ... that doesn't make an excuse for you not to be eating well,'" she says, adding that the kitchen gives away plots of seeds for people to grow their own vegetables. It also offers cooking classes for seniors and kids.
"We want to make it so food has a positive approach early on, especially with girls. You think that the age is 14, but it's really like 8 where we start defining ourselves with food," she says.
This summer, the Nourishing Kitchen won a $25,000 grant from Post Foods to continue its junior chefs program, and Keatley is currently developing a culinary program to train women who are rehabilitating from drug abuse and domestic violence to work in the hospitality industry.
Keeping the kitchen open during a recession has been difficult, but she says she never takes no for an answer. Whereas most people credit a mentor for guiding them through hard times, Keatley says her inner voice is what has driven her to succeed.
"It's what created me," she says. "You have to rescue yourself."
Celebrity news, beauty, fashion advice, and fascinating features, delivered straight to your inbox!