Girls 4 Sale
For most businesses in the U.S., the Web has changed everything. The sex industry is no exception. Now sex is as easy to find online as shelter puppies, used cars, and apartment rentals. But there's an ugly truth about this booming business: An untold number of underage girls are sold for sex online every day. Meet two women determined to get them out.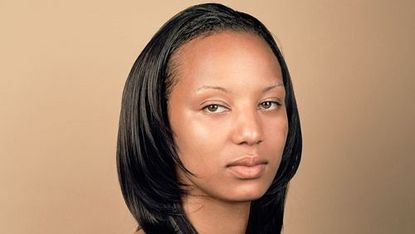 (Image credit: Marie Claire)
IT'S LATE ON A FRIDAY AFTERNOON IN THE FASHIONABLE WASHINGTON, D.C., NEIGHBORHOOD OF DUPONT CIRCLE, and not far from the area's ornate foreign embassies and art galleries, 35-year-old Andrea Powell sits cross-legged at her desk, squinting at the glowing screen of her MacBook Pro. Her work for the night is just getting started.
With her long blonde hair pulled back with a plastic claw clip, Powell clicks over to a website she spends more hours on every week than her own Facebook page. It's a shopping site — but she's not looking for her trademark platform sandals here. The site is Backpage.com (opens in new tab), the nation's largest online marketplace for sex according to independent industry analyses, and Powell, the executive director of FAIR Girls, a small nonprofit that helps underage girls escape prostitution, hasn't come to shop.
On Backpage, Friday afternoon is like a flash sale for sex — it's payday and the start of the weekend, when demand for prostitution is high and prices are cheap. By 4 p.m., Powell has already counted at least 200 postings in Backpage's "escort" category for the Washington, D.C., area alone: "$60 specials!" "Chocolate juicy booty, oiled up and ready!" "40DDD all-natural boobs!" In ad after ad, young women sell their bodies to strangers, often for less than the cost of a pair of Nine West sandals. Suggestively posing for photos in skimpy lingerie, typically in hotel rooms or bedrooms, the girls come in all sizes and races.
What worries Powell — why she scours Backpage's ads even late at night while her husband sleeps — is that these girls come in all ages, too. Some are literally girls: minors bought and sold in the increasingly online, on-demand big business of commercial sex.
In the past several years, Powell has met hundreds of underage girls who have been sold on Backpage and other sex sites. These girls often spend days on end in hotel rooms, isolated from friends and family, having sex with as many as 10 to 20 johns in one night, being forced to give the money they make (as much as $1,000 a night) to their abusive pimps — and being beaten or threatened if they try to leave.
At FAIR Girls' D.C. office, a five-person operation with secondhand furniture and a sole social worker — one of only a handful of organizations in the country dedicated to assisting teens escape the sex trade — Powell and her staff often get calls from police in the middle of the night saying they've found a girl in a prostitution ring who needs help. Powell will snap into action, counseling traumatized girls right off the street, finding them shelter, and sometimes reconnecting them with their families.
As online prostitution becomes increasingly common, Powell does her own detective work on Backpage, searching the ads for minors. But figuring out which escorts are underage isn't easy. A 15-year-old may be listed as 19. Appearances can be altered with wigs and makeup, making a young girl look older. "These ads are full of lies," Powell says.
For help, Powell enlists one of her trusted employees, Alissa (not her real name), a 24-year-old who herself once posed in ads like these when she was a teen. "I've been there, so I know what to look for," Alissa says, scanning Backpage over Powell's shoulder. A poised, striking African-American woman dressed in conservative black pants and flats, Alissa — who works part-time at FAIR Girls, counseling girls who escape from prostitution, while also going to college part-time and hostessing at a restaurant — seems like a typical young professional. You'd never guess that the faint scar high on her left cheek is the mark of a vindictive pimp who "branded" her with a potato peeler when she was 17.
From their cramped office with bent blinds — the location of which is kept secret to protect former prostitutes from their violent pimps — Powell and Alissa scour the ads, looking for girls who bear the trademarks of adolescence, such as teen acne, baby fat, or barely developed curves. They search for key phrases like "new to town" and "barely 18," code words that may signal the girl is a minor. When they see a suspicious ad, Powell flags it for the local police officers she regularly works with, hoping they'll set up a sting with a male officer posing as a john. She reports about four ads each week. (She also sends suspicious ads to Backpage's administrative offices but says she rarely gets a response.)
Suddenly, Powell clicks on an ad that makes her wince. "ITS FrIdAAAAAY! $80 specials," the headline blares. "Ever heard freaks come out at night??? Well I'm a huge freak." The ad says she's 18, but the girl in the photos looks much younger. Slender and baby-faced, she poses on her knees on a hotel bed in a black leotard she fills out no better than an Olympic gymnast, staring expressionless at the camera through heavy bangs.
Even to Powell and Alissa, who have seen many gratuitous photos on Backpage (a girl standing in front of school lockers, another with a pacifier in her mouth), this escort seems blatantly young. "She can't be more than 12," says Alissa, who scrutinizes the ad. "Someone else was taking the picture" — as opposed to the common self-portrait with a cell phone — "so she's not alone," Alissa points out. "Maybe a pimp or wife-in-law" — term for a girl who shares the same pimp. "The hotel corners are still on the bed," she adds, "which might mean they just got into town." Powell Googles the phone number but finds no other ads connected with the number, perhaps evidence that the girl is new to the sex trade.
Putting in an earbud and picking up her pink-and-black Kate Spade-encased iPhone to dial a local police officer, Powell says urgently, "We have to report her now."
NINE YEARS AGO, WHEN POWELL COFOUNDED FAIR GIRLS (which stands for Free, Aware, Inspired, Restored), finding girls caught in the sex trade meant trolling city streets late at night and handing out her card or bags of cookies with her number tucked inside. Since then, like much else in America, the sex trade has been hugely affected by the Web. Now, more sex is being sold online on thousands of different websites, from explicit sex sites to mainstream social networks (just search escorts on LinkedIn). While prostitution is illegal, with the exception of a few Nevada counties, hosting online sex ads is not, thanks to section 230 of the federal Communications Decency Act, which protects Web companies against liability for what users post on their sites, helping online prostitution flourish in recent years.
No site symbolizes the new business model for prostitution as well as Backpage, the Web classifieds service owned by Phoenix-based Village Voice Media, which also runs 13 alternative newsweeklies, including the venerable Village Voice in New York City. According to the research group AIM, of the five major sites it reviewed, Backpage accounts for 70 percent of prostitution advertising; the site hosts an estimated 20,000 sex ads nationwide daily.
It's also the most mainstream: This isn't some seedy, underground sex forum. It's the same place where Americans sell used cars, adopt shelter puppies, and find part-time jobs. For fees ranging from $3 to $17, depending on the location (it's more expensive in bigger cities), anyone can post an ad in Backpage's escort section. Avid sex "hobbyists" even post reviews of sex workers they find there, as if they were critiquing their latest purchase from Amazon. On the escort review site USA Sex Guide, in a recent thread from the Tucson area, a "senior member" known as Dennis1234 wrote that a "Cuban exotic goddess" found on Backpage gave a "lousy BBBJ," which stands for bareback (without a condom) blow job, but added, "that tiny ass perfect for doggy made it worth it for the $."
For Village Voice Media, cofounded by the late Norman Mailer and known for being an independent voice that exposed abuses of power, online prostitution has become a substantial revenue stream: Backpage raked in an estimated $26 million for the company last year alone.
That success has made Backpage the industry leader in online prostitution — but it's also designated the site public enemy No. 1 to law enforcement officials and activists like Powell who say Backpage is facilitating an epidemic of underage prostitution in the United States. For as mainstream as Backpage appears, hovering just below that sheen of normalcy is the dark, seamy underbelly of the sex trade. As with any illegal enterprise, the prostitution business is rife with corruption, abuse, and exploitation. For every consenting adult engaged in prostitution, there is an untold number of minors (some experts estimate 100,000), many forced or coerced into the work by pimps.
Experts say these kids have been ensnared in a form of organized crime. But instead of trafficking guns or drugs, pimps buy and sell bodies, which are cheaper and can be sold over and over again — an ideal commodity. Teenage girls are easy targets because they're more emotionally vulnerable than adults. The easiest targets of all: teen runaways or girls from broken or abusive homes, who can easily disappear unnoticed into the underworld of prostitution. "People think this kind of thing only happens in other countries," says Ernie Allen, president and CEO of the National Center for Missing and Exploited Children (NCMEC). "But it's happening here, in big cities and small towns, to American kids."
For sex traffickers, sites like Backpage have been a boon to business, helping them move their "product," including underage girls, at high volume. And they're doing so despite Village Voice Media's attempts to stop them. Company lawyer Liz MacDougall points out that Backpage employs a "triple-tiered policing system" to screen for trafficking cases. First, an automated filter searches for suspect phrases (much like those Powell and Alissa search for), then Backpage employees manually screen ads before and after they are posted. As a result, Backpage reports about 400 suspicious ads each month to the NCMEC hotline for missing and exploited children; it also cooperates with subpoenas from law enforcement. "Village Voice Media deserves credit for trying to screen its content," claims Allen. "But from what we've seen, pimps and exploiters adapt. It's impossible to screen your way out of this problem."
Since 2008, there have been reports of more than 50 instances in 22 states involving underage sex trafficking on Backpage. In late May, federal authorities broke up a nationwide ring that allegedly used the site to sell teenage girls. According to the indictment, the ringleader deterred them from escaping by whipping them with a belt, choking them, and threatening to kill their families. "These ads aren't all for entrepreneurs and volunteers," says Washington State Attorney General Rob McKenna. McKenna is one of 51 attorneys general — along with scores of advocates including Powell and about 250,000 others who signed a petition on Change.org — who has called on Village Voice Media to shut down Backpage's sex ads. (In 2010, online classifieds giant Craigslist closed its escort category under similar pressure.) "The victims are getting younger and younger," McKenna adds. "Most of them desperately want to get out but are trapped."
Not too long ago, Alissa was one of those girls. At 16, she was a high school junior in inner-city Boston. Her mother was a recovering drug addict who couldn't care for her; her father was an alcoholic who wouldn't pay the bills. Alissa ended up on the streets. But she found a lifeline — a group of older girls from her neighborhood who had their own apartment and invited her to stay with them. Soon, Alissa discovered where they made their money: in suburban hotels having sex with numerous men every night. Within weeks, Alissa decided to give sex work a try, too.
"One girl came home with $2,000 in her pocket one night," Alissa says. "I figured, I can just work about twice a month, pay my bills, go shopping, and go to school."
Alissa's new roommates showed her the ropes, dropping her off on "the track," the strip where prostitutes look for work, in downtown Boston. She was surprised to see so many girls she knew there. "It was like a high school reunion. These were girls who had dropped out of school and disappeared," Alissa says.
Almost immediately, noticing the new girl, pimps started harassing Alissa to work for them. She learned from the other girls that it was in her best interest to choose a pimp (even though it would cost her an expensive $1,000 "choosing fee"). In exchange for taking most of Alissa's earnings, a pimp would provide her protection from violent johns and bail her out of jail if she needed it. Without a pimp, Alissa would be on her own.
At first, she chose a friend's pimp, who seemed to treat his girls well, until one freezing December night when he left her walking the streets in heavy snow until 4:30 a.m. Another pimp saw her alone, shivering in the cold, and picked her up — an older, charismatic guy who flirted, told her she was being mistreated, and said exactly what she needed to hear. "He told me, 'I will take care of you. You'll always have a place to live,'" she says. "Pimps know how to exploit a girl's vulnerabilities."
Almost immediately, Alissa's new pimp put her to work, selling her through online sex ads, escort services, and on the track. Every night, Alissa slept with numerous men, forced to meet an earnings "quota" dictated in part by her skin color. Darker- skinned girls brought in less; fair-skinned blondes, known as "snow bunnies," could charge the most. Alissa fell somewhere in the middle, bringing in at least $1,000 a night. Eventually, Alissa spent less time on the streets and started getting more and more work online, which meant staying in hotels waiting for dates. "It was smarter than working the track," she says. "If police see you on the street, you're going to get arrested."
Alissa continued going to school for a while, sometimes in high heels, boy- short lingerie, and jackets, slipping out of class if she got a call on her cell that she had a "date." But eventually, she stopped going to school altogether — her life became turning tricks and taking orders from her pimp. After long, Red Bull- and booze-fueled nights of having sex with john after john, Alissa slept in hotels with her pimp and wife-in-laws. "It became the family I never had," she says, "until I realized how violent pimps could be."
One night, her pimp, suspicious that she was trying to leave him, choked, punched, and hit her on her stomach and the back of her neck — places that wouldn't be visible to customers. On another occasion, he carved her face with a potato peeler. "He was marking me like property," Alissa says. After that incident, she found refuge with another pimp who later, finding her talking to a man who wasn't a john, put on his Timberland boots and stomped on her, breaking several of her ribs and four of her teeth — that was how she knew she was "fired" and being sold to another pimp.
The abuse took its toll on Alissa. "For ages, I ate the same exact McDonald's value meal because that was the only thing my pimp at the time would let me eat," she says. "I'd think, I am not worth $5. That's about the price of condoms. I didn't think I was worth a pack of Magnums."
Alissa was sold several times to different pimps, which meant moving from city to city, including Providence, Rhode Island; Atlantic City, New Jersey; Philadelphia; Orlando, Florida; New York City; and Los Angeles. "I traveled the whole time," she says, and online ads like those on Backpage made it easier to find work in new places. "Tricks want variety. Just like with food — you want Chinese one day, Cajun another day. For them, it's just like that buying a girl."
After six months, Alissa tried to escape the life, finding a job at a Boston Au Bon Pain, enrolling in a nursing assistant program, reuniting with a former boyfriend, and learning she was pregnant. But she learned just how hard it was to get out. Within weeks, four women — one of whom had the pimp's name tattooed on her neck — jumped her, kicking and stomping on her face, legs, and stomach, causing her to miscarry. Alissa ran five blocks to a police station, where officers took her to the hospital and called the FBI. Although she feared that talking would put her in danger, she wanted the world to know what her pimps had done. "I told them my story," Alissa says. "I said, 'These guys have to go to jail.'"
Over the next three years, Alissa helped the FBI build a case that would put six Boston pimps away for 25 years. It was one of the largest sex trafficking cases in state history, and it couldn't have happened without what the Boston Globe called Alissa's "quiet heroism." The judge said the evidence in the case was some of the most disturbing she had ever heard. Even the pimp who carved her face apologized at the trial, particularly to Alissa, saying, "I was a monster willing to sacrifice someone else's body for my own personal gain."
But putting her former tormentors behind bars wasn't enough to turn Alissa's life around. After going to authorities, she was placed in foster care, first in Massachusetts, then in North Carolina with a foster mother who Alissa says was abusive and would give her only one meal a day. The neglect and isolation made her so despondent that she ran away, leaving on a Greyhound bus to Philadelphia, where she knew exactly how she'd survive — the familiar track, pimps, hotels, and websites where she could post her ads. She stayed in the life for another year and a half.
That whole time, she remained in contact with an FBI agent, the lead investigator in the case against Alissa's pimps, who eventually convinced her to leave the life for good. "She became like a mother to me," Alissa explains. "She was disappointed that I was selling my body, that I was just as bad as the pimps who were selling me. 'Take the opportunity you are being given,' she said."
At first, Alissa went to Rhode Island, where the agent helped set her up with housing. Then, when her pimps went to trial in 2009, she moved to Knoxville, Tennessee, for her own protection through federal witness relocation. She got an apartment and enrolled in school.
And eventually, Andrea Powell came calling. This past January, after Powell saw an interview Alissa gave to a Knoxville reporter about her experience, she went to Tennessee to meet her. Within two days, Powell offered Alissa a job — to come to Washington, D.C., to help other underage victims of the sex trade re-establish their lives. "People saw in me the potential to do good things," Alissa says. "And I believe every girl should be given that opportunity."
NOW THAT ALISSA HAS BEEN OUT OF THE LIFE FOR FIVE YEARS, with lots of therapy behind her, the ordeal is distant enough that she discusses it with matter-of-fact detachment. As she's unspooling even the most horrific parts of her story, her piercing eyes are unwavering. When she describes a beating from a former pimp, she nonchalantly raises her shirt to show a jagged scar. But while she'll tell you almost anything that happened to her if it will help raise awareness of what's happening to other girls, she occasionally loses her patience. When asked how many men she was forced to sleep with in one night, after she had offered numerous other details of her ordeal in prostitution, she makes clear that the question is out of bounds. "It makes other girls vulnerable," she says. "And I find it degrading," she adds. Another pet peeve: the oft-used phrase "teen prostitute," which to her misses the point. "Minors can't consent to sex," she says.
Although Alissa's life now — representing FAIR Girls in media interviews, teaching high school girls about sex trafficking, even emceeing a gala fundraiser last spring attended by Michelle Obama's chief of staff, Tina Tchen — is far removed from "the life," she feels a special bond with any girl who has survived what she endured, separating women into "squares" (those who have never been in the sex trade) and women like her. When she walks down city streets, she says, pimps notice her. "Pimps can smell a girl like me who's been in it — and I can smell them." At times, she likes to remind Powell, a native Texan from a stable home who got her master's degree in European studies at a German university, that of the two of them, she's the only one who really understands what their clients are going through. "The girls tell me things they won't tell anyone else," she says. And yet, Alissa is clearly attached to Powell, seeing her as an older sister and role model. "I want to be like her," Alissa says. "She will help a girl until she can't anymore."
Powell has spent half her life helping girls like Alissa. At 17, Powell left her sleepy hometown of San Marco, Texas, to study abroad in Hanover, Germany. There, she befriended Rafif, a 19-year-old girl originally from Syria whose family had sold her to a man three times her age as a form of debt payment. Rafif became the man's fourth and youngest wife and was forced to work as a domestic servant in his home, where she was beaten by the other wives.
Together, the girls plotted Rafif's escape — she'd go back to Texas with Powell. But they never had the chance to execute their plan. One day, Rafif vanished. Police said there was no record that the girl even existed since she had been brought to Germany illegally. With no paper trail and no witnesses, nothing could be done. "I thought, Why is it OK that some girls just disappear? It's not OK," Powell says. "Looking back, this work really started with her and then became my obsession."
These days, Powell and the FAIR Girls staff often work seven-day weeks, caring for girls fresh out of the life, finding them shelter, accompanying them to court dates, getting them part-time jobs. Powell and Alissa frequently buy the girls lunch or Metro cards with their own money and spend some nights talking on the phone to girls who can't sleep because they're still afraid of their pimps. As of June, FAIR Girls had 55 clients, more than double the amount last year. In recent months, teen girls who have escaped their pimps have come from as far away as Washington state, Iowa, and Vermont for help.
Powell is so busy with new clients, she worries that she's not spending enough time on Backpage searching for girls — like the one in the black leotard with the "Freaky Friday" ad who looked so young.
It took three days, but Washington, D.C., police eventually tracked down the girl in the leotard. After getting the tip from Powell, police set up a sting and confronted the girl in the hotel room where she was meeting johns. But the girl said she was in fact an adult — and didn't want help from the police or anyone else. Within a day, Powell found her posted on Backpage again with different photos. "It's just like the cycle of domestic violence when the abused returns to her abuser," Alissa says. "People don't understand how hard it is to get out."
Although Powell was disappointed that the girl didn't want help, she's accustomed to that — about 40 percent of the time, she says, the girls she reaches out to choose not to leave their pimps. "Sometimes they're not ready," Powell says. "I just want every girl to be given the chance to get out."
On a recent Saturday at 4:25 a.m., Powell, who had fallen asleep with her iPhone in her hand, leaped out of bed when she got a call that a teen girl was being dropped off at her office by police who had picked her up in a prostitution sting. Within hours, another girl arrived. By Monday morning, there were two more girls — all had been advertised on Backpage. "We just don't have the staff to handle all of these girls," Powell says. "But we also can't turn them away."
"I'd think, I am not worth $5. That's about the price of condoms. I thought I wasn't worth a pack of Magnums."
"We just don't have the staff to handle all of these girls," Powell says. "But we also can't turn them away."