How Tyra Banks Dresses to Be a Groundbreaking Woman
It all starts with a power outfit.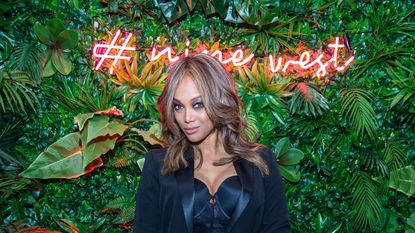 (Image credit: Mark Sagliocco)
Groundbreaking, by definition, involves being innovative and pioneering something. A groundbreaking woman makes big moves in her career and paves the way for others. Take Tyra Banks, for instance—the model, mogul, and founder of the immersive attraction, ModelLand announced earlier this year she'd be coming out of retirement from modeling after 13 years. Groundbreaking to Banks? "It usually means being first or knocking down walls or when someone says no, you say: 'Watch me,'" the model says.
It was that theme of groundbreaking women that drew her to her partnership with Nine West—over many other brands—when the former America's Top Model host decided to model once again. "I got so many calls, but what I loved about what Nine West was doing was that it was about empowerment of women and groundbreaking, kicking ass—I was like, alright let's do this."
We talked to Banks about what it means to dress like a groundbreaking woman—and the Nine West items you need in your closet to craft a power outfit that will give you Tyra-level confidence. Follow her tips, and don't forget to smize.
A suit is a power move.
Wear black on black for a chic, polished look—but don't be afraid to add your own little flair to the classic. "I love a suit on a woman, whether it's baggy or with a bustier like I have on," Banks says.
Try wearing a suit with pointy toe booties, like this black pair from Nine West—they hit at the ankle leg-lengthening effect.
One ensemble the model doesn't have that she wants ASAP: a three-piece suit. "I want the vest, maybe like tweed everything," she say. "That would make me feel so powerful."
The right pair of shoes can elevate any outfit.
We all have bare-minimum effort days—maybe you overslept or you're just feeling blah. Here, a pair of statement heels are your saving grace.
"You could have sweats and a t-shirt on—and the tip of your t-shirt tucked in at the corner—and you put those heels on and it's like, ok—you did not shower today but it does not matter," Banks says. Her pick? These fluorescent yellow pumps.
Invest in heels, heels, and more heels!
Banks' advice for looking and feeling powerful is all in the heels. "It doesn't have to be a five incher or four incher—just a little bit of elevation gives you pep in your step, a swing in your hip, and a little bit of oomph when you're walking into a room."
Plus, heels improve your posture—and walking tall is an instant confidence boost. Check out some of her picks from Nine West.
"Powerful is all about confidence."
Yes, it can be easy to get into your own head with insecurities, but reaching for items in your closet that make you feel great when you're wearing them can help diminish some of that self-doubt. Because, as Banks says, if you're wearing something that you're uncomfortable in, it's going to show in your level of confidence.
"We as woman are going to have voices that are whispering, and the whispers are very loud and we can't quiet them down—but let's just try to shut down as many of them as possible by wearing things that make you feel comfortable."
Maya McDowell is an Assistant Editor at HearstMade.