Maje Launches an Exclusive Accessories Capsule Collection Inspired by Ibiza
In collaboration with Cobalto Studio.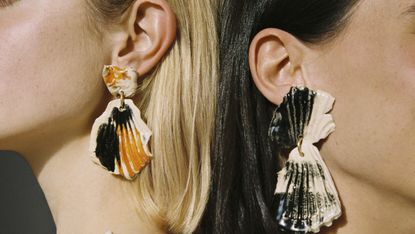 (Image credit: Courtesy of Maje)
To mark the first anniversary of Maje's Ibiza store, the brand is celebrating in a very special way: They're launching an exclusive limited-edition capsule collection in collaboration with Barcelona-based design studio Cobalto Studio (opens in new tab). "Ibiza quickly became a source of inspiration. I took time to discover this charming Island during the off-season and it was captivating," Maje founder Judith Milgrom tells Marie Claire. "A mild climate, a bohemian feel, and exquisite nature. To celebrate the shop's first anniversary, we have designed this limited edition capsule collection inspired by land and sea, an ode to the Mediterranean. I knew I had to work with Gabriel Escámez of Cobalto Studio—I have been following him for a long time and I love his style and freedom. I loved the idea of giving complete freedom and artistic direction to [Escámez], who is surrounded by female artists to work on this project."
With this collection, Cobalto Studio and Maje are bringing an dream Ibiza getaway to you. Escámez tapped various Spanish artists to reinterpret local traditions, like actress turned jewelry designer Mar del Hoyo. Together, del Hoyo and Cobalto Studio customized the collection's "emblematic accessory," the M basket bag (opens in new tab). The woven bag is adorned with Mar del Hoyo's ceramic shell sculptures and made in Cobalto Studio's Barcelona workshop. All the ceramic sculptures are handmade with each shell sewn on piece by piece, so every bag is unique.
Along with the M basket, Mar del Hoyo designed a small collection of ceramic jewelry, which includes shell earrings (opens in new tab) and bracelets (opens in new tab). These marine-inspired accessories are designed to complement the RTW collection, which is full of reworked crochet and colorful embroidered pieces that truly capture the Mediterranean spirit.
To continue the celebration while honoring Mediterranean traditions, Cobalto Studio designed a special pop-up shop within the Ibiza store in collaboration with female artists. Escámez worked closely with Barcelona-based ceramicist Marta Bonilla and used her ceramic sculptures within the store. He tapped Carolina Spencer to create the flowers for the shop. All the images for this capsule were shot by Alba Yruela (opens in new tab), a Barcelona-based photographer.
The accessories and RTW capsule collections are available now on Maje's website (opens in new tab) as well as in select stores.
Shop the accessories capsule collection:
Shelby Comroe is the Credits Editor and Fashion Assistant at Marie Claire covering all things fashion and giving credit where credit is due. Check her out @shelbycomroe on Instagram if buying designer handbags is your idea of a retirement plan!