What Michelle Cordeiro Grant Wears to Work
The Lively founder dresses to feel like her most confident self.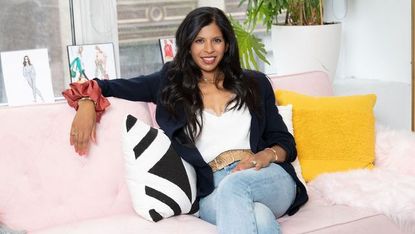 (Image credit: SERGIO V PHOTOGRAPHY)
Michelle Cordeiro Grant had spent more than a decade in the lingerie industry—working for companies like Victoria's Secret and Nautica—when she acknowledged an ugly truth: "The messaging was heavily geared towards this elusive standard of what beauty was and what all women should want to look like, and it became mentally exhausting," Cordeiro Grant tells Marie Claire over email. So she stopped following the big brand ethos, and instead followed her gut. In 2015, she launched her own lingerie and essentials company, Lively, which offers bras, tees, underwear that "conform to women's bodies rather than the other way around."
More than five years later, Lively boasts an expanded product line, which includes activewear, loungewear, swimwear, and self-care products. Influencer marketing enabled them to scale up, fast: Before officially launching, Lively had 100 brand ambassadors; now they have 150,000. What causes so many customers and ambassadors around the world to feel connected to Lively? Probably the company's message of self-love and body positivity. (Plus, who doesn't love a bra that really, truly, actually fits?)
Lively is all about making women feel powerful, and, here, Cordeiro Grant shares what she wears to feel that way, too.
Her Morning Routine
I wake up around 6:30 a.m. every morning to have a few moments to myself before the rest of the house wakes up and the chaos begins. Even when the pandemic hit, this was the one rule I kept to maintain some semblance of normalcy. This is usually when I'll indulge in my coffee (with MCT oil), and before I know it the kids are up! If we have the time, I love to do one quality activity with them before we all jump into our days. This usually looks like some type of DIY or arts and crafts activity, making a sweet breakfast (we love Joanna Gaines' Ricotta Pancakes), or just sitting and enjoying conversation.
Once they're situated with school, I'll get my sweat in for the day. Lately my routine has been a beach run followed by a 10 to 15 minute Melissa Wood Health flow. I've never been the type of person who has resonated with traditional meditation, but I've found that running gives me a similar clarity, grounding, and perspective, plus it's a great outlet to get out any built up stress or anxiety that comes with being a typical type-A entrepreneur!
Her Morning Beauty Routine:
I'll hop in the shower and do my beauty routine, which tends to be on the minimal side. I cleanse with Wander Beauty's Drift Away, put on Dr. Dennis Gross' Vitamin C serum underneath the eyes, and then for makeup I love Wander's mascara and brightening cream, Supergoop!'s Unseen Sunscreen, and NARS gipsy lipstick for a pop of color. I never leave the house with spritzing the Lively face mist all over.
If I have time, I'll make my signature daily elixir. It's a riff off of a few other recipes that I created at the beginning of quarantine. I always get it in at one point or another during the day! It's energizing, anti-inflammatory, easy to make, and actually tastes good (basically all the things). Once I have a glass full and ready to go, I'll settle into work for the day
Her Getting Dressed Strategy:
My key to a seamless getting-dressed process is to lay out my outfit the night before. Putting in the 5 or 10 minutes ahead of time to thoughtfully think about what I have going on the next day and plan what I want to wear accordingly eliminates the chance of me getting stressed in the morning and frantically putting something together I end up not liking or being comfortable in. And it makes the process much more enjoyable and a moment of meditation of sorts.
Her Go-To Work Uniform:
This will vary depending on what calls or meetings I have going on that day, but I generally love to mix casual and comfortable (but cute) basics with one or two statement or feminine pieces. This usually means jeans (I love Mother Denim) with either a classic top (I alternate between Lively's lounge tee and Wknd Nation's power tee), but I'll pair it with a blazer (Veronica Beard and Frankies have high quality, timeless ones) and a printed heel to dress it up. Or, I'll opt for a printed top or a statement belt to keep it simple yet fun. [For big meetings I wear] either a blazer or a wrap dress, and always heels—but super comfortable heels. Thank you Loeffler Randall!
Her Favorite Accessories:
I always dress my outfits up with Alexa Leigh necklaces and bracelets. I'm obsessed with the ball collection; it's really classic so goes with everything!
Her Power Outfit:
A denim jumpsuit makes me feel like I can pretty much conquer the world.
Item She Never Takes Off:
My Lively oversized scrunchie has become my sidekick. I rarely take it off my wrist. It's my perfect shade of pink and the pop of color is an immediate mood booster and elevates even the most casual outfits. It's also functional in that I find it necessary to have a hair tie on hand at all times for those days of pure madness or when I'm really getting into a project or task.
Three Words to Describe Her Personal Style:
Fashion, function, and comfort.
On Personal Style:
I realized my best-looking self is my most confident one. Even with an old ripped pair of jeans and white tee, I can feel my most stylish with the right mindset.
Shop Her Closet
Celebrity news, beauty, fashion advice, and fascinating features, delivered straight to your inbox!