History of an It Bag
We toast the Fendi Baguette's 15th birthday and the phenomenon it inspired.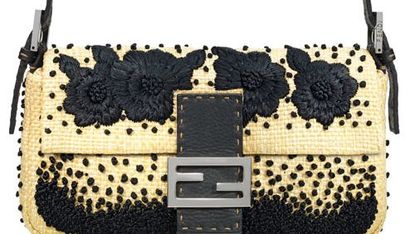 (Image credit: Courtesy of Designer)
Grace had her Hermès "Kelly" and Mrs. Onassis her Gucci hobo (later dubbed the "Jackie"), but the little Fendi that Carrie Bradshaw swung through Sex and the City was the first to claim the title "It bag." Unleashed upon the been-there, carried-that world in 1997, the Fendi Baguette was not only a triumph of Silvia Fendi's imagination — fashioned in everything from floral sequins, sheared mink, and tribal beads to spring/summer's 2012 limited-edition offerings of luxe skins, vivid colors, and glittery details — it was also a genius global-business model. Since the bag's debut, it has seen more than 1,000 variations. Says Sarah Jessica Parker in the just-published Fendi Baguette: "The Baguette opened the floodgates [on SATC]," influencing the character of Carrie and serving as a game-changer for women — for the first time we saw a woman who lived by her own rules, paying more for a bag than her rent, if she so desired.
Slender and tapered like its French-bread namesake, the Baguette has always been easily carried all over town, the Fendi-logo clasp prominently displayed, the brand etched upon our psyche. (Remember Kanye and the double F's he shaved into his hair?) From the get-go, it showed up on the arms of reigning It girls and even helped raise big bucks for charity, with the likes of Scarlett Johansson and Marchesa's Georgina Chapman contributing theirs for auction. Just last year, at the epic Christie's sale of Elizabeth Taylor's estate, we learned "La Liz" hoarded Baguette Fendis like she did baguette diamonds — 18 were up for auction, netting some $77,000.
Fully aware that modern women who figuratively wear many hats literally carry many bags, Ms. Fendi has gone on to create a handbag hall of fame with insta-must-haves like the ultrarich Spy bag, the bold B bag, the sleek Peekaboo, and the ladylike Silvana. Next up for initiation: pre-fall's statement Daisy clutch.
But ask any It bag what it wants to be when it grows up and it will tell you: A classic, of course! And, like the Baguette, to be carried happily ever after.
Celebrity news, beauty, fashion advice, and fascinating features, delivered straight to your inbox!