The Woman's Guide to Blazers
From boxy and oversized to nipped-in and belted, here's everything you need to know about the tailored jacket.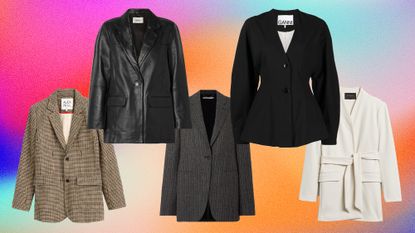 (Image credit: Future)
A well-made blazer is the cornerstone of all great closets. So much more than merely a borrowed-from-the-boys piece, the best blazers for women range across the style spectrum—and each silhouette sends its own sartorial message. An oversized slouchy style delivers casually cool nonchalance, while a nipped-in jacket nods to the put-together, post-war glamour of Christian Dior's New Look. As Gaëlle Drevet, founder of every fashion editor's favorite brand, The Frankie Shop, describes, "A blazer is the number one closet staple [and] continues to be popular because it's not a trend; it's a look and an attitude." When you pick your blazer for the day, you're manufacturing your mood, too.
So, where do you begin when shopping for blazers? "There are many silhouette options you can choose: oversized, boxy, cinched, cropped loose, or fitted," details Drevet. But, ultimately, you want to stock your wardrobe with a well-rounded rotation: "The bottom line is you need to have a variety of blazer options in your closet, depending on what look you feel like having each day." The Frankie Shop founder does offer one guideline when curating your selection: "We would opt for solid color options, though, for timeless use." Stick to neutrals like black, brown, creams, and camels, and if you're eyeing a print, seek out classic graphics—checked plaid or sleek pinstripes, for instance.
Keep scrolling for a comprehensive breakdown of blazer silhouettes with input from Drevet and Marc Rofsky, Moda Operandi's RTW Buying Director. You'll find a curated edit of the best jackets on 2023's market to shop, too.
Best Oversized Blazers
"Boxy oversized silhouettes have been trending and continue to be shown on the runways," says Rofsky, which translates to an uptick in sales and interest in relaxed-fitting blazers. But, again, oversized blazers don't necessarily qualify as a trend since they're an evergreen constant for all wardrobes.
We recommend turning to The Frankie Shop when on the hunt for an oversized style—after all, they're a signature of the cult-favorite brand for a reason. "They offer a loose silhouette for those days you want to feel a little edgier," says Drevet of the roomy fit. "Strong shoulders can elevate a casual look for meetings where people will only see the upper part of your body, so consider what you want to say about your day and adjust the styling of your blazer based on that."
Best Collarless Blazer
"Collarless, boxy jackets in cozy materials that reference '80s and '90s-era Chanel are also a key trend of the season," Rofsky tells Marie Claire. Look for dare-to-be-touched textures like weed, wool, and brushed velvet, in particular. We're particularly partial to the below collarless sweater blazer from J. Crew, which proudly boasts Meghan Markle's stamp of approval.
Best Leather Blazers
A leather blazer possesses the same signature edge as a leather jacket but with less of a "let's hit the highway" vibe. You can't wear your moto jacket to the office—but you can wear your buttoned-up leather blazer. Our favorite pick is any option by Deadwood: The brand repurposes excess leather from tanneries and upcycles the scraps into sharp and sophisticated pieces—like the Brooke blazer you see below.
Best Cinched Blazers
"For Fall, blazers with a cinched waist and strong shoulder felt fresh and create an hourglass silhouette," Rofsky articulates. The silhouette calls on the feminine feel of a peplum top but in a more tailored, suited-up manifestation. GANNI's waist-accentuating number takes the top slot on Marie Claire's rankings.
Best Plaid Blazer
Now, let's talk plaid blazers. The checked print is synonymous with autumn and academia, so if you're going for a bookish vibe, this is the blazer for you. "It instantly elevates an outfit and can be dressed up or down," Gaeele describes.
Best Belted Blazer
As the Moda Operandi expert says, "Blazers are a wardrobe staple that adds instant polish to any look"—especially those with built-in belts, as the added-on accessory creates even more silhouette definition. Try a relaxed, kimono-style, like Banana Republic's collarless twill option, or a stiffer and more structured, like Maje's hardware-adorned jacket.
Best Pinstripe Blazers
Speaking of '80s fashion trends: let's chat about pinstriped blazers. The lined print exudes easy sophistication, calling to mind the look of a money-making businessman, and is surprisingly easy to style. "[Pinstripe blazers] are a wardrobe staple that adds instant polish to any look. They can be worn with jeans, over a slip dress, or as a full suit—even over athleisure," offers Moda Operandi's Rofsky.