85 Celebrities in Gloriously '80s Fashion
Take a trip down memory lane.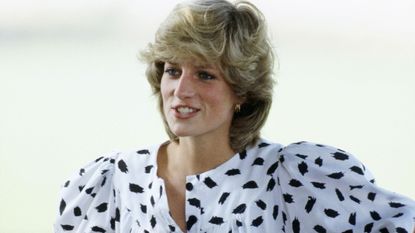 (Image credit: Tim Graham)
Marie Claire Newsletter
Celebrity news, beauty, fashion advice, and fascinating features, delivered straight to your inbox!
Thank you for signing up to Marie Claire. You will receive a verification email shortly.
There was a problem. Please refresh the page and try again.
While the '80s are known for many things—the movies! The models!—in our opinion, the '80s were genuinely all about the fashion. From Cher's daring dresses to Madonna's Like A Virgin-era getups, the decade was undisputedly a time to be alive when it came to the clothes. The outfits were big. They were bold. They were covered in sequins. And it didn't stop there: the penchant for larger-than-life hair during that decade proved that pretty much all of the beauty trends that are currently going viral on TikTok and Instagram originated well before the internet ever existed. So, excuse me as I take a brief trip down memory and reminisce about all of the best (and most over-the-top) looks from the decade.
1/85
Madonna circa 1985
There is so much to love about this outfit that Madonna wore. The pearls! The crucifix! The wild hair! It checks all the right boxes.
2/85
Jane Fonda circa 1989
Fonda wore this stunning lavender cropped blazer over a floral bustier while attending the 17th annual American Film Institute AFI Lifetime Achievement Award Salute to Gregory Peck.
3/85
Pat Benetar cira 1982
Pat Benetar expertly styled a red bodysuit under a men's blazer back in 1982, but I'm especially loving her shag haircut.
4/85
Cindy Crawford circa 1989
Cindy Crawford may be classified as a '90s-era supermodel, but this all-black outfit from 1989 proves that her star was truly on the rise.
5/85
Naomi Campbell circa 1989
Naomi Campbell wore the perfect Little Black Dress—and the cutest bob haircut!—back in the day.
6/85
Madonna circa 1985
Here's another killer Madonna look, because why not! Madge donned this all-black getup to the American Music Awards in Los Angeles.
7/85
Sade circa 1989
Let's hear it for this jewel-incrusted matching two-piece skirt set!
8/85
Goldie Hawn circa 1983
Hawn's outfit from 1983 proves that when you choose to wear animal print, you need to commit. Yes—even her glasses are printed to match her blouse!
9/85
Jennifer Beals circa 1983
Another queen bee of the '80s movie scene, Flashdance's Jennifer Beals wore this striking black-and-white outfit.
10/85
Princess Diana circa 1988
This jeans-and-a-sweatshirt outfit that Princess Di wore remains on many a Pinterest board to this day—and for good reason.
11/85
Lisa Bonet circa 1987
Well before she was Zoe Kravitz's mom, Lisa Bonet was a true '80s fashion icon—as proven by this look from 1987.
12/85
Diana Ross circa 1987
Diana Ross calls herself 'The Boss' and there's no better look to prove just how much of a boss she truly was (and is!) than this stunning red sequin gown.
13/85
Dolly Parton circa 1987
Never one for a low-key look, Parton wore this pearl-encrusted gown (and matching headpiece!).
14/85
Cher circa 1986
Last but most certainly not least is Cher's beaded dress at the Academy Awards back in 1986. This Bob Mackie dress turned heads at the time.
15/85
Grace Jones circa 1989
Grace Jones in this barely-there dress in 1989 is utter perfection.
16/85
Whitney Houston circa 1986
This Grammys look from 1986 feels so understated—at least when it comes to fashion looks from the '80s!
17/85
Iman circa 1989
Wearing a well-fitting suit is always a great idea, as proven by this simple-yet-elegant outfit on Iman from back in 1989.
18/85
Cher circa 1988
Cher's black bedazzled so-called "naked dress" at the Academy Awards in 1988 was so ahead of its time.
19/85
Jack Nicholson and Anjelica Huston circa 1983
Was it really the '80s if couples didn't wear power suits to every Hollywood event? Jack Nicholson and Anjelica Huston wore their version at the premiere of Terms of Endearment in New York City.
20/85
Donna Summer circa 1980
Photographed at her home, the queen of disco wore an array of outfits, but this light blue matching set with a beaded belt paired with white espadrilles takes the cake.
21/85
Jamie Lee Curtis circa 1984
At the Footloose premiere in Beverly Hills, Jamie Lee Curtis' studded belt was the star of her two-piece suit. We'd be lying if we didn't say her silver bracelets caught our eyes first, though.
22/85
Daryl Hannah and Kevin Costner circa 1988
At the 1988 Academy Awards ceremony, the pair channeled old Hollywood glamour but made sure to give some timely touches to their outfits, like Costner's round glasses and Hannah's glitzy cocktail dress.
23/85
Susan Sarandon circa 1983
Front row at a show during New York Fashion Week, the award-winning actress wore a polka-dotted dress with some serious shoulder pads and red circular sunnies.
24/85
Kim Basinger circa 1989
At the Los Angeles Batman movie premiere, Basinger wore a mesh long sleeve dress over some lingerie, which in retrospect is something any member of the Kardashian family would totally wear today.
25/85
Janet Jackson circa 1985
The house key as an earring! The acid wash jeans! The strategically collared shirt over the colorblock sweater! I swear I've seen this exact outfit on one of my Pinterest fashion inspiration boards.
26/85
Stevie Nicks circa 1987
Here, Nicks is pictured at the 1987 MTV Video Music Awards, where she was a presenter. Just another friendly reminder that the singer never ages.
27/85
Joan Jett circa 1984
The frontwoman of the Runaways and Joan Jett & the Blackhearts knew the power of black eyeliner. She also knew how to mix textures too. I mean, an animal print scarf with a pink geometrical shirt? Genius.
28/85
Dolly Parton circa 1989
Mentally, I want to be at the New York City premiere of Steel Magnolias so I can witness Parton in this sparkly dress that comes with a matching jacket. I'm swooning!
29/85
Iman circa 1986
Years before she tied the knot with rock legend David Bowie in 1992, the supermodel was a muse for designers like Gianni Versace and Yves Saint Laurent. Here, she wears an all-denim look paired with silver accessories.
30/85
Don Johnson and Melanie Griffith circa 1983
Don't Dakota Johnson's parents look so chic here?! I can't tell what I would want more in my closet: Griffith's lace dress or her coat with red lining.
31/85
Deborah Harry circa 1980
The lead singer of Blondie, photographed here at a recording studio in New York City, is wearing cute straight-leg jeans, a textured sweater, and pointed boots.
32/85
Pat Cleveland circa 1983
The iconic model's off-duty look is something you see the models of today spotted in, proving that a graphic tee, high-waisted jeans, and a cardigan never goes out of style.
33/85
Ally Sheedy and Rebecca De Mornay circa 1988
At a special luncheon for Prince Andrew and Sarah Ferguson, Ally Sheedy and Rebecca De Mornay demonstrated the power of a good shoulder pad.
34/85
Annie Lennox circa 1987
The singer looked like the ultimate badass in a studded leather set with a red lace bra while performing on stage.
35/85
Jessica Lange circa 1983
The actress arrived at the 55th annual Academy Awards in an embellished green dress. She looked radiant in front of the cameras.
36/85
Meryl Streep circa 1981
The actress, then 32, took a subway ride in NYC while wearing a floral print off-the-shoulder dress.
37/85
Celine Dion circa 1987
The singer went all out in a denim-on-denim look while in Montreal. Here's a style tip to think about: lace socks with loafers or flats.
38/85
Kim Cattrall circa 1988
Kim Cattrall attended a benefit event hosted by Princess Yasmin Khan in a black dress with floral ruffles. This was 10 years before Cattrall would become the iconic Samantha on Sex and the City.
39/85
Goldie Hawn circa 1984
Kurt Russell and Goldie Hawn dressed up for a gala event hosted by the American Ballet Theater in California. Hawn's feathered frock was classic, beautiful, and appropriately glamorous for the occasion.
40/85
Geena Davis circa 1989
Two years before starring in Thelma & Louise, Davis got on stage at the 61st Annual Academy Awards to accept an Oscar for Best Supporting Actress in "The Accidental Tourist." She wore a silver dress with a tulle train.
41/85
Kirstie Alley circa 1988
The actress wore a long-sleeve red dress with satin-like fabric hanging from the sides of her gown. She was attending the 40th primetime Emmy Awards in Pasadena, California.
42/85
Lea Thompson circa 1986
Forget the red carpet dress. Thompson chose an oversize purple satin (silk?) tuxedo set for the premiere of "That's Life" in West Hollywood. We wonder if she saved this look for her daughters Zoey and Madelyn Deutch?
43/85
Brooke Shields circa 1983
The bralette under a blazer is trending for 2020, but back in 1983 Brooke Shields was already rocking, and mastering, this look. Here, she attended the premiere of Stayin Alive on July 11 at Mann Chinese Theater in Hollywood, California.
44/85
Jane Fonda circa 1985
Can we talk about Jane Fonda's lace-up red boots? Ten out of 10 we would still wear these today.
45/85
Vanessa Williams circa 1983
Then the newly-crowned Miss America, Vanessa Williams was all smiles at the Macy's Thanksgiving Day Parade. She bundled up in a furry coat that looked luxuriously soft.
46/85
Diana Ross, 1984
The singer performed onstage in a glittering red sequin dress. This look would still be relevant on the red carpet today. Gal Gadot wore a similar version of this red gown to the Oscar's after-party in 2018.
47/85
Heather Locklear circa 1987
The actress wore a semi-sheer lace dress to an event in Santa Monica, California. We could totally see this look being reworked for today, if you take away all of the excess ruffles.
48/85
Whitney Houston circa 1986
The singer stunned in a glittery plunging-neckline blue gown while on stage at a concert. It was a timeless look that still feels relevant today.
49/85
Christina Applegate circa 1989
The star looked demure in a floral headscarf and matching dress at the MTV Video Music Awards in California. We dig the outfit.
50/85
Alyssa Milano circa 1987
Milano, who was 15 years old in this photo, attended an all-star baseball game dressed in sporty striped biker shorts and a red bodysuit. She was ahead of the trend—biker shorts are everywhere now.
51/85
Jennifer Beals circa 1987
Stars were into the loose and oversized ensembles of the '80s. Here's Beals in a long white shirt, jacket, and jeans. She could have done without the belt, though.
52/85
Susan Sarandon circa 1989
Susan Sarandon and Tim Robbins attended a pro-choice rally in Washington D.C. Sarandon leaned into the oversize blazer look with this red leather version.
53/85
Audrey Hepburn circa 1989
Heburn, a member of Hollywood royalty, proved why she will always be a style icon when she wore this red gown and feather boa to an event. Being 60 never looked so good.
54/85
Meg Ryan circa 1989
The actress looked cool and edgy in a leather jacket at the Los Angeles premiere of Great Balls of Fire! Dennis Quaid should have matched her.
55/85
Blythe Danner & Gwyneth Paltrow circa 1985
The actress wore an embellished dress while out at Studio 54 with her daughter Gwyneth Paltrow, who was then 13 years old (rocking a prairie dress, we might add). You can definitely find similar looks today in a vintage shop.
56/85
Julia Roberts circa 1989
That feeling when your shirt, massively oversized blazer, hair, and pocket square (?!?!?) all coordinate. Roberts still kills it in suits.
57/85
Lisa Bonet circa 1988
Totally normal-sized hat paired with equally normal-sized sunglasses, nothing to see here. Also, she and daughter Zoë Kravitz are literal twins.
58/85
Drew Barrymore circa 1989
To be honest, this look is pretty current. Sitting on a chair backwards, however, is the most dated thing ever. We love you Drew.
59/85
Nicole Kidman circa 1983
A lot has changed since 1983 (especially Kidman's hair), but this look? It exists beyond the confines of time.
60/85
Tina Turner circa 1988
Apparently gladiator sandals also had a moment in the '80s. We're feeling it though.
61/85
Brooke Shields circa 1982
Ways to Style a White Turtleneck, Volume VIII. Also, teach us your voluminous hair tricks Brooke.
62/85
Sarah Jessica Parker circa 1989
Here, SJP is pictured at a "Mobilize for Women's Lives" pro-choice rally in LA. Her '80s look is the wonderfully classic pearl necklace and oversized white button-up, but it's the side-pony that makes it.
63/85
Paula Abdul circa 1987
The hair, the sequins, the big clasp details! This would be a good Halloween outfit to recreate.
64/85
Madonna circa 1989
Madonna did bike shorts first and rocked it. This stage outfit was more understated than some of her previous performance looks.
65/85
Drew Barrymore circa 1988
Honestly, if you stare at it long enough, it actually becomes sort of fabulous? We'd turn that skirt into a shorter one, though.
66/85
Princess Diana circa 1981
The royal looked like a beautiful strawberry (we mean this in the best way) in a sparkly spaghetti strap dress with a sweetheart neckline.
67/85
Princess Diana circa 1981
This coat is basically the more fabulous version of Ron Weasley's dress robes for the Yule Ball (sorry, Ron). The princess even did a little matchy-matchy portion with her hat and heels.
68/85
Molly Ringwald circa 1987
The square neckline. The red lips. The sparkly, thick straps. The big hair. This is Molly Ringwald's look for the 59th Academy Awards.
69/85
Madonna circa 1985
You know how it's mysteriously cool-girl to wear fishnet tights under pants, with the tights peeping out the top? '80s Madonna gets it.
70/85
Cyndi Lauper circa 1986
Take me on vacation, Cyndi. Paint my eyelids green. Make me a shell bracelet. Girls just wanna have fun.
71/85
Michelle Pfeiffer circa 1985
Her face = judging all the other outfits on this list. She made a simple blazer, t-shirt, and panama hat look so, so cool.
72/85
Ally Sheedy circa 1988
You can never have enough layers. And, these somehow all work together?
73/85
Christie Brinkley circa 1987
A suit set that not only looks feminine and sophisticated, but also wearable. Ten out of 10 for execution.
74/85
Demi Moore circa 1989
Chunky jewelry, chunky sleeves, open neckline, sleek hair. This look truly has it all.
75/85
Salt-N-Pepa circa 1989
Squad goals, always and forever. Another Halloween costume idea for you.
76/85
Joan Collins circa 1988
Joan Collins struts through Beverly Hills in full black-and-white. With a red lip, of course.
77/85
Demi Moore circa 1984
We fully support bringing back these billowy overalls for 2019. Style with a crop top.
78/85
Molly Ringwald circa 1989
No star escaped the oversize look of the '80s, including Molly Ringwald. The blazer could have easily worked as a dress, too, with tights.
79/85
Grace Jones circa 1984
This look was for a James Bond film, so obviously it's amazing.
80/85
Jerry Hall circa 1980
Taking the '80s by storm—with seashells on her boobs, and Mick Jagger on her arm.
81/85
Kim Wilde circa 1988
This looks like something I wore last week, but far better. The all-black punctuated by a thick gold belt is still a classic in 2019.
82/85
Winona Ryder circa 1989
Just say no to sheer white tights. UNLESS, it is paired with a white dress and you're Winona Ryder.
83/85
Cher circa 1983
BRB, recreating this beauty look immediately.
84/85
Bananarama circa 1985
This musical trio did the high-waisted-jeans-plus-crop-top look first. And now, in 2019, we are all just existing in their shadows.
85/85
Olivia Newton John circa 1987
Take me to the '80s, and then completely bedazzle me. Collar and all.
•••
For more stories like this, including celebrity news, beauty and fashion advice, savvy political commentary, and fascinating features, sign up for the Marie Claire newsletter.
Celebrity news, beauty, fashion advice, and fascinating features, delivered straight to your inbox!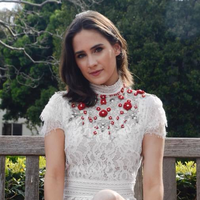 Julia Marzovilla is the E-Commerce Editor at Marie Claire, where she covers everything from the latest beauty and fashion launches and sales to celebrity outfits and news. She also creates shopping guides that span every vertical on the site. Prior to joining the Marie Claire team, she contributed similar shopping stories to sites such as Bustle, InStyle, The Zoe Report, Who What Wear, and STYLECASTER. In her spare time, Julia can be found creating shopping guides for all of her friends, spending too much money on yet another pair of black boots, and cooking in her far-too-small kitchen.