A Look Back at Karl Lagerfeld's Most Iconic Chanel Runway Looks
The designer has passed away at age 85.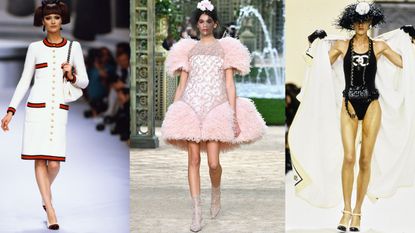 (Image credit: Getty Images)
As the fashion community mourns the lost of legendary designer and creative Karl Lagerfeld (opens in new tab), we're taking a look back at his most memorable Chanel creations—and there are almost too many to count. Since he became the fashion house's creative director in 1983, Lagerfeld managed to keep both Coco Chanel's spirit alive through the famous tweed suits and classic touches while also injecting his own perspective into the brand.
Lagerfeld never did anything short of iconic: His runway sets, like his fashion designs, were instantly legendary (opens in new tab), creating everything from a full Chanel supermarket to a rocket ship to an iceberg to set the stage for an unforgettable experience. As a tribute to one of the greatest fashion icons of all time, here are Lagerfeld's best runway moments.
1/78
Spring 2019
2/78
Haute Couture Fall 2018
3/78
Metiers D'Art 2018
4/78
Haute Couture Spring 2018
5/78
Fall 2018
6/78
Spring 2018
7/78
Haute Couture Spring 2017
8/78
Fall 2017
9/78
Haute Couture Fall 2017
10/78
Haute Couture Fall 2016
11/78
Metiers d'Art 2016
12/78
Fall 2016
13/78
Spring 2016
14/78
Metiers d'Art 2015
15/78
Fall 2015
16/78
Spring 2015
17/78
Fall 2014
18/78
Haute Couture Fall 2014
19/78
Haute Couture Fall 2014
20/78
Spring 2014
21/78
Metiers d'Art 2013
22/78
Fall 2013
23/78
Spring 2013
24/78
Spring 2013
25/78
Haute Couture Fall 2013
26/78
Metiers d'Art 2012
27/78
Spring 2012
28/78
Haute Couture Fall 2011
29/78
Spring 2011
30/78
Fall 2011
31/78
Metiers d'Art 2010
32/78
Spring 2010
33/78
Haute Couture Fall 2009
34/78
Spring 2009
35/78
Fall 2009
36/78
Haute Couture Spring 2008
37/78
Spring 2008
38/78
Cruise 2008
39/78
40/78
41/78
Haute Couture Fall 2007
42/78
Spring 2007
43/78
Spring 2007
44/78
Fall 2006
45/78
Spring 2006
46/78
Fall 2005
47/78
Spring 2005
48/78
Spring 2005
49/78
Spring 2004
50/78
Spring 2003
51/78
Fall 2003
52/78
Spring 2002
53/78
Haute Couture Fall 2000
54/78
Haute Couture Spring 1999
55/78
Spring 1998
56/78
Spring 1997
57/78
Spring 1996
58/78
Haute Couture Fall 1995
59/78
Spring 1994
60/78
Spring 1994
61/78
Fall 1993
62/78
Haute Couture Spring 1992
63/78
Spring 1992
64/78
Spring 1992
65/78
66/78
Spring 1991
67/78
Spring 1990
68/78
Haute Couture Spring 1990
69/78
Spring 1989
70/78
71/78
Fall 1988
72/78
Spring 1988
73/78
Haute Couture Fall 1987
74/78
Fall 1986
75/78
Fall 1985
76/78
Fall 1985
77/78
Fall 1984
78/78
Fall 1984
•••
For more stories like this, including celebrity news, beauty and fashion advice, savvy political commentary, and fascinating features, sign up for the Marie Claire newsletter
SUBSCRIBE HERE (opens in new tab)