Karl Lagerfeld's 45 Most Iconic Chanel Runway Looks
Study up ahead of the 2023 Met Gala, which honors the late designer.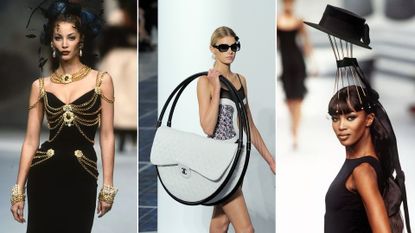 (Image credit: Getty Images)
Marie Claire Newsletter
Celebrity news, beauty, fashion advice, and fascinating features, delivered straight to your inbox!
Thank you for signing up to Marie Claire. You will receive a verification email shortly.
There was a problem. Please refresh the page and try again.
The 2023 Met Gala is almost upon us, and since this year's festivities will honor the work of legendary designer and creative Karl Lagerfeld, we're taking a look back at his most iconic Chanel runway looks—and there are almost too many to count. Since Lagerfeld became the fashion house's creative director in 1983, the late, great creative managed to keep Coco Chanel's spirit alive through the famous tweed skirt suits and classic double-C logo, while also injecting his own perspective into the brand.
Lagerfeld never did anything short of iconic: His runway sets, like his fashion designs, were instantly legendary, creating everything from a full Chanel supermarket to a rocket ship to an iceberg to set the stage for an unforgettable experience. As a tribute to one of the greatest fashion icons of all time, here are Lagerfeld's best runway moments.
1/45
Spring 2019
A model strolls the beach in a tweed two-piece skirt suit while carrying not one, but two Chanel flap bags.
2/45
Haute Couture Spring 2017
Lily-Rose Depp and Karl Lagerfeld on the Haute Couture Spring 2017 runway.
3/45
Haute Couture Fall 2017
A model from the Haute Couture Fall 2017 show looks like a human wedding cake-topper with her white gown's floral hem, mid-arm bunches, and bow detail.
4/45
Haute Couture Fall 2016
A model wears a dramatic drop-waist gown in a contrasting black and white graphic print.
5/45
Metiers d'Art 2016
Cara Delevingne, one of Lagerfeld's muses, during Chanel Métiers d'Art 2016 show.
6/45
Spring 2016
Lagerfeld certainly wasn't limited to just a black-and-white palette, as seen with this primary colored-tweed look from 2016.
7/45
Pre-Fall 2015
During Chanel's Pre-Fall 2015 show, a model transformed into a human cupcake in a salmon-pink, ruffled, and pearl-studded look.
8/45
Fall 2015
Lagerfeld was a major fan of quilted leather—just think of the handbags created during his Chanel tenure. Here, he used the fabrication on an edgy black leather jacket.
9/45
Spring 2015
A model wears a very spring-y look, consisting of a colorful tweed skirt, abstract floral button-down shirt and matching riding boots.
10/45
Haute Couture Fall 2014
Karl Lagerfeld sent a pregnant model down the runway during Chanel's Haute Couture Fall/Winter 2014 show in Paris.
11/45
Spring/Summer 2013
Chanel's imaginative and outlandishly oversized circle bag made its debut during the largely playful Spring/Summer 2013 show.
12/45
Haute Couture Fall/Winter 2012/2013
A model shrouded in a massive bridal ball gown, made of white taffeta and fur, closed out Lagerfeld's couture New Vintage Fall/Winter 2012-2013 show.
13/45
Metiers d'Art 2012
Held in Linlithgow Palace, the birthplace of Mary Queen of Scots, Chanel's Métiers d'Art collection from 2013 featured a convergence of tartan and tweed.
14/45
Haute Couture Fall 2010
Lagerfeld set Chanel's Fall 2011 couture show in Paris' Grand Palais and had a massive, marvelous lion placed in the center of the runway. Here, the closing model, in a beaded white and gold ensemble, was accompanied by a male model wearing a lion mask.
15/45
Spring 2011
Chanel's Spring 2011 collection was full-tilt fluffy and feathered fun, as seen with this orange sherbet-hued dress.
16/45
Fall 2011
You can't be cold when you look this fabulous! A model during Chanel's Fall 2011 shoe wears white panties with a matching bra top, frayed cardigan, and knee-high fur boots.
17/45
Haute Couture Fall 2008
The bride, wearing a dramatic take on the classic bridal veil of tulle ruffles, closed out Chanel's Fall 2008 Couture show.
18/45
Spring 2008
A nod to mid-aughts It girl, Lindsay Lohan, Lagerfeld unveiled ankle monitor-inspired bags in his now-iconic Spring 2008 edit.
19/45
Haute Couture Fall 2007
Imagine an elegant goth attending a late-night soirée during the Roaring Twenties—this gown from Chanel's Fall 2007 Couture show is what she'd wear.
20/45
Spring 2007
Micro-mini, leggy silhouettes are nothing new—look to these black and sparkly tweed hot pants from 2007.
21/45
Fall 2006 Couture
During Chanel's Fall 2006 runway, Lagerfeld accompanied the closing bride, who was wearing an ornately beaded white mini dress with thigh-high, gold-tipped boots.
22/45
Spring 2006
Here's proof the trend cycle really is a, well, cycle; a model wears a satin fringe skirt with a see-through tulle dress that closely resembles what we see today with 2023's sheer trend.
23/45
Fall 2005
Lagerfeld turned his final model into a walking bouquet of white roses in this 3-D floral wedding gown.
24/45
Spring 2003 Couture
Chanel's Spring 2003 Couture show was flamboyant, colorful, and filled with joy—this pink and white gown covered in floral appliqués perfectly encapsualtes the show's tone.
25/45
Haute Couture Fall 2003
Yet another iconic of Chanel's couture brides is Linda Evangelista during the Couture Fall 2003 showing.
26/45
Spring 2002
Chanel's Spring 2002 show combined Chanel's traditional buttoned-up polish with a youthful edge, as seen with this sheer tulle dress layered over a leather tube top and maxi skirt.
27/45
Haute Couture Fall 2000
For Chanel's Couture Fall 2000, Karl Lagerfeld pulled silhouette inspiration from the 1980s but with a early-aughts remix—as seen with the baby pink flared midi dress worn by supermodel Devon Aoki.
28/45
Haute Couture Spring 1999
Hey, you know her! Kate moss wears a plunging yellow sequined gown during Chanel's 1999 couture runway.
29/45
Spring/Summer 1998
A model wears a white tailored satin double-breasted jacket, sheer skirt, extensive veil, and even carries an extra handful of tulle to add extra drama to the ensemble.
30/45
Spring 1997
Naomi Campbell stuns in a strategically sheer black midi dress, which gives an entirely new meaning to the little black dress.
31/45
Spring 1996
Here, Lagerfeld introduced the now-infamous itty-bitty Chanel bikini top in his Spring 1996 Ready-to-Wear collection for the French house.
32/45
Haute Couture Fall 1995
The one and only Naomi Campbell wears a surrealist headpiece with an off-kilter flat-brimmed hat in Lagerfeld's Haute Couture Fall 1995 for Chanel.
33/45
Spring/Summer 1995
Chanel's Spring/Summer 1995 runway was an all-out party of kitsch and fun. Just look at Claudia Schiffer's diamond-studded bikini, bedazzled waist belt, and terry robe.
34/45
Ready-to-Wear Spring/Summer 1993
An early pre-cursor to today's puffy trend: a Model in an inflatable tubed skirt during Chanel's Spring/Summer 1993 show.
35/45
Spring 1992
A model in the Spring 1992 collection looks to have stepped freshly off the beach in her white crewneck T-shirt and beachy, floral-printed bottoms and robe.
36/45
Haute Couture Spring 1992
Christy Turlington walks Chanel's Haute Couture Spring 1992 runway in a little black dress draped in gold chains and hardware with an aviary-inspired feathered headpiece. The look was later worn by Penélope Cruz in Pedro Almodóvar's 2009 Broken Embraces, securing the iconic look in both film and fashion history.
37/45
Ready To Wear Spring/Summer 1992-1993
Claudia Schiffer tapped into her inner flower child for the Spring/Summer 1992-1993 runway.
38/45
Spring 1990
For your spring workwear consideration: pastel green herringbone, as seen in Chanel's Spring 1990 collection.
39/45
Spring 1989
A nautical, 1920s-inspired look from Spring 1989. Notice the shoes with a black toe-front, a color-blocked combo you'll still on Chanel's recent footwear, too.
40/45
Haute Couture Fall/Winter 1989
Naomi in a white jacket with black satin trip, gladiator-style caged gloves, and a rosette headpiece during Chanel Haute Couture Fall/Winter 1989.
41/45
Spring/Summer 1988
Ruffles, rosettes, and ruching—this ballet slipper pink strapless gown from Chanel's Spring/Summer 1988 collection epitomizes '80s style.
42/45
Haute Couture Fall 1987
Talk about drama! This model in a pink satin gown with bustled hips, a ruffled hem, and bow shoulder details dials up the operatic flair.
43/45
Fall 1986
A model on Chanel's Fall 1986 runway looked classically refined in a black cape dress with a white underlay, a pearl-dotted sunhat with a rose decal, and leather gloves—which later became a signature of Lagerfeld's personal wardrobe.
44/45
Fall 1985
Who needs pants when a one piece swimsuit and white tights paired together is this chic?
45/45
Fall 1984
Hockey, but made fashion-forward on the Fall 1984 runway.
Celebrity news, beauty, fashion advice, and fascinating features, delivered straight to your inbox!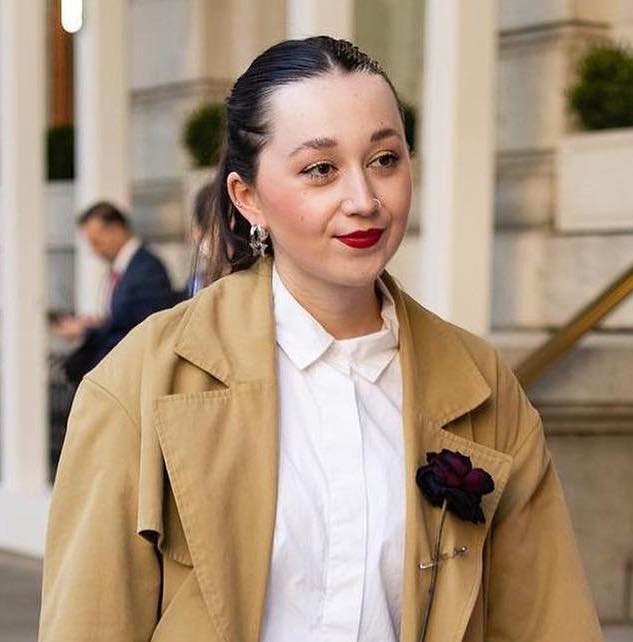 Emma Childs is the Style Editor at Marie Claire, where she researches up-and-coming trends, curates shopping guides, and gushes about the must-buy items she can't stop thinking about. She previously wrote for TZR, Editorialist, Elite Daily, and Mission Magazine and studied Fashion Studies and New Media at Fordham University. When she's not writing up fashion deep-dives or finding the season's best pieces, you'll find her fiddling around in Photoshop and perusing HBO Max for the next show to base her personality on (currently, it's "Succession").