Tortoise Shell Glasses: The Instantly Chic Staple You're Missing
No optical illusion here!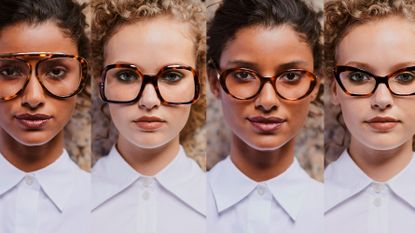 (Image credit: Tyler Joe)
Sometimes when we shop, we focus so much on the big purchases—the super luxe coat, the standout bag, the splurge-worthy shoe—that we forget that the smallest details are really what elevates an outfit. Throw on a silk sock, watch how the shoe becomes new again. Add a chic hair clip, and see how the whole look becomes more polished. Stack your all your favorite necklaces, instantly feel like you're dressed to impress. The same can be said for glasses. Opticals are an easy (and often necessary) way to top off a look.
No matter if you're glued to your phone screen or not, most of us stare at a computer screen throughout the day—day after day, week after week. Lets give those contacts a break and finally get rid of the frames you've had since high school (you know, the ones that you only pull out if you're in the safety of your own living room). Yes, tortoise shell is classic, but these frames (in shapes that are anything but) show your personality and bring and extra flare to your ensemble. From the small and perfectly round Moncler specs, below, to the square and oversized Gucci glasses, theres a style out there in every shape and size, so you're sure to find ones that match your aesthetic.
Below, some of the most stylish tortoise frames on the market right now.
•••
A version of this story appears in the October 2019 issue of Marie Claire.
Subscribe here (opens in new tab)
Taylor Ayers is a fashion editor at Marie Claire, covering the new editorial fashion trends, looks, and contemporary styles.