'Project Runway All Stars' Winner Dmitry Sholokhov Is Making Waves
One win wasn't enough for the Project Runway season 10 champion, so he took top honors on All Stars too. But enough about him—he's letting his designs speak for themselves.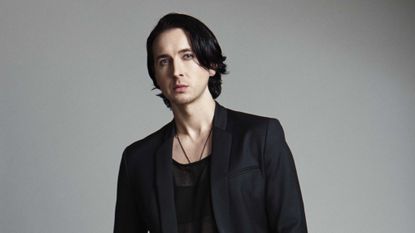 (Image credit: Andrew Stinson)
Marie Claire Newsletter
Celebrity news, beauty, fashion advice, and fascinating features, delivered straight to your inbox!
Thank you for signing up to Marie Claire. You will receive a verification email shortly.
There was a problem. Please refresh the page and try again.
For Project Runway season 10 winner Dmitry Sholokhov, returning to compete on All Stars season four was a hard sell. "If you go and do it again, you have to win again," he says. "That's a lot of pressure." It was only after being invited to judge auditions for Project Runway season 13 that the designer had a change of heart. "I decided to do it again because I love television," he admits, adding, "and I'm not afraid to take a risk."
You can say that again. Whether it was removing the stuffing from a coil of fabric cord to weave a cocktail dress or dyeing the fringe of a red-carpet gown with tea (which left him blowdrying the dress at the last minute), throughout the season the designer made bold, albeit time-consuming, choices that set him apart from his competitors. "Everyone had sharper teeth at this point," he says. "Your pieces have to stand out."
That they did. When the final three contestants were asked to design an eight-look finale collection representing the four seasons (in a mere four days), Sholokhov paired unusual fabrics—neoprene with lace, wool with tulle—which he then slashed and manipulated to create three-dimensional effects. "I tried to marry elegance and fluidity with an athletic sensibility," he says. The result impressed even his most vocal critic, MC Senior Fashion Editor and All Stars mentor Zanna Roberts Rassi. "Dmitry is an artist," she says. "What makes him so talented isn't just his technical ability and good taste, it's also his confidence." (Says Sholokhov: "I do listen to criticism, but I also follow my instincts.")
For now, the Belarus native, who has a collection with QVC that debuted in February, is focused on the big picture. "I want to have my stores in every major city in the world," he says. "I seem calm from the outside, but inside, trust me—it's a hurricane!" And poised to take the fashion world by storm.
See his final collection, in all its Marie Claire magazine glory, here:
This article appears in the March issue of Marie Claire, on newsstands now.
You should also check out:
Tim Gunn Answers All Your Fashion Questions
Nina Garcia's Fashion Week Diaries: Your Behind-the-Scenes Peek at All the Action in Real Time
Celebrity news, beauty, fashion advice, and fascinating features, delivered straight to your inbox!