I Gave My Mom Full Control of My Hair, Makeup, and Clothes for a Week
And this...is what happened.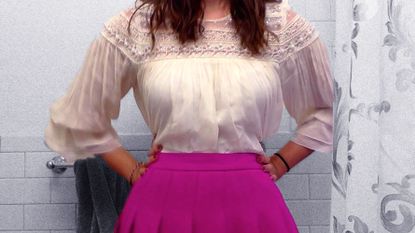 (Image credit: Courtesy Hannah Orenstein)
Marie Claire Newsletter
Celebrity news, beauty, fashion advice, and fascinating features, delivered straight to your inbox!
Thank you for signing up to Marie Claire. You will receive a verification email shortly.
There was a problem. Please refresh the page and try again.
In preschool, I wore Disney princess costumes in January and snowsuits in July. My mom gave me free rein over my clothing—as long as I was comfortable and in accordance with my school's dress code, she wasn't going to convince a screaming four-year-old to wear a practical outfit.
These days, I dress like Blair Waldorf with a vintage twist. I like prim blouses, pencil skirts, 1950s fit-and-flare dresses, loud prints, and pointy-toe pumps. On the weekends, I live in Crop Top City. My beauty routine never changes: black eyeliner, jumbo lashes, red lipstick, loose hair.
My mom, on the other hand, loves strong-shouldered jackets, figure-flattering silhouettes, solid colors, and denim. She goes for a blonde blowout and understated makeup.
We are, in other words, nothing alike when it comes to our style.
After 22 years of sartorial freedom, could I survive a whole week with my clothing, hair, and makeup in my mom's hands? We talk constantly, I love her to death, etc., so I assumed that when my editor asked me to try, it was going to be a breeze. I couldn't have been more wrong.
Day 1: Monday
The night before the challenge begins, Mom sends me an email with instructions to wear flared jeans, a white sleeveless blouse, silver hippie jewelry, and nude pumps. It feels a little casual for work and I expect to feel dressed down, but the outfit actually makes me feel really chic.
Mom—who is clearly already *really* into this whole project—also attaches two photos: a close-up of a girl in cream eyeshadow with a hint of blue eyeliner ripped from Pinterest, and a photo of Ashley Tisdale with a deep side part and a curled side ponytail. Sure. Why not time-warp to 2006.
I create a pronounced part, gather my hair in a side pony, and curl the tail. I dust on some eyeshadow for the first time since that night during my sophomore year in college when I believed I could do a smoky eye drunk. (Spoiler alert: I could not, and I've been afraid of eyeshadow ever since.) After some cream shadow, I dip a brush into a few drops of water and pick up blue eyeshadow to use as liner. It's the very first beauty trick my mom ever taught me. More than a decade has passed, but I still have to FaceTime her to see what she thinks.
"Cute!" she says. "But your eyeliner is too thick. And your ponytail isn't far enough to the side."
It's too late to fix the liner, but I adjust the hair and rush to work. The deep side part gives me almost a fake bang, which makes me feel like I'm at my Bat Mitzvah. (Actually, Ashley Tisdale was probably my beauty inspo back then too.) I'm worried about the strands in front separating to give me a Trumpy combover situation, but when I catch a glimpse of my reflection in the window of a Starbucks, I think I actually look okay?
Also, my ass looks ridiculously good in these jeans. Thank you, Mom, for everything.
After work, I arrive at my friend Kelsey's apartment, and the first thing out of her mouth is, "OMG, you look amazing!" (For the record, she knew nothing of this experiment at the time.) Kelsey is the fashion assistant at the Wall Street Journal—she knows what she's talking about.
Before I go to bed, I get an email from Mom with instructions for tomorrow's look. Bring it on, Mom. I can handle this.
Day 2: Tuesday
I definitely cannot handle this.
Mom wants me to wear a printed silk skirt, a black top, ankle boots, and dark pink lipstick. All fine. But she also wants me to wear tights, cat-eye liner, and a French twist. By the time I finish getting dressed, I'm overheated with bloodshot eyes from scrubbing off liner attempts #1–724 and hair that makes me look like a nun on a business trip.
I had forgotten to tell Mom where I was going, so the outfit is all wrong—after work, I have a date on the Lower East Side. I want to look pretty and cool, not uptight and out of season. But she's at work and unreachable by text, so I'm on my own.
I take off the tights, clean up the Taylor Swift-at-the-VMAs-level eyeliner I had drawn on and replace it with a gentler flick, and take my hair down from the ultra-severe French twist. I feel bad about abandoning her hairstyle, so I flip my head over and shake to boost the volume, just like Mom taught me.
I wear a variation of this outfit pretty much every day anyway, but I gotta say: Mom did good with this one.
The date is with a guy I met a few months ago through mutual friends. We go for Jewish comfort food first, then to a live jazz show. Everyone in this neighborhood has long, scraggly hair tied up in man buns (except Isaac, who's more clean-cut), so I'm glad I skipped the French twist for a more relaxed look.
We leave the concert early to walk through the twinkling lights of downtown Manhattan. I feel guilty for half-ditching Mom's instructions, but according to Isaac, I look perfect. I'm inclined to believe him.
Day 3: Wednesday
I thought I could escape this week without the French twist. I was wrong. She insists on an updo with lots of volume in front and on top and a twist in the back.
"You want me to do a Snooki pouf?"
"Yes! Exactly!"
I cackle for a thousand years before I realize she's completely serious. Oh. I try it out and send her a photo.
"Wow! You have NO hair talent at all!" she writes back immediately.
She sends instructions for me to follow. I tease the front, coil the back, and pin the whole mess to my head. It looks all wrong. I take out all the pins, shake out my hair, and try it again. And again. And again. It's okay from the side but silly and messy from the front. I text her a photo and she's not pleased.
"I failed you," she writes. "I'm so sorry. You have your father's genes for hair-fixing, not mine. Do what you want with your hair, but let's work on the gene pool for the next generation."
Oy. I go with a half-hearted Snooki pouf. The volume would never pass muster on the Jersey Shore, but I'm running late.
Today's makeup is a bright pink lip and mascara, no eyeliner (for the first time in a decade). The outfit is a blue fit-and-flare mini-dress with magenta suede pumps, and a long silk scarf tied in a knot at the side of my neck.
Let us pause for a moment of silence to commemorate the silk neck scarf of yore.
The dress was a hair too short for work, especially when paired with 4-inch pumps, and the scarf makes me feel like a flight attendant hiding a hickey. It's just not working.
Even though I love the way the pink lip, scarf, and shoes pop against the blue dress, I spend the whole subway ride to work fuming about today's look. I detest the scarf. It feels tight like a noose.
Day 4: Thursday
I'm seeing the guy again tonight after work, so I ask Mom for a pretty date-night outfit. She goes a liiiittle bit overboard: a hot-pink A-line skirt, a cream peasant blouse embellished with pearls, leopard wedges, a deep side part with big curls, brown eyeshadow, rosy cheeks, and burgundy gloss. I feel like an overgrown toddler or the human incarnation of a valentine.
My hair is still damp when I curl it, so the waves come out limp and sad. The colors of the skirt and blouse don't quite work to my eye, and I typically pair this skirt with a less voluminous top to show off my waist. I look fine, but there's nothing remotely flirty or sexy about this outfit. Someone at my office looks me up and down—and not in a good way.
When my date texts to say he unfortunately has to reschedule, I'm relieved. No overgrown toddler dates tonight.
Day 5: Friday
It's my friend's birthday, so I ask Mom to pick out an outfit for dinner, an apartment party, then dancing on the Lower East Side. She chooses a draped black cotton dress with an asymmetrical neckline, a black leather jacket, and black heeled leather boots. I love the outfit, but it's something I would wear to work—I'd feel silly getting down to the Weeknd in this look.
The hair and makeup, though, kind of work. She instructs me to straighten my hair, which I haven't done in years, and do dark eyeshadow with a nude lip, which is way out of my comfort zone. I pull out my roommate's old flat iron to run over my hair, then I cover my lids in cream, charcoal gray, and black eyeshadows, blend, and pray I don't look like my middle-school icon Avril Lavigne. I do not! So I add smudgy black liner and mascara. It's a 180-degree departure from my usual waves and red lip, but I'm into it. I feel like someone else.
When I arrive at the dinner, my friends notice.
"You look so different, but I can't put my finger on it," one guy says.
"You look amazing," a female friend adds.
Because I am old and exhausted, I never make it out to the club, so I can't tell you how I fared among the crop-top-wearing masses. But changing up my look for the night makes me feel hot and proves to me that I don't have to bare any skin at all to feel sexy on a Saturday night.
What I Learned
I didn't make it to day six or day seven. I just couldn't deal. "I liked telling you what to wear, but you kept pushing back and trying to regain control," Mom told me over the phone. "It was cool that your friends noticed the change and responded positively," she noted.
And she's right. So when the experiment ended, I scrambled back to my black eyeliner, but I kept a few of her tricks. I played around with eyeshadow more often, deepened the side part in my hair, and added a flatiron back into my routine. But the neck scarf? Yeah, that's a hard pass.
Follow Marie Claire on Instagram for the latest celeb news, pretty pics, funny stuff, and an insider POV.
Celebrity news, beauty, fashion advice, and fascinating features, delivered straight to your inbox!