Are You Ready For Coutourism?
A new high-fashion travel trend has women scouring the globe to build one-of-a-kind wardrobes. How far would you go in search of great style?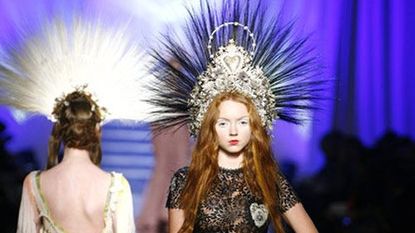 (Image credit: Dan Lecca)
THE BORN COUTOURIST

Stephanie Block, 33

Profession: editor-in-chief, TangoDiva.com, an online travel magazine for women
To me, a coutourist is someone who knows the origin of different fashion species, and my mom is the one who pain-stakingly nurtured my raw talents. Her expertise is in textiles and fiber art, and tagging along on trips with her was mind-blowing. I recall digging through piles of antique kimonos at a Tokyo weekend market, learning about color with the bubbling vats of indigo dye at Hiro Shindo's studio, and, in Myanmar, meeting with weaver women outside Rangoon.
Coutourism, then, was simply everyday life -- just like the beginning of human time, when textiles were the domain of women and passed from mothers to their daughters. So, too, my mother taught me that beauty was worth going to the ends of the earth for.
TOP THREE FINDS

1. Luxe leather

The Maybe store, nestled in the heart of pedestrian-only Florida Street in Buenos Aires, is the place to go. You'll feel very dulce de leche in your new leather pants that fit you like, well, your matching custom-made leather gloves.
Maybe Leather Factory

851 Calle Florida

Buenos Aires, Argentina

Tel: +54-11-4312-4781
2. Made-to-order silk suits

Thailand is the birthplace of decadent, delicious silk. It happens to be one of the best places in the world to get tailor-made clothes magically constructed in 24 hours, too. Walk into Venus House at noon, bring a picture of your dream suit, and choose from the reams of textured and rainbow- hued silk. One day and a fitting later, your new suit will be delivered to your hotel room.
Venus House

463/68-69 Lookluang Road

Seeyek Mahanak, Dusit

Bangkok, Thailand 10300

Tel: +66 2-282-5329
3. Colleen Quen cocktail gown

If you ever want to don a gown reminiscent of Princess Di, go here. Colleen wants to know more than your favorite color, style, cut, design, and fabric; she wants to know your obsessions and desires. From that, she'll create a gown that is, in a word, you -- whether "you" is duchesse silk satin, creamy chiffon, or fl owing silk. In a few weeks, you'll have a jaw-dropping master piece you can proudly pass on to your daughter.
Colleen Quen Couture

7 Heron Street

San Francisco, CA

Tel: (415) 551-001
THE ACCIDENTAL COUTOURIST

Jennifer Crawford, 34

i>Profession: CPA/tax adviser
I come from a long line of international shoppers. My grandmother decorated her home with flea-market treasures from Dubrovnik (Croatia) and Paris. My mother had her suits and cocktail dresses handmade for a song in Hong Kong. I unwittingly continued the family tradition: Early in my career, the only time I ever had to shop was when I was on vacation, which usually landed me overseas. It didn't take long for my closet and home to fill up with fabulous foreign finds. Over time, I began to instigate trips focused exclusively on shopping: Hong Kong for Christmas gifts and jewelry; Morocco for dishes and carpets; Spain for showpiece leather; Paris for, well, everything else! In 2004, I relocated to Europe and added more far-flung destinations to my shopping repertoire: Mumbai, Dubai, and the island of Mauritius. I make it a point to buy something special in every destination; even a brief overnight stay warrants a treasure hunt, no matter how small the treasure. In doing so, I've accumulated a wearable scrapbook from my journeys. Better yet, I never have the problem of wearing the same outfit to a party as another guest, or of someone spotting my home decor in a catalog.
TOP THREE FINDS

1. Handcrafted gold bangles

There is no shopping destination in the world quite like Marrakech. Many days, I have happily lost myself in the souks, accumulating a luggage- busting array of leather poufs, sequined babouche (house slippers), colorful djellabas, and especially exquisite gold bangles. I love the exaggerated haggling process, full of feigned shock and hands thrown up in disgust but nearly always ending in a deal struck and a small smile.
Djemma el-Fna square,

in the Medina section of

Marrakech, Morocco
2. Hand-embroidered silk shawls

I love Robin Brouillette's incredibly feminine, one-of-a-kind silk shawls. The silk is hand-dyed in big stone tubs with colors inspired by exotic spices and translucent sea glass. Then metallic threads are used to hand-embroider each shawl. Over time, the thread oxidizes, so the longer you wear your wrap, the more vintage the feel. Each takes about a week to make.
Robin Brouillette

www.robinbrouillette.com or
3. Handmade sweaters

Lusty, winter-proof sweaters in creamy, soft wools and a kaleidoscope of colors fill the stalls of Estonia, and they're available in every shape and size at reasonable (and negotiable) prices. Just head to the old town's Viru Gates, a favorite vicinity for vendors. You're sure to find a one-of-a-kind, funky sweater that speaks to you. I did!
Viru Gates market,

Tallinn, Estonia
THE CAREER COUTOURIST
Kate Horan, 38

Owner of Sorelle B­onde and importer of artisan-made Italian accessories
I made my virgin voyage to Italy with a girlfriend back in 2000. It was a three-week adventure in Sicily, and I was smitten with the culture, the terrain, the food, and the way of life. Within a few months, I found a way to return, with another girlfriend. This continued for three years. During my travels, I would always seek out unusual women's accessories made by local artisans to serve as mementos of my trips--much like the idea of a charm bracelet, but the items were belts, purses, and jewelry. Back at home, I would be approached at social events, asked by friends, and even stopped in the street about what I was wearing. It didn't take long for me to realize that this was my calling: to seek out unknown designers who create unusual and beautiful wearable art and bring it to the United States. It supports the local artisans, many of whom are still utilizing ancient techniques to create their wares. I also feel I am helping to educate and create awareness of what "made by hand" means, versus mass-manufacturing. Wearing handmade pieces offers me a special connection to the artists. I am not just sporting something I grabbed off the rack; I am wearing a piece of passion, history, art, and tradition. Plus, with my purchases, I am doing my small part to keep these art forms alive.
TOP THREE FINDS

1. Handmade d'orsay pumps

D'orsay pumps are sexy shoes with open sides. For mine, I handpicked my fabric, style, and size. Ten days later, I was presented with custom masterpieces. Veronik, the proprietor, hails from a fashion family with ties to the textile mills in Como. Her designs are simple, classic stilettos, mules, d'orsay pumps, and boots, but she incorporates vintage fabrics, making each pair distinctive.
Veronik

Via Fiora Chiara 24

20121 Milan, Italia

Tel: +39 2-86-45-4191
2. Custom leather belts

Found on a narrow street parallel to the Arno River in Florence, Enio Provaroni and his wife, Jane Dengler, have crafted the belts, handbags, luggage, and other leather products showcased in their unassuming storefront. They have 60 years of experience between them. Yet I doubt I would have found them had I not stayed in a small hotel next door and been forced into their doorway by rain.
Infinity

Borgo S.S. Apostoli, 18r

50123 Florence, Italia

Tel: +39-055-239-8405
3. Haute-couture hat and necklace

I had a bespoke hat made with fabric ribbon and a necklace made to my specifications out of oxidized sterling-silver links, lace, and mother-of-pearl charms. Luc­o Antonucco­, the designer, lives and works in Florence. With more than 20 years in the fashion industry, he is considered one of the leading sources in this region for Florentine ball gowns, wedding dresses, and unique accessories.
Luc­o Antonucco­
Haute Couture

Via de' Serragli, 17

50124 Florence, Italia

Tel: +39 055 2207269

By appointment only.