This Season's Street Style at New York Fashion Week Is Better Than Ever
The fashion crowd owned the sidewalks.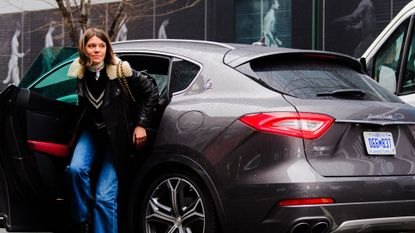 (Image credit: Tyler Joe)
My favorite part of fashion month is, hands down, the street style. The actual shows are important, but the pre/post show, where guests flock to the streets for photo ops, is where more magical fashion moments happen. The effortless style and creativity people show off are unmatched, and the true fashion month heroes capturing all this #content are the street style photographers. Our own hero, Tyler Joe, is on the scene, running around in the middle of moving traffic, to get the best street style outfit shots. Check out all the photos, ahead.
1/160
Day 5
2/160
Day 5: Jessica Minkoff
3/160
Day 5: Eva Chen
4/160
Day 5
5/160
Day 5
6/160
Day 5: YoYo Cao
7/160
Day 5
8/160
Day 5
9/160
Day 5
10/160
Day 5
11/160
Day 5: Xenia Adonts
12/160
Day 5
13/160
Day 5: Grace Coddington
14/160
Day 5
15/160
Liv Perez: Day 5
16/160
Day 5
17/160
Day 5
18/160
Day 5: Leandra Medine and Christine Centenera
19/160
Day 5: Susie Lau
20/160
Day 5: Gabriella Karefa-Johnson
21/160
Day 5
22/160
Day 5
23/160
Day 5
24/160
Day 5
25/160
Day 5
26/160
Day 5: Nikki Ogunnaike
27/160
Day 5: Nicole Chapoteau
28/160
Day 5: YoYo Cao
29/160
Day 5
30/160
Day 5
31/160
Day 5: Gabby Prescod
32/160
Day 5
33/160
Day 5
34/160
Day 5
35/160
Day 4
36/160
Day 4
37/160
Day 4
38/160
Day 4
39/160
Day 4
40/160
Day 4
41/160
Day 4
42/160
Day 4
43/160
Day 4
44/160
Day 4
45/160
Day 4
46/160
Day 4
47/160
Day 4
48/160
Day 4
49/160
Day 4
50/160
Day 4
51/160
Day 4
52/160
Day 4
53/160
Day 4
54/160
Day 4
55/160
Day 4
56/160
Day 4
57/160
Day 4
58/160
Day 4
59/160
Day 4
60/160
Day 4
61/160
Day 4
62/160
Day 4
63/160
Day 4
64/160
Day 4
65/160
Day 4
66/160
Day 4: Aya Kanai
67/160
Day 4: Sally Holmes
68/160
Day 4
69/160
Day 4
70/160
Day 4
71/160
Day 4
72/160
Day 4
73/160
Day 4
74/160
Day 4
75/160
Day 4: Julia Gall
76/160
Day 4
77/160
Day 4
78/160
Day 4
79/160
Day 4
80/160
Day 4
81/160
Day 4
82/160
Day 4
83/160
Day 4
84/160
Day 4
85/160
Day 3: Nicole Chapoteau
86/160
Day 3: André Leon Talley
87/160
Day 3
88/160
Day 3
89/160
Day 3: Julia Gall
90/160
Day 3: Dove Cameron
91/160
Day 3
92/160
Day 3
93/160
Day 3
94/160
Day 3
95/160
Day 3
96/160
Day 3
97/160
Day 3: Lyn Slater
98/160
Day 3
99/160
Jessica Minkoff: Day 3
100/160
Gregoria Reyes-Lou: Day 3
101/160
Christine Centenera: Day 3
102/160
Day 3
103/160
Day 3
104/160
Day 3
105/160
106/160
Day 3
107/160
Day 3
108/160
Day 3
109/160
Day 3
110/160
Day 3
111/160
Day 3
112/160
Day 3
113/160
Day 3
114/160
Day 3
115/160
Day 3
116/160
Day 3
117/160
Day 3
118/160
Day 3
119/160
Day 3
120/160
Day 3
121/160
Day 2
122/160
Day 2
123/160
Day 2
124/160
Day 2
125/160
Day 2: Gabby Prescod and Danielle Prescod
126/160
Day 2
127/160
Brittany Xavier: Day 2
128/160
Day 2
129/160
Day 2: Emili Sindlev
130/160
Day 2
131/160
Day 2
132/160
Day 2
133/160
Day 2
134/160
Day 2
135/160
Day 2
136/160
Day 2
137/160
Day 2
138/160
Day 2
139/160
140/160
Day 2
141/160
Day 2
142/160
Day 2
143/160
Day 2
144/160
Day 1
145/160
Day 1
146/160
Day 1
147/160
Day 1
148/160
Day 1
149/160
Day 1
150/160
Day 1
151/160