Tell the World You're Going Places With These Status Symbols
Tell the world you're clearly going places with these totally-worth-it accoutrements.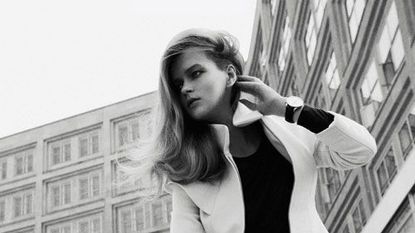 (Image credit: Leo Krumbacher/Blaublut Edition)
When You Land Your First Job
All-occasion pumps: Serious about your career? A classic heel by Manolo Blahnik or Jimmy Choo adds instant sophistication to whatever you're wearing. Stick with a basic hue and prize them forever.

Makeup palettes: Ensure you make an impression with every handshake: Neutral palettes (buy matching sets for home and the office) are an easy and foolproof way to transition your look from workday to after-hours.
When You Nab a Promotion
A signature haircut: Splurge on a cut with a top stylist at a great salon, but get trims with a junior stylist. "She'll know how to touch it up as it grows out—but it won't break the bank," says DJ Quintero, a stylist at the Serge Normant at John Frieda Salon.
When You Score Your Own Office
An investment handbag: Successful men buy sports cars; women, a for-keeps designer bag. It may not go vroom, but it will still turn its share of heads.

Preventative anti-aging creams: Always look ready for anything with moisturizers that protect skin, repair cells, and promote new cell growth.
When You Become the Boss
A statement timepiece: The hallmark of a true power player? It's all in the wrist. Nothing signals how valuable your time is like an exquisite watch.

"Started" laser treatment: You always look unfazed by the demands of a busy career. Keep it that way with the Clear + Brilliant laser treatment, a milder form of skin resurfacing.