50 Work-Appropriate Summer Outfit Ideas
These looks are HR-approved.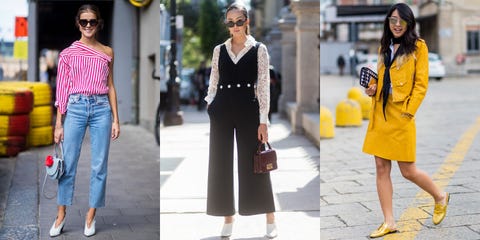 When it comes to fashion, summer is "less is more" season. It's time to peel off the thick coats, sweaters, and tights that have constrained your body all winter long—finally, your skin can breathe. There is a tiny problem, though. For those of us who toil away at office jobs, the "less is more" look may not fly with HR. To help you toe the line between weather-appropriate workwear and NSFW, I rounded up 50 conservative-enough—but still cute—outfit ideas. Plus, I tossed in a few styling tricks free of charge. Still not satisfied? Check out these affordable work pieces and trouser options that will earn you best-dressed marks at the office.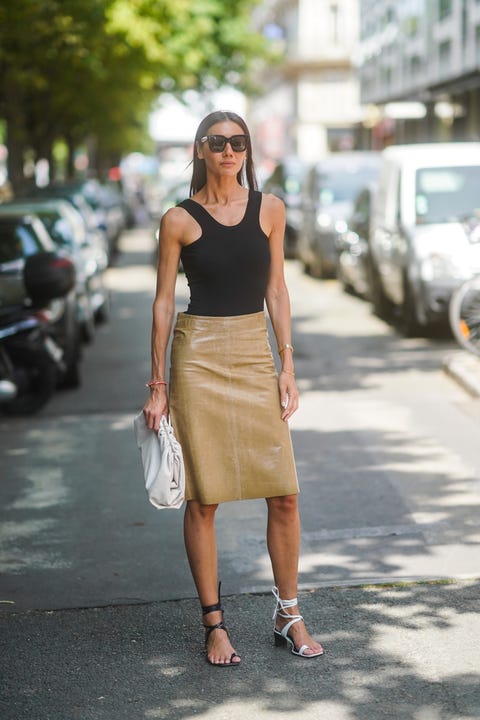 Edward Berthelot
Getty Images
An Anytime Look
In a time crunch? Start with a versatile core piece, like this black tank top. We love how it's styled with another year-round piece, a leather pencil skirt, and summery sandals for a stylish and work appropriate get-up.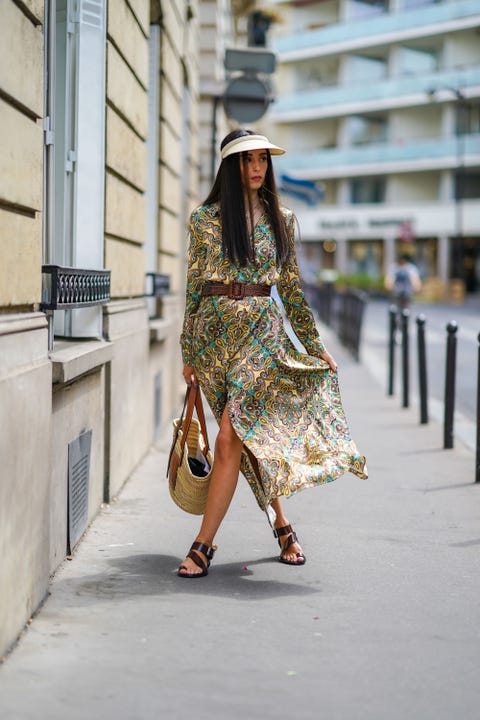 Edward Berthelot
Getty Images
Walk The Line
Walking to work? Do it in style. Pick out a flowy printed dress that will keep you cool, leather flat sandals to save your feet and a visor that will keep the hat-hair at bay. Hit your 10,000 steps before your morning meetings and look good doing it.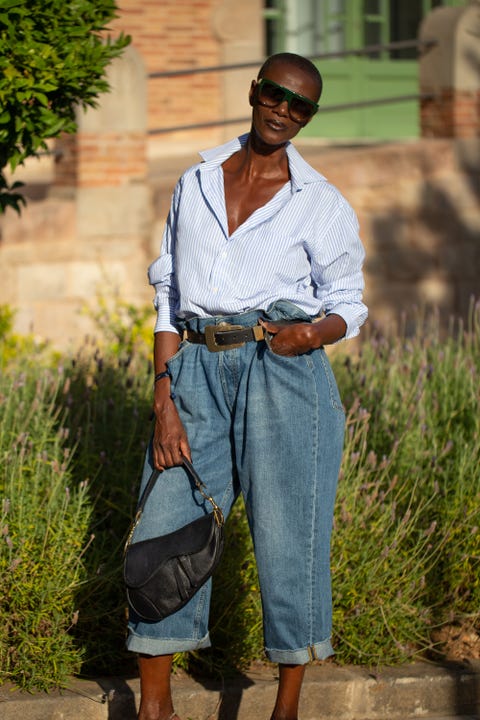 Matthew Sperzel
Getty Images
A Supersized Casual Look
Keep casual Fridays relaxed with an dropped-shoulder button-up and tuck it into a pair of oversized denim. Secure everything in place by belting a Western-style belt around your waist.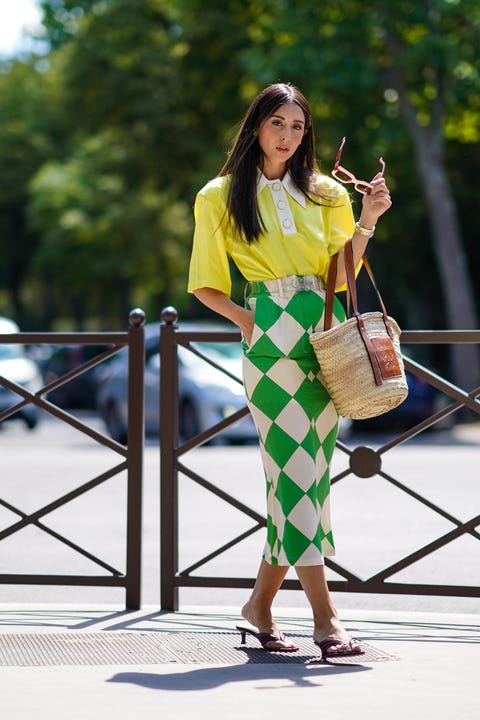 Edward Berthelot
Getty Images
A Bright and Bold Look
Transform your weekday mood by slipping on bright and playful pieces. Don't be shy about mixing vibrant colors together, like this lemony-yellow blouse and a bold green skirt.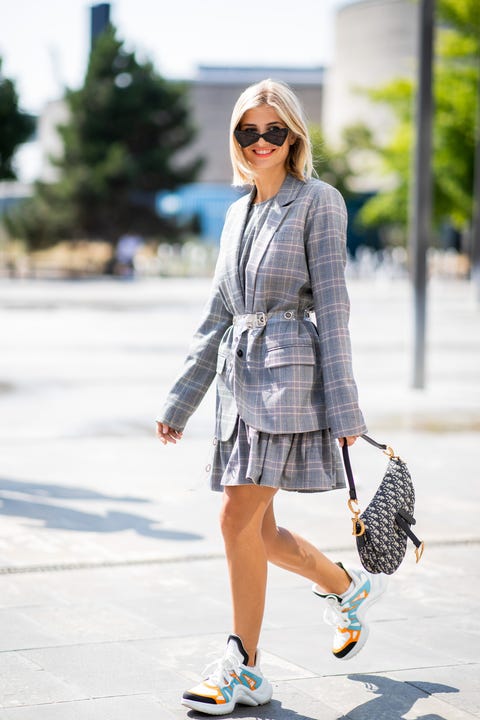 Christian Vierig
Getty Images
An '80s Skirt-Suit
Bring some nostalgia to the workplace. Find yourself an oversized plaid skirt-suit, dig out that early aughts transparent belt, and finish off your look with some retro cat-eye sunnies for a full "blast from the past" look.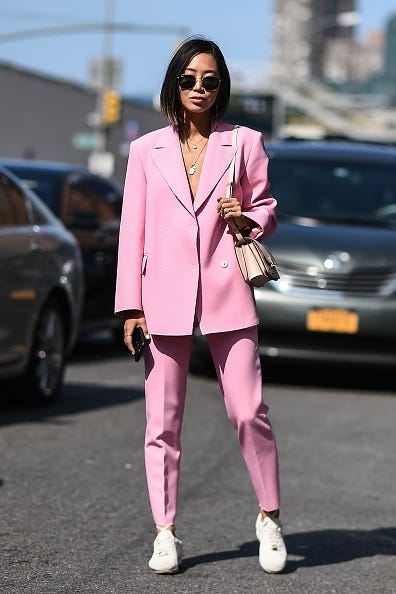 Daniel Zuchnik
Getty Images
A Monochromatic Pink Pant Suit
Give your co-workers something to talk about. Pair a pink-on-pink outfit with a pair of sneakers to dress it down.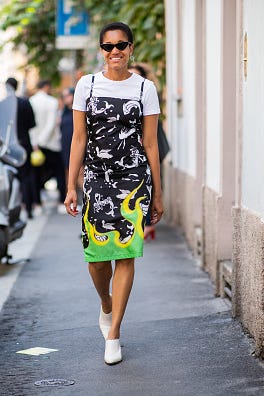 Christian Vierig
Getty Images
A Sundress and White Bodysuit
Make your spaghetti-strap sundress work appropriate with a simple white T-shirt or cap-sleeve bodysuit.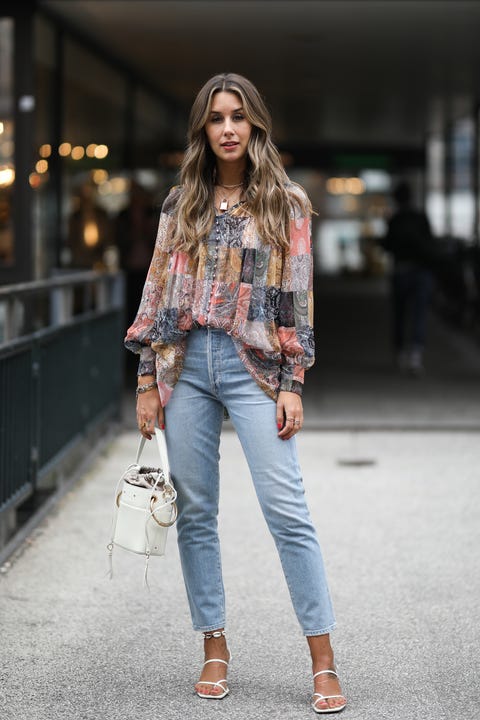 Jeremy Moeller
Getty Images
A Patchwork Blouse With Jeans
Give your weekend denim a boho touch with a patchwork blouse and strappy sandals. This look also works perfectly for the office or happy hour.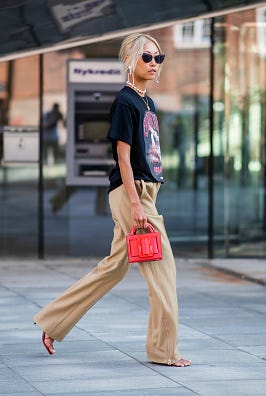 Christian Vierig
Getty Images
A Vintage Tee and Trousers
A little edge never hurt anyone. Rock your vintage tee with a pair of office-friendly work pants to bring out your inner Avril Lavigne.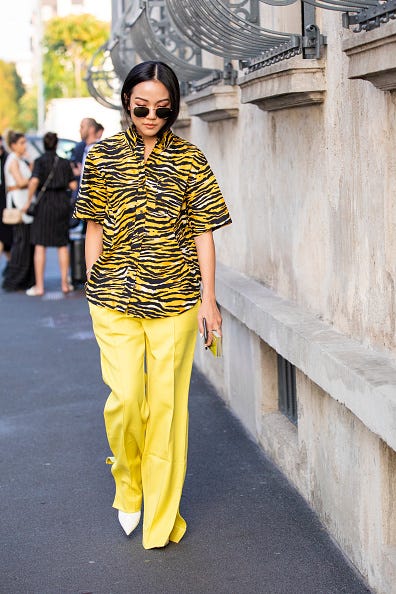 Claudio Lavenia
Getty Images
An Animal Print Shirt and Yellow Trousers
Take a walk on the wild side with this tiger print shirt. It's okay to be a little more daring if you work in a creative environment, so have a little fun by matching your top with yellow trousers.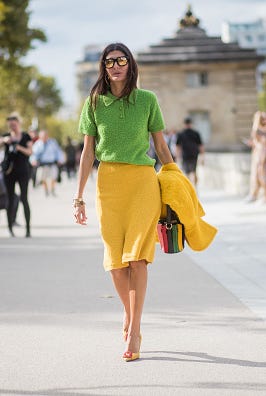 Christian Vierig
Getty Images
A Polo Shirt and Skirt
Take a preppy approach to your work attire, and don't be afraid of bright colors! Pair a bright polo with a contrasting skirt to bring a playfulness to your outfits.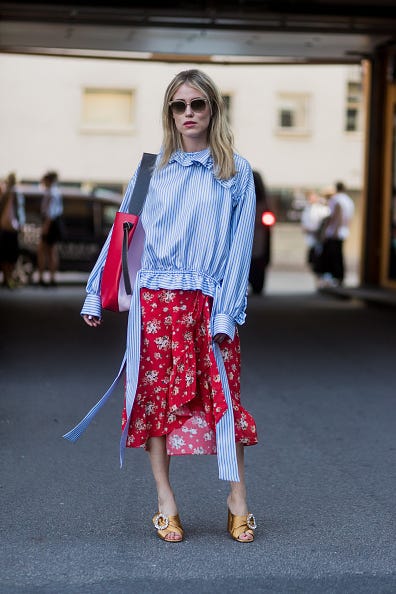 Christian Vierig
Getty Images
A Ruffled Blouse and a Ruffled Midi Skirt
Show off your own style and personality at the office by mixing prints, and be extra with the ruffles. Keep things light and fun (the way summer is supposed to be!) with this ruffled striped blouse and ruffle midi skirt.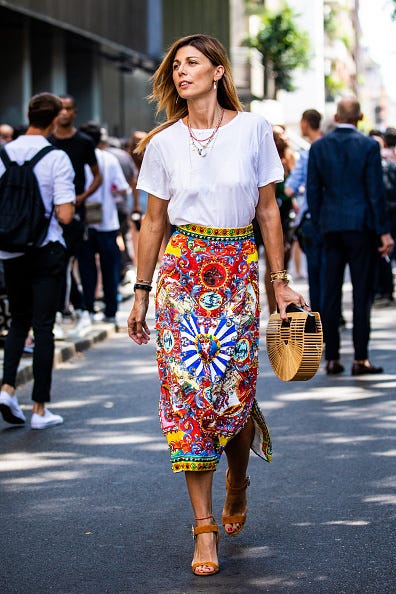 Claudio Lavenia
Getty Images
A Classic White Tee and Embellished Skirt
If casual Friday isn't really your thing, take it one step at a time. A classic white T-shirt is never a bad idea; it'll lend a casualness to your embellished or intense pencil skirt.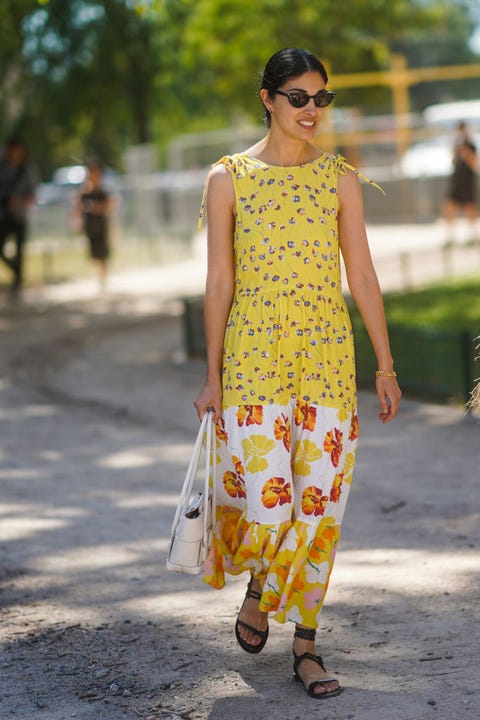 Edward Berthelot
Getty Images
A Sundress and Strappy Sandals
Lace-up sandals are all the rage this summer. Throw on a floral boho sundress and your outfit is complete faster than you can say, "I need iced coffee."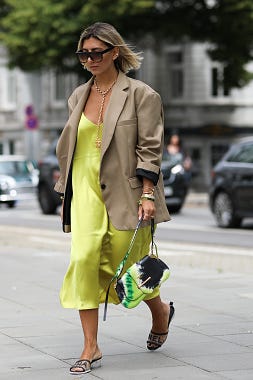 Jeremy Moeller
Getty Images
A Slip Dress, Oversized Blazer, and Slides
Who wouldn't want to wear pajamas to work? Make this possible by wearing a silky slip dress and adding an oversized blazer on top, plus slip-on sandals.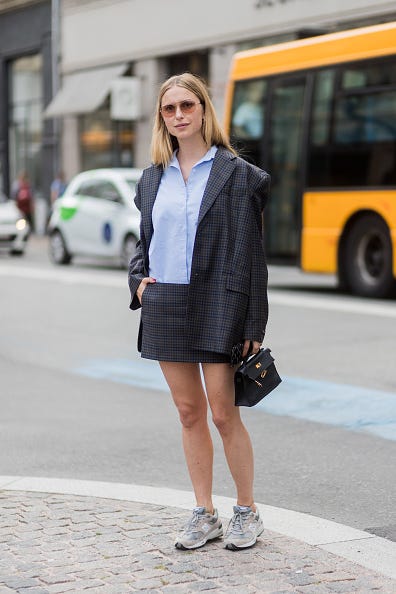 Christian Vierig
Getty Images
A '90s Skirt Suit and Dad Sneakers
Bring back the '90s! Grab this mini skirt suit out of your mom's closet and pair it with a pair of chunky sneakers. It's "vintage," and we love it.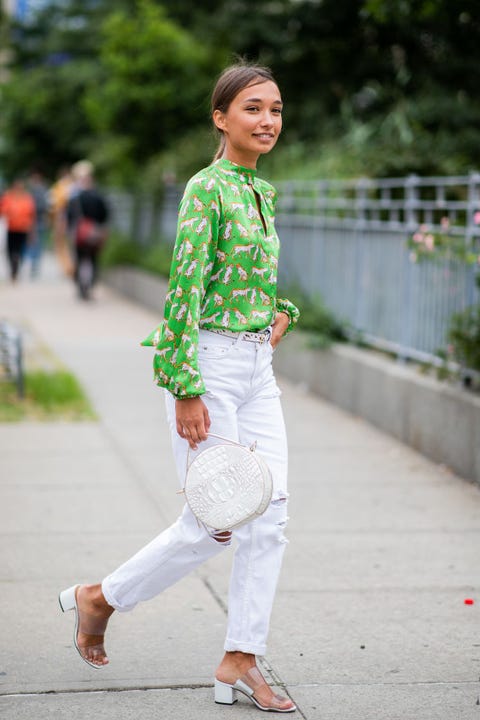 Christian Vierig
Getty Images
A Printed Top and White Jeans
Once you find the right pair of white jeans, you'll never want to take them off. It serves as the best base for your more colorful tops and accessories. And if you want to go white-on-white, I support that too.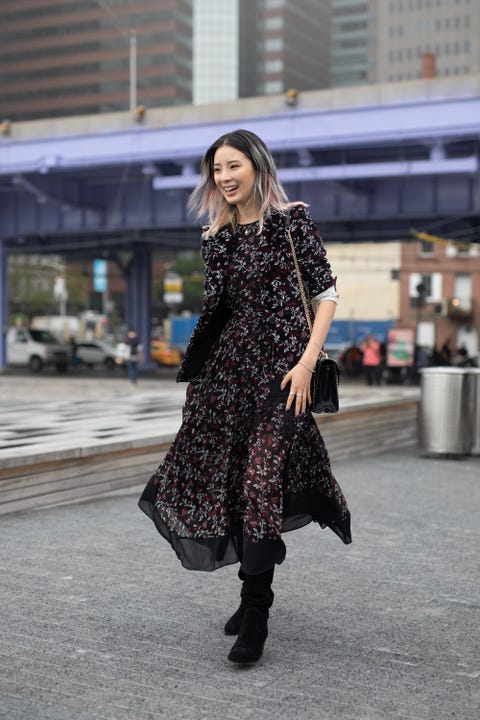 Matthew Sperzel
Getty Images
A Floral Dress and Knee-High Boots
You don't have to give up boots in the summer, especially if you can wear them with a dress. Should your outfit have brighter colors than this, pick a little white or brown bootie to match.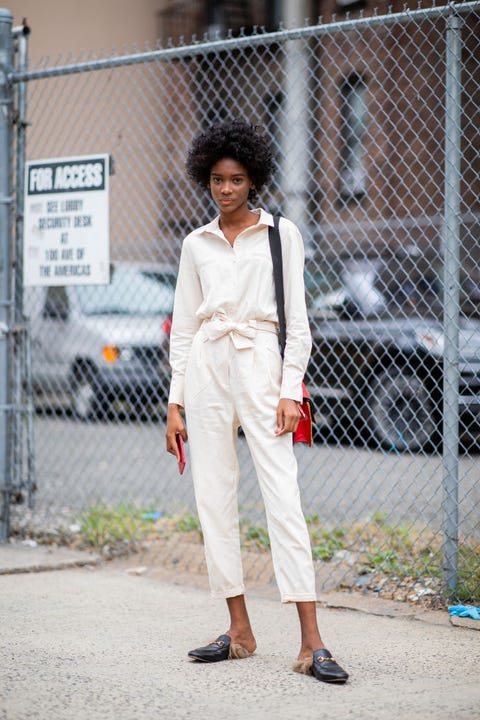 Christian Vierig
Getty Images
A Boiler Suit
A photo to remind you to finally buy that boiler suit. This season there are so many options, though an off-white one like this is the perfect way to welcome summer. Skip the furry mules, though, and opt for nice open-toe sandals.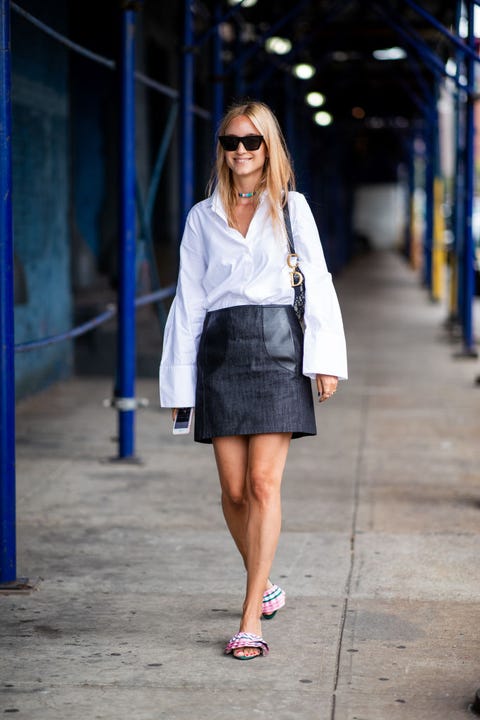 Christian Vierig
Getty Images
A Button-Down and Leather Skirt
Swap your classic button-downs for a shirt with slightly voluminous sleeves that add character. A leather skirt and some rainbow accessories completes the look.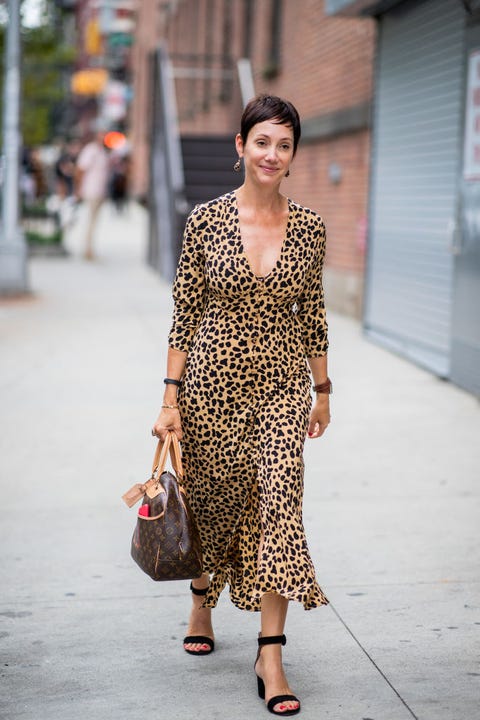 Christian Vierig
Getty Images
A Leopard Print Dress
When everyone arrives to the office in florals, you'll stand out from the pack in this spotty leopard print dress. The hem length and three-quarter sleeve provide modest coverage, so no need to bring that blazer or jacket to work.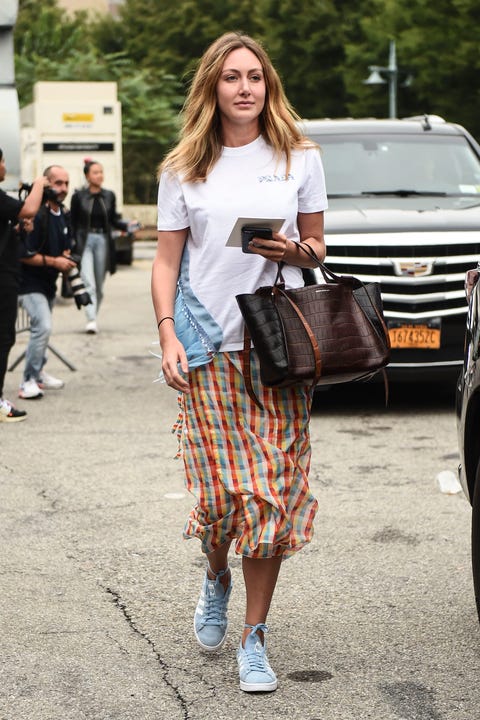 Daniel Zuchnik
Getty Images
A T-shirt, Patterned Skirt, and Sneakers
You can do so much with this formula for summer: a tee, a skirt, and sneakers. Go for a color-mixing palette like this street style star or take it easy with all-neutral tones.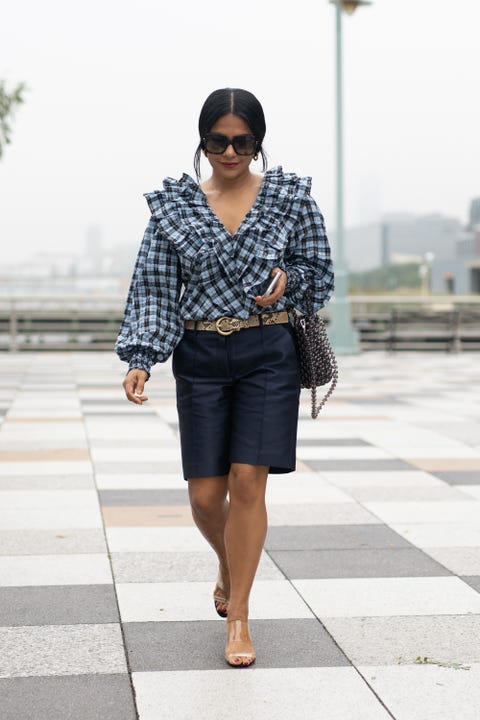 A Ruffle Top and Long Shorts
Even if we can get away with wearing shorts to the office, we should maintain a level of decorum. Instead of rocking your denim kickoffs, opt for a longer tailored pair of shorts like this navy pair. It looks polished and smart while still keeping above the knees. You can be a little more daring with a fun ruffle or printed top.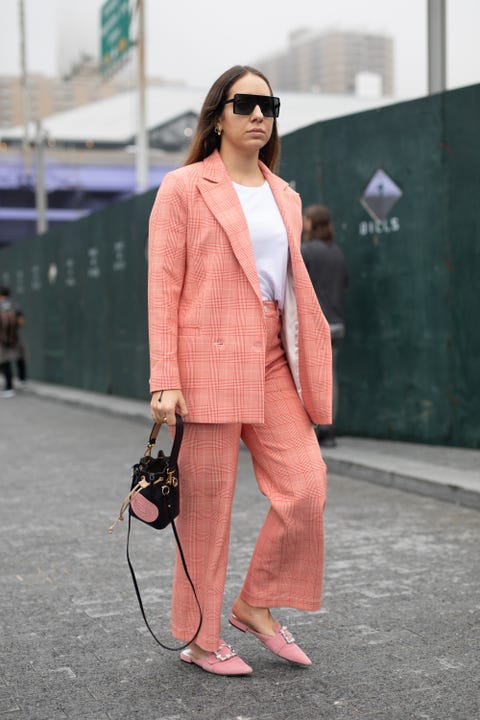 Matthew Sperzel
Getty Images
A Pastel Colored Pantsuit Set
A bright power suit like this will keep you on your A-game both in style and in meetings. The suit will cut your dressing time in half since you can bypass that whole mix-and-match situation. You have everything you need already!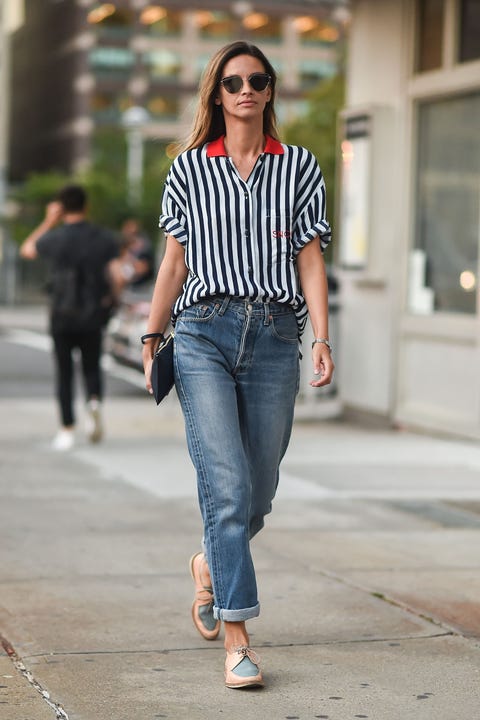 A Striped Collar Shirt and Jeans
Give your white button-down shirt a break. Select an alternative version, like one with stripes, to keep your look fresh and elevated.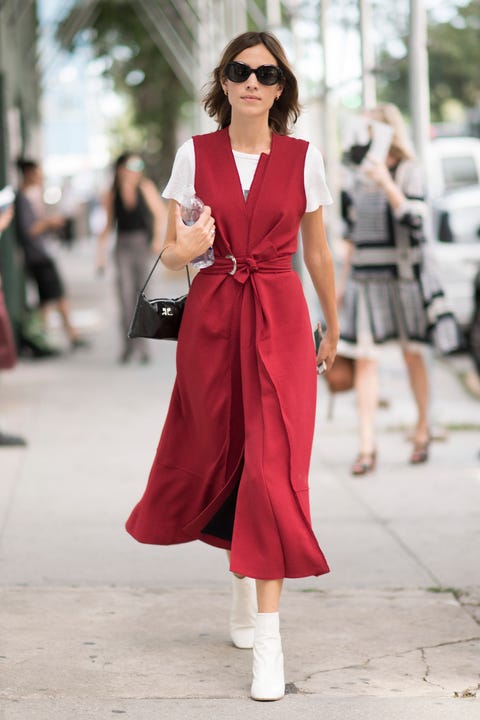 A Dress, T-shirt, and Booties
If your dress shows too much skin, simply layer a tee underneath for a more modest look at the office.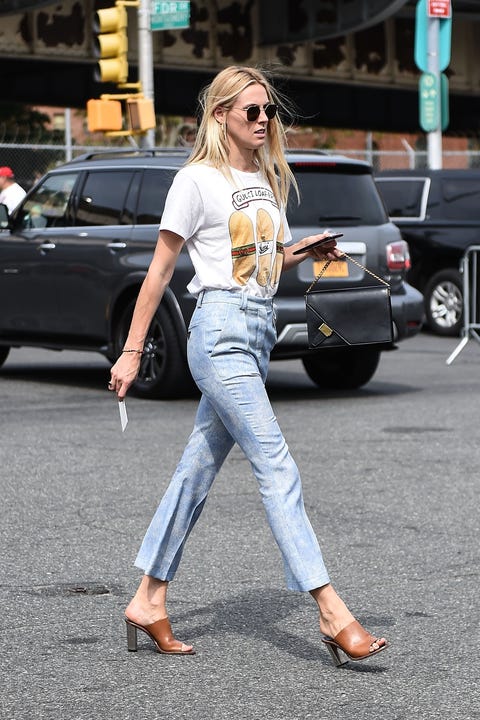 A Graphic Tee, Skinny Jeans, and Mules
Pick a mule with a heel if you want an extra boost in height around the office (taller = more confident = more powerful, right?). The shoes pair perfectly with skinny jeans and a graphic tee.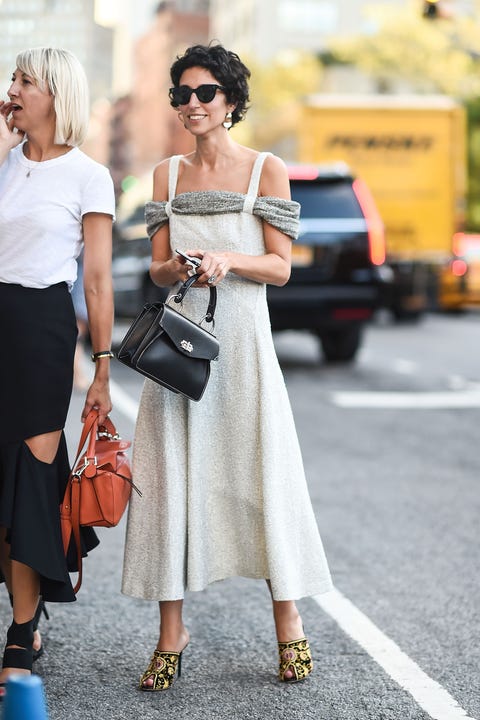 A Cold-Shoulder Dress and Printed Mules
For the lucky ladies who work in creative environments, you can get away with wearing a dress that exposes your shoulders. Choose one in a neutral color, but still have fun by pairing it with the season's latest mule heel in a feisty print.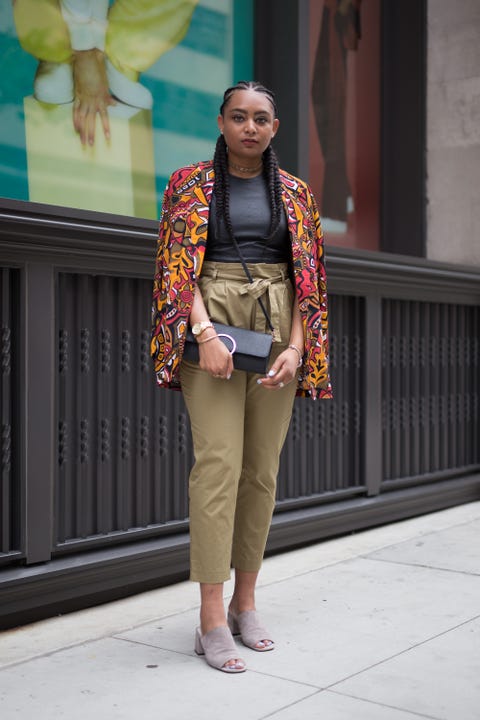 A Printed Blazer and High-Waisted Trousers
Shed your black and navy winter blazers for brightly-colored printed ones in the summer. This small change makes a dramatic statement with an otherwise neutral ensemble.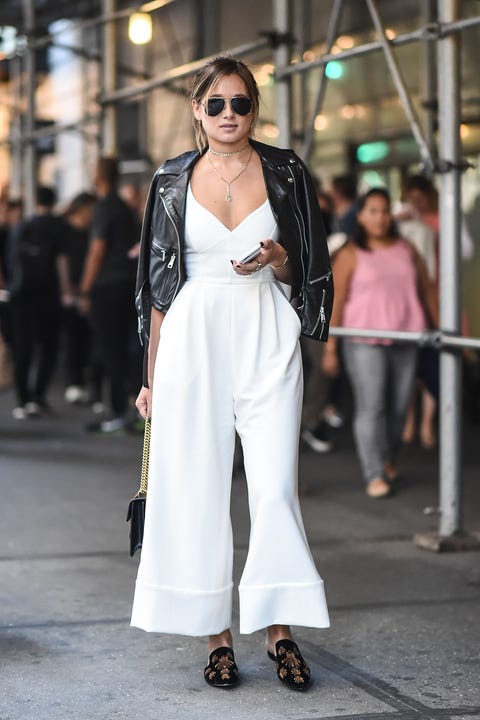 A Leather Jacket and Jumpsuit
You've chosen your one-and-done work outfit: the jumpsuit. If it's a sleeveless option, don't risk freezing in the office. Bring a light denim or leather jacket to throw over your shoulders as you peck away at your keyboard.
This content is created and maintained by a third party, and imported onto this page to help users provide their email addresses. You may be able to find more information about this and similar content at piano.io