The Most Iconic and Sought-After Celine Bags
From Phoebe Philo's iconic box bag design to the house's new and shiny iterations.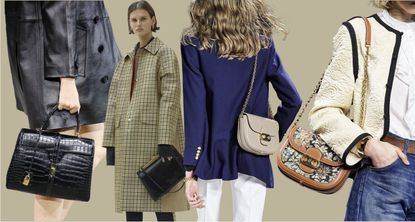 (Image credit: CELINE )
After six years of quiet anticipation, Phoebe Philo's return to the fashion industry finally arrived at the end of October. With the launch of her eponymous brand also came a renewed interest in her tenure as creative director at Celine (or Céline as it was known at the time). During her nine years at the helm of the French fashion label, she created the blueprint for many modern "quiet luxury" brands as we know them today. The houses' bags became a minimalist status symbol, beloved for their practicality and sleek design. Silhouettes like the Trapeze and Phantom, which debuted under her tenure, continue to be popular picks on reselling sites and still pop up regularly in #OOTD posts on Instagram and TikTok, a testament to their timelessness.
In the years since Philo's departure, Creative Director Hedi Slimane continues to evolve the brand's arsenal of iconic bag silhouettes with a focus on simple, modern shapes that build off Philo's legacy while honing in on the legacy of the French fashion house's roots with the Triomphe motif, a vintage Celine logo reimagined for today, has created an entirely new set of highly coveted designs like the Ava and Triomphe.
"Celine handbags feature a combination of clean lines, understated elegance, and timeless design that establishes them as pieces that will stand the test of time," says Elizabeth Layne, Chief Marketing Officer of Rebag. "What further distinguishes them is their impeccable quality in materials and craftsmanship; with proper care, a Celine bag will last through the years." Whether you're planning to invest in a current style or eyeing an option from the early aughts, here you'll find seven iconic Celine Bags that you'll still be styling a decade or two from now.
---
The Ava Bag
When it comes to the products Marie Claire recommends, we take your faith in us seriously. Every product that we feature comes recommended by a MC writer or editor, or by an expert we've spoken to. Learn more about how we review products.
The half-moon-shaped Ava silhouette has been around since 2020, and you may have seen the popular bag sported by celebs like Kaia Gerber. Relaunched as part of the Fall 2023 collection, a new updated Ava Triomphe features the oversized retro logo hardware for a bold flourish. The Ava is available in classic leather and a canvas stamped with the now iconic Triomphe design, a low-key logo bag with a bit of '90s flair. Brand new, prices for the Ava range from $990 for the mini size to $2,250 for the medium.
---
The Triomphe Bag
First launched in 2018, the minimalist leather Triomphe bag has quickly become a highly coveted style of the Slimane era. According to Layne, the Triomphe is among Rebag's most-searched bags from Celine. The crossbody flap bag is square and features a large gold Triomphe clasp inspired by the signature logo of the '70s. It's an everyday bag big enough for the necessities and more. Prices start at $3,650 for the smaller Teen size and $3,950 for the larger Classique.
---
The Box Bag
Another top-searched style on Rebag, the Box bag is a beloved silhouette from the Philo era with a square shape and minimal hardware. It was first launched in 2011 and was discontinued in early 2023, but it remains a popular choice among those looking for something simple for casual everyday use. The spacious design is compact, but it can accommodate plenty in its multiple compartments thanks to an accordion-style design.
---
The Trapeze Bag
First created by Phoebe Philo in 2010, the Trapeze bag features some of Celine's most iconic details, like the luggage wings that allow the bag to expand for extra space and a simple flap clasp. The style comes in small, medium, and large colors, including bold two-tone combinations in leather, suede, or pony hair. The Trapeze was discontinued in 2017 but remains a popular yet more affordable style on resale sites.