How Insurance Companies Are Keeping Eating-Disorder Patients Sick
Why aren't women getting the care they so desperately need?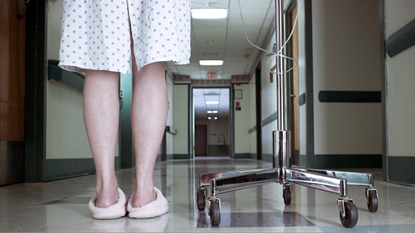 (Image credit: Getty Images)
Marie Claire Newsletter
Celebrity news, beauty, fashion advice, and fascinating features, delivered straight to your inbox!
Thank you for signing up to Marie Claire. You will receive a verification email shortly.
There was a problem. Please refresh the page and try again.
"My life would have been a whole lot easier if I had just gotten sicker," says Joanna Kay, 26. "Which sounds terrible, but that's the truth."
Kay struggled with anorexia nervosa throughout her teens, but wasn't formally diagnosed until age 25. That recognition should have been the first step on her road to recovery—but instead it led to endless fighting with her insurance company, which continues to this day.
Despite checking every box on the anorexia symptom list—low weight, poor body image, hair that was falling out and nails that were splitting apart—Kay's lab work wasn't off-the-charts abnormal when she arrived at the facility her psychologist had recommended she go to for intensive, inpatient treatment. Her insurance company assessed the program and her vitals, and concluded that she simply wasn't bad enough to merit coverage.
She hadn't gained any weight while receiving outpatient treatment, so they argued she wasn't compliant. She was eating some meals, so they argued she wasn't truly at risk of forced hospitalization.
In other words? Her low weight wasn't low enough. A catch-22 of starvation.
It sounds absurd, and it is. Eating disorders have the highest mortality rate of any mental illness, according to the National Association of Anorexia Nervosa and Associated Disorders. At "best" they can lead to physical symptoms like hair loss and tooth decay; at worst, an eating disorder could rupture your esophagus, cause osteoporosis, and even lead to heart failure.
And yet, patients are being turned away for treatment.
Doctors are well aware of this issue. Emily Gray, MD, is a staff psychiatrist at Massachusetts General Hospital in Boston, where she specializes in the treatment and research of eating disorders. "I have a patient right now who has anorexia, and she relapsed," she says. "Her insurance will not cover the residential level of care, although her whole team feels that she would benefit from 24-hour monitoring."
Instead, the patient has to go through partial hospitalization, which means she goes home at night. This type of treatment can put additional stress on the families or friends, who feel they can't accurately monitor their loved one the way a medical professional would. In fact, some families feel the need to just go ahead and pay the overnight fee—out of pocket.
"When I'm working with patients and considering level of care, I'm thinking of how much monitoring they need," Dr. Gray says. But she finds that insurance companies prioritize a patient's acute risk—that is, how close they are to death—as opposed to the long-term consequences of their illness.
A primary indicator for insurance companies to gauge the necessity of coverage is the number on the scale. "Weight and BMI are definitely used by insurance to indicate level of care—BMI cutoff can determine an anorexic's admission into different programs," Dr. Gray explains. But those numbers never tell the whole story.
It's true that health insurance companies do need metrics to gauge propriety of coverage. And Karen Eldred, a spokesperson for Cigna, affirms that "our criteria are consistent with the American Psychiatric Association's treatment guidelines and guidelines from the American Academy of Family Physicians." (Multiple insurance companies were contacted for comment, but only Cigna would go on the record.) Their coverage guide includes many very highly specific requirements to determine the medical necessity of residential treatment, such as a potassium level below 3.2 mEq/L...which may seem like splitting hairs, and doesn't leave wiggle room for patients like Joanna Kay. "Our care managers work with customers and their families to help ensure care is coordinated and that the customer is receiving all of the care that is required, including medical, behavioral, and nutritional therapies," Eldred says. The sticking point, of course, is what "required" really means.
The recent viral story of Rachael Farrokh brought new attention to this issue. Farrokh says she suffers from severe anorexia nervosa, but, at around 40 pounds, she and her husband claim she weighed too little to be treated by standard criteria and was turned away from hospitals for being a liability. In order to fund her medical bills, they had to create a GoFundMe page.
The Affordable Care Act aimed to help Americans get more comprehensive coverage for mental-health issues like these. "The ACA requires insurance companies to cover mental illnesses the same as regular medical illnesses," says Tiffany MacFerrin, a health-insurance broker who has become an advocate for eating-disorder coverage. "But after Obamacare passed, I was worried about my industry and the stress that was coming."
Part of the problem is that therapists and other mental-health providers still have to deal with a complicated system of reimbursement, says Dr. Gray. "Because the payment and the funding for mental health has been really minimal, most systems lose money by providing mental-health treatment—which is really, really unfortunate for patients," she explains. For example, she can't bill for services until a diagnosis is confirmed, which she sees as counterproductive.
It all adds up to a situation that's toughest on those who need the help most.
In the end, Kay's insurance covered the daytime portion of her residential treatment, while she and her in-laws ate up their savings to pay for her room and board at night. At the end of her treatment, doctors thought she should stay, but her insurance disagreed—so she paid out of pocket for those additional days, as well. "It cost us roughly $38,000," Kay says. "I basically lost all of my savings." She still struggles to pay for her outpatient therapist, nutritionist, and psychiatrist. Even with that one crisis behind her, it's hardly as if Kay has "recovered." Such is the nature of an eating disorder.
She did find some success in being persistent and, when necessary, calling out her providers on Twitter to confront them about their high denial rate for mental-health coverage. "I would call, specifically ask for my case manager, get their number, and get their name," she says. "Call them every day if you need to until they get back to you." Resources like the National Eating Disorders Association and the Eating Disorder Coalition list agencies and lawyers who can intervene on your behalf.
Kay suggests patients stay focused. If your insurance is banking on you giving up eventually, she says, don't. "Tell them, 'I need this treatment,'" she says. "'Now how are you going to cover it?'"
Celebrity news, beauty, fashion advice, and fascinating features, delivered straight to your inbox!