Behind the Scenes of My "Perfect" Instagram Life, My Anxiety Was Killing Me
After a harrowing incident, Way of Gray's Sophie Gray took a hard look at her social feed.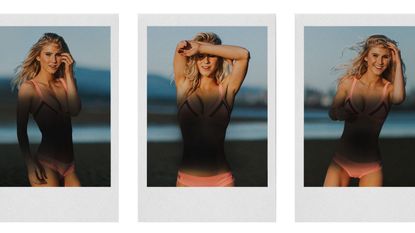 (Image credit: Sophie Gray / Monica Park)
It seems like picture after picture on Instagram is of a beautiful woman flashing her enviable six pack and toned legs. It's hard not to feel insecure. In fact, Instagram was recently rated the worst social media network for your self-esteem. Trust me, I get it. I've spent hours scrolling through those feeds wishing I could be thinner, have longer hair, whiter teeth, or a wider gap between my thighs.
The thing is, while I was scrolling through other girls' accounts feeling less than beautiful, women were scrolling through mine feeling the same way.
I built a following of over 400,000 people from sharing ab selfies and images tagged "fitspo." I received comments regularly about how I'm #LIFEGOALS and have the #PERFECTBODY. But…wasn't I the girl who was scrolling through other people's feeds, confidence collapsing as a result?
My own body "achievements" didn't stop me from feeling the crippling amounts of jealousy, depression, and shamefulness that thousands, if not millions, of women worldwide feel due to social media.
If you were scrolling through my Instagram account, @wayofgray, a few months ago, you would have seen a feed filled with sport bras and green smoothies. You would have seen images that portrayed me as strong, fit, and someone who has her life together. You would have seen someone super happy and super healthy, too. At least that's what my account would have led you to believe.
But if you were my boyfriend on that same day, you would have gotten a very different story.
You would have been sitting beside me desperately trying to calm me down as a panic attack took control of my body. You would have tried to protect me from prying eyes at the airport as I stood sobbing in baggage claim. You would have climbed into a rental car and embarked on a 38-hour drive because I couldn't get on our connecting flight home.
Who's #LIFEGOALS now? If you'd been there, that's the very last thing you'd have thought.
In the middle of the journey home, after many tears, endless hours on the road, yet another panic attack in Wisconsin (that state has a whole lot of empty space and that shit is terrifying), and the help of a bunch of self-help podcasts, I came to this conclusion:
I would no longer post pictures that show off a bare midsection on social media.
RELATED STORY
Exclusive: Way of Gray's Sophie Gray Speaks Out About Being Sexually Harassed Online
Why? I simply did the math: One in five people live with anxiety. I have 400,000 followers on Instagram alone, which means that approximately 80,000 of my fans are living with anxiety right now—including me. Was my portrayal of a "perfect life" making them feel any better? It was making me feel fucking terrible, so I'm pretty sure that it wasn't.
The abs selfies—and the implicit shaming that came with them—had to stop.
I've heard it argued that if someone is looking at your images and feeling bad about themselves, that's about them, not about you. I get it. That was my justification for a very long time. I know that other people's self-confidence is not my responsibility.
But I also know what it's like to feel awful. I know what it's like to want to so desperately be someone other than yourself. I know what it's like to look in the mirror and cry while silently mouthing, What the fuck? I know how it feels to flee in panic.
And now we have the research to prove I'm not alone—we're all feeling this.
I don't want to compound anyone's pain and anxiety with my portrayal of a so-called perfect life or body. I want to be a force for positive change. I want to reach out in understanding and compassion to my followers who are living with anxiety and help them through it, too. And that way, I will feel that every experience I have with my own "troubles" is worth it.
Yes, ab selfies can be motivating, but they have their place. They're no longer my motivational tool—and I feel awesome about it.
Follow Marie Claire on Facebook for the latest celeb news, beauty tips, fascinating reads, livestream video, and more.
Celebrity news, beauty, fashion advice, and fascinating features, delivered straight to your inbox!