Friendship, Infertility & Moving Forward
There's no rulebook for navigating your pregnancy while your best friend struggles to conceive. I learned that the hard way.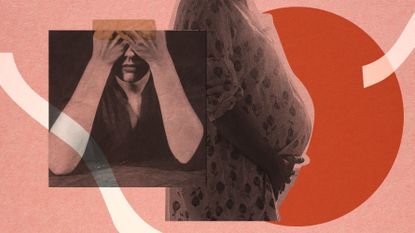 (Image credit: Design by Hanna Varady)
I never had a sister. That profound relationship that involves divulging your most intimate secrets to the one individual morally obligated to keep them for you; a relationship based in trust yet inevitably accompanied by a competitive undertone. Growing up, I longed for that closeness. Lucky for me, high school came along.
In the midst of the awkwardness that accompanied those years, I managed to develop some of my closest and longest-standing relationships. The greatest of which was meeting my best friend. As she was also without a sister, our bond was immediate. We seemingly thrived on the fact that we were alike: We are both self-motivated, organized, "lean in" types who operate best in situations we can control. For 20 years, we bore witness to every special moment in each other's lives. But, as is often the case, life did not transpire in perfect synchronicity. And, as with sisterhood, feelings of hurt, resentment, and, arguably, jealousy would arise. Unlike sisterhood, our relationship remained a choice.
Four years ago, I became pregnant. Several years into marriage, settled into our first home in San Francisco, and just back from a lovely trip abroad—I ticked off all the boxes in my head. My spouse and I were ready; whatever that meant. And in three weeks' time, we were successful. Just like that. Although it seemed to happen awfully fast, it didn't occur to me how unique of a hand I had been dealt. In the U.S. alone, around 12 percent of women ages 15 to 44 struggle with infertility. And while notable figures like Chrissy Teigen, Gabrielle Union, and Meghan Markle have brought the topic out of the shadows, the cultural conversation doesn't even begin to scratch the surface of the many interpersonal relationships that are affected by it. I learned this firsthand.
For as long as I can remember, my best friend has talked about being a mother, stopping in her tracks every time we encountered a chubby baby. Aware of her desire to start her own family and the fact that she had been struggling to do so for the better part of a year, I was reluctant to share my pregnancy news. So when she asked me to accompany her on a walk days before we'd celebrate her 30th birthday, I decided not to mention my pregnancy just yet. What I hadn't considered is how in tune we are with each other. As she was doing a mental tally of her BevMo order for that weekend, she sensed my reluctance to commit to a drink. She yelped, "Are you pregnant?!" I sheepishly grinned and her reaction was pure excitement. I couldn't have been happier or more relieved. Truthfully, I felt guilty for even doubting her. Of course she'd be happy for me—she's my best friend, after all.
Her enthusiasm didn't last. While I settled into my new normal, her life remained unchanged. As that reality set in, the tension between us grew. It was only natural that my impending motherhood became the obvious topic of conversation amongst friends, though, I couldn't help but notice her discomfort anytime the subject arose. I immediately felt conflicted—grateful to be experiencing a moment I had always envisioned, but guilt-ridden that it was so effortless. I regularly checked in on her, assuring her that her happy ending was right around the corner. What I didn't realize at the time was that response wasn't comforting for someone in her position to hear. Despite my well-intentioned optimism, I couldn't possibly know what the future held.
All through adulthood, we had seen each other on a weekly basis; suddenly, a couple months went by and we hardly spoke. My presence had become an unwelcome reminder of what didn't exist in her life. We eventually took a long walk in an effort to reconnect. When I left, I felt some resolve. But as I began to process what had just happened, I felt unsettled. We spoke of her inability to be around me, to discuss anything baby-related, to be present for me in the way we'd both hoped she'd be. My immediate reaction was empathy and I leaned into that. In an act of solidarity, I offered to check with her before I discussed my pregnancy, despite the fact that my ever-evolving figure couldn't be hidden. In the moment, that felt like the right thing to do, but later it felt unfair. The life growing inside of me was worthy of recognition. I realized I wasn't willing to bury my happiness to make room for her disappointment. It was then that my feelings began to shift. What had previously been an equally benevolent friendship began to feel one-sided.
As the months passed, we both trudged on—her, under the impression I was satisfied with our new arrangement, and me, quietly growing resentful. Then in March, only a couple months ahead of my May due date, she shared good news: She was finally pregnant. While excited for her, I also felt a wave of relief. I was hopeful our friendship would return to normal, and I looked forward to enjoying the last few months of my pregnancy without restriction. I would happily, without pausing for her reaction, answer any and all questions regarding the impending birth of my firstborn. Yet something was still amiss. I couldn't help but feel annoyed. The damage had been done. I had endured months of lending an ear or a shoulder to cry on as she simultaneously ignored the most important time in my life. It seemed that now, and only now, was I allowed to feel the joy that I longed to feel months prior; joy I was equally deserving of.
Sadly, we wouldn't meet that child. My heart sank when I saw her text and I called to offer my support. A few days later, as I was exiting my OB-GYN's office, our eyes met in the waiting room: I, with my third trimester belly, and her with none. We embraced and held each other as we both cried. Under the worst circumstances, for a brief moment, we were connected again.
My shower was shortly after that and I knew what I needed to do. I called to tell her she didn't need to attend if she wasn't up for it. She was touched and assured me she'd be there, but as the day grew closer, she changed her mind. That afternoon, I kept glancing at the door hoping she'd have another change of heart. She didn't.
Struggle is one of the most shared experiences we have as humans. As we exist in an increasingly filtered world, it's easy to forget that hardship is a common thread connecting us. In another conversation the week of my shower, my best friend called to share some tragic news. My first boyfriend had taken his life. He was my first, and only other, love. The day of the party, when I should have been celebrating, my heart ached. I knew I had done the right thing in telling her she didn't have to come, but God did I need her, now more than ever. For the first time in months, we were on common ground—both grieving a loss of life.
Almost a year later, we spoke on the rift between us once more, though it was immediately clear we did not see eye to eye. She reiterated that she had done her best, given the circumstances. I felt as though there had been space for both of us; that support was a two-way street. Neither of us was wrong. We'd simply been on opposite ends of the spectrum and thus, we'd never fully understand the other. That was the toughest pill to swallow. The truth is, she didn't minimize my feelings; I did. As an otherwise candid individual, I didn't speak my truth. And the less I did, the more indignant I became. Speaking up may not have changed her behavior, though it might have changed my perception.
For years, I couldn't understand how resolved she seemed to distance herself from me during my pregnancy. I realize now that she simply did not have the emotional bandwidth to deal with her situation and mine. At the time, I saw that as selfish, though now I see it was self-preservation. That is a hard truth about life; sometimes there is simply not enough of ourselves to go around. And one can only hope that those who know you best will extend some grace. I wish I had.
After nearly two years of strain, our relationship has, thankfully, found its way back to what it once was. One of my favorite images from my hospital stay after giving birth is a picture of my best friend holding my son, looking down at him with pure love. Only one of two visitors outside of our immediate family, she showed up in the end as, deep down, I knew she would. Perhaps the only picture I love more is at her home a few years later, where she is holding my toddler and I, her newborn. Life, and our friendship, hasn't gone entirely as we thought it would in our adolescent years, though it did fall into place exactly as it was meant to be. We have our boys and each other, and a bond that we now know can withstand anything.
Editor's note: Art is for design purposes only and doesn't represent the subjects in this article.
RELATED STORIES
Marie Claire email subscribers get intel on fashion and beauty trends, hot-off-the-press celebrity news, and more. Sign up here.
Victoria Lamson is a San Francisco native and freelance writer, who began writing in her early 20s dissecting Twenty-Something Relationships. She found love and hung up her writing hat but returned with her namesake blog last year. While she rivals Carrie in her love of designer shoes, she spends most days wearing superhero masks chasing after her toddler son. Though, she does always have an amazing pair of shoes in her virtual cart.