Ellie Goulding on the Badass Workout That's Changed Her Life, Drake, and Her Secret Talent
"It's a great feeling to know that you don't have to have a bloke around to protect you."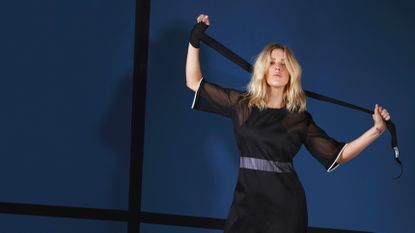 (Image credit: Sevda Albers)
Brit songstress Ellie Goulding, 28, doesn't pull punches in the studio—see: her new album Delirium—or in the ring. Here, she lets loose on the workout that builds her up—and keeps her grounded.
Eye of the Tiger: "Boxing is very animalistic, and there's a lot of adrenaline in it. It has helped my stamina. When I'm onstage, I feel like I could go on forever."
Float Like a Butterfly: "Without wanting to use that clichéd word, I feel empowered. I've got the power to defend myself. It's a great feeling to know that you don't have to have a bloke around to protect you."
Sting Like a Bee: "Because I'm left-handed, I have a pretty good left jab, but then I did this uppercut the other day that was just insane. My strength is speed. I got it from running around onstage!"
Mind Games: "My head is all over the place all the time, and it's good because I need that to write songs. But training is the one thing I can rely on that will keep me fairly sane."
Fight Song: "My trainer Faisal Abdalla motivates me with music. If Drake comes on, I'm going to start killing it."
Time Out: "I've been told I should spar and train for real because I seem to have a bit of a talent for it—but I'd rather go on tour with my face intact!"
Undefeated Champ: "If someone brings in chocolate, I'm not going to deny myself. What works for me is to have everything in moderation. There's always room for improvement. I think, 'Oh, I could have a smaller waist or a bigger butt'...But I do what I can, and I do all right."
This article appears in the November issue of Marie Claire, on newsstands now.
Follow Marie Claire on Instagram (opens in new tab) for the latest celeb news, pretty pics, funny stuff, and an insider POV.