New Fitness Trend: Synchronized Swimming
It's the new L.A. fitness fad obsessing Hollywood. We try being a bathing beauty, and nearly drown in the process.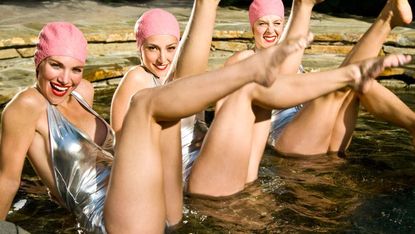 (Image credit: Aviva Knox)
The sun is shining at the glorious Annenberg pool in Santa Monica, but my mind is clouded by the fear of drowning while practicing water ballet. "I didn't say stroll!" barks Audra Arbas, our lean and sporty brunette instructor. "Let's step it up, ladies!" I clumsily splash my way toward the edge of the pool, grasping for the deck. It's my third lap, and this is just the warm-up. It turns out synchronized swimming is not for sissies.
Although synchro is an Olympic sport, most of us associate it with glamorous '40s- and '50s-era Esther Williams movies. (In fact, I'm wearing a smidge of waterproof eyeliner in hopes of channeling some of that allure.) Cute vintage swim caps and shirred bathing suits aside, the Aqualillies, a trendy L.A.-based performance troupe, are hard-core athletes, and I've dropped in on their Saturday morning beginner's class.
It seems yesterday's synchro is experiencing a modern reinvention. Reportedly, Kate Moss just took it up and raves about how toned it's made her. (She wasn't toned to begin with?) The budding fad can be traced back to Los Angeles, where a rotating cast of 18 to 20 former competitive swimmers — selected for their "grace, skill, and beauty," asserts Aqualillies founder and creative director Mesha Kussman — formed in 2008, and have since held gigs at the Roosevelt Hotel's weekly celeb-studded Hollywoodland party, and at private functions like Justin Timberlake's birthday. Incidentally, the company realized a dream last year when they swam for the "Million Dollar Mermaid" herself, Esther Williams, at a swanky event for the Turner Classic Movies Film Festival. "It was such an honor!" gushes Kussman.
While most of us can only dream of reaching an Aqualillies level of mastery, anyone can get in on the craze via twice weekly open-level synchro classes taught by members of the group. (Check out esynchro.com to find other swimming clubs across the country.) The workshops attract everyone from Maria Bissell, a 23-year-old screenwriter who swam competitively as a child, to Lisa Miller, a 40-something attorney who says she loves the "challenge of the workout." I soon discover Miller is not kidding.
The 75-minute class begins with light poolside stretching (easy!), followed by a four-lap warm-up (yikes!). Kussman has generously provided me with tools of the trade: a swim cap, nose plug, and goggles that feel uncomfortably glued to my face. I'm no mouth-breather, so with my nostrils clamped shut, I am literally gasping for air. After my final lap, I lose the metal clip. My classmates are all returning students, so they're more than one stroke ahead of me. In fact, they seem positively jazzed when Coach Arbas announces that we're going to start our session by learning a new routine. I, on the other hand, am petrified. The piece will be performed in a recital in a few weeks (for friends and family, er, not J.T.), she explains, and cranks up a boom box to play an adorable, vintage-sounding song called "Wild Young Hearts" by the Noisettes. She then breaks down the moves from the deck so we can all watch — we're going to swim into a circle, dip underwater, then "pop" back up with a sweeping arm motion — then cues the song again, and off we go. It's literally sink or swim. While my attempts to keep up are admirable (I think), after five or six rounds, I decide to hang back and observe the more experienced group.
From my vantage point, I realize most spectators can't see the body parts scrambling furiously below the surface. As if to hammer this home, Hannah Ozer, teaching assistant and the newest member of the Aqualillies, graciously takes me to one side to show me a few of the basic moves. "The 'eggbeater' is what supports our torsos out of the water so we can make those elegant arm gestures," she tells me, and explains that I should attempt to tread while cranking my legs in opposite directions. I try desperately to coerce my limbs into mimicking the motions of a steel cooking utensil, but they feel more like lead. We move on to "sculling," an intricate underwater hand motion. "This keeps you afloat on your back in a position called a 'layout,' and then you can kick up into a 'ballet leg,'" she says while demonstrating effortlessly. "You know you're doing it right when the water forms a tiny whirlpool over your hands." Sadly, my mini whirlpools look more like tidal waves, then I'm swallowed by water. So much for glamour, kids!
After class, I'm exhausted, not to mention starving. (Side note: What is it about splashing about that makes one so ravenous? Maybe it has something to do with burning hundreds of calories an hour.) While there's clearly no danger of the Aqualillies recruiting me for their next daz-zling appearance, I can acknowledge that it's one hell of a workout, and lots of fun, too. And at least I've got one thing going for me: My eye makeup hasn't budged.
Erin Flaherty is a beauty journalist and consultant who has contributed to numerous publications including the Wall Street Journal and Domino, among many others. She is a board member of the Women's Global Empowerment Fund and especially passionate about worldwide beauty anthropology and women's issues. She lives in Woodstock, NY with her husband and dog.