15 Cute Notebooks for To-Do Lists and Journaling
Ditch the Notes app for now.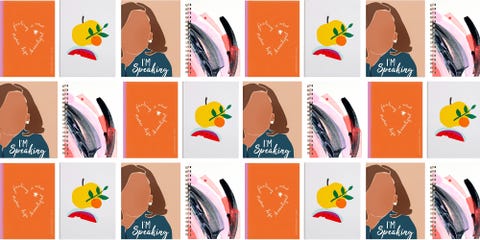 Design by Morgan McMullen
Computer screens have become a main form of communication for those of us who have had the privilege of working from home during the COVID-19 pandemic, leading to a major strain on our eyes. That's why there's no better time to invest in a cute notebook (...or five) to keep track of to-do lists and occasionally doodle during unnecessary Zoom meetings. Journaling doesn't hurt either—it may not seem like it right now, but in a few years you'll want to remember your thoughts during this crazy time we're living in. Ditch the Notes app and keep yourself organized with these chic notebooks, below. (For all your planner and agenda needs, try one of these.)

Reflections Limited-Edition Notebook
Papier x Gurls Talk
$32.99
In honor of International Women's Day, Papier teamed up with mental health and wellbeing nonprofit organization Gurls Talk, founded by activist and model Adwoa Aboah, to create this gorgeous "feeling is what makes life beautiful" notebook. You can shop the rest of the collection here.
Osaka Journal
Creatives will appreciate the beautiful hand-painted cover on this Greer Chicago notebook.
Stitched Notebook Set
Use one of Rifle Paper Co.'s pretty three-set floral notebooks for work to-do lists, the other for doodling, and the third for journaling.
Simple Lined Notebook
Spark joy with this minimalist fruit notebook lined with 128 pages.
Spotted Jotter Notebook
Use this blank notebook from sustainable California-based brand Wilde House Paper to doodle or write down your big ideas.
"Protect Your Energy" Journal Set
Be Rooted's "Protect Your Energy" journal will inspire you to do just that as we navigate these unpredictable times.
"I'm Speaking" Notebook
Behold: An amazing "I'm Speaking" notebook accompanied with a silhouette of the one and only Vice President Kamala Harris herself designed by the talented Domonique Brown.
Tie-Dye Journal
Tie-dye + patchwork = an early aughts match made in heaven.
Customized Rainbow Notebook
Allow this customizable rainbow notebook to remind you that better days are coming.
Three-Pack Denim Print Ruled Sewn Notebook
Target's Levi's collection includes this three-pack of notebooks featuring a geometric dot design, blue and white stripes, and a plain denim notebook. Yes, you're reading that price correctly!
Vintage Canvas Large Ruled Hardcover Notebook
Moleskine lovers, rejoice: If you've been looking for a departure from the brand's standard color notebooks, look no further than this pretty vintage canvas design.
"Tying The Knot" Panama Notebook
For brides-to-be that had to postpone their wedding, keep the inspiration flowing for the big day in this "Tying the Knot" notebook. On the other hand, it also makes for an excellent pre-wedding gift.
"To Each, Her Own" Notebook
ThirdLove's "To Each, Her Own" notebook with 200 lined pages is a reminder that we all handle situations differently—and it's okay to feel whatever you're feeling right now.
Croc Print Shiny Black Notebook
Once we can actually head back to the office, you'll want to take Montblanc's shiny croc-embossed notebook with you to those Very Important Meetings.
Monogrammed Foil Notebook
Paper Source's gold-foiled monogrammed notebooks come in an array of colors and letters with 124 lined pages.
This content is created and maintained by a third party, and imported onto this page to help users provide their email addresses. You may be able to find more information about this and similar content at piano.io