2022 Planners and Agendas to Get Organized for the New Year
Time is clearly a construct!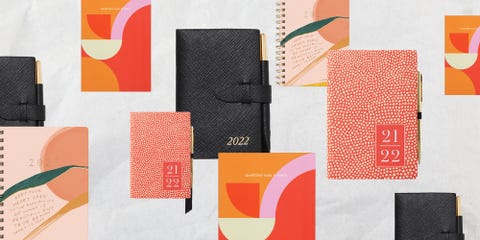 Design by Morgan McMullen
Somehow we're nearing the end of 2021, which means it's time to purchase a new planner and pretend we're going to write in it every day! In all seriousness, there's no better feeling than crossing off items on a to-do list—and with pretty much everything virtual these days, your eyes will thank you. Shop our favorite daily, weekly, and monthly 2022 planners and agendas to stay organized with in your work and personal life, below. And, while you're on a stationery kick, find your next favorite cute notebook.
Papier's gorgeous 13-month planner, which runs from December 2021 to January 2023, is customizable and includes weekly, monthly, and yearly sections.
Poet and author Morgan Harper Nichols's 17-month planner will inspire you daily with one glance at the front cover: "Keep your heart open to the possibility of what is beautiful and true beyond what is seen." It even comes with two sticker sheets!
3
Polka Dot 2021-2022 Petite Planner
Throw this petite polka dot pick in your bag if you're one of those Type-A's who can't leave the house without your trusty to-do list. This planner spans from August 2021 to December 2022 with monthly and weekly views. Bonus: It includes a ballpoint pen (!).
4
Overlay Shapes Lay Flat Pocket Planner
If you're someone who uses their planner sporadically, stay away from a dated planner and go for an undated option, like this minimalist pick from Greer Chicago. It has 52 weekly calendars, 12 monthly calendars, and eight blank pages for notes and doodles.
5
The Wafer 2022 Textured-Leather Diary
For those of us who haven't been to the office since March 2020 and want to splurge on a professional agenda for the inevitable return a couple days per week, opt for this Smythson leather one that's perfect for jotting down notes, plans, and to-do lists.
6
2022 12-Month Monthly Planner
You can never go wrong with Rifle Paper Co.'s classic 12-month planner, which notably (pun intended!) has a roomy amount of space—especially if you have larger handwriting—to write down important notes.
7
The 2022 Annual Planner
Alter Planning Co.
$42.00
It's 2022 and you have #goals. Allow Alter Planning Co.'s large annual planner to help track habits, spending, and goals in daily, weekly, monthly, and quarterly formats. The planner spans from January 2022 to December 2022.

Speaking of goals, big-picture thinkers will appreciate Poketo's undated quarterly goal planner.
9
2022 Colorful Date Medium Planner
This printed vegan leather medium-sized planner from Paper Source has special sections for notes, bucket lists, goals, and trackers as well as weekly and monthly pages.
Blue Sky's small daily planner will become your best friend if you like plotting out your days by the hour.
11
Classic 18-Month Weekly Planner
For a classic option, go for Moleskine's 18-month weekly planner, which comes in a variety of colors. You can choose between the smaller 3.5 x 5.5 inch or the larger 5 x 8.25 inch one.
12
2022 MoMA Appointment Calendar
Though this isn't technically a planner or agenda, MoMA's 2022 appointment calendar is perfect for art lovers who appreciate a calendar dedicated solely to organizing meetings or appointments.
This content is created and maintained by a third party, and imported onto this page to help users provide their email addresses. You may be able to find more information about this and similar content at piano.io