A Good Quality Laptop Bag Is Surprisingly Game-Changing
They'll carry everything you need, and look good doing it.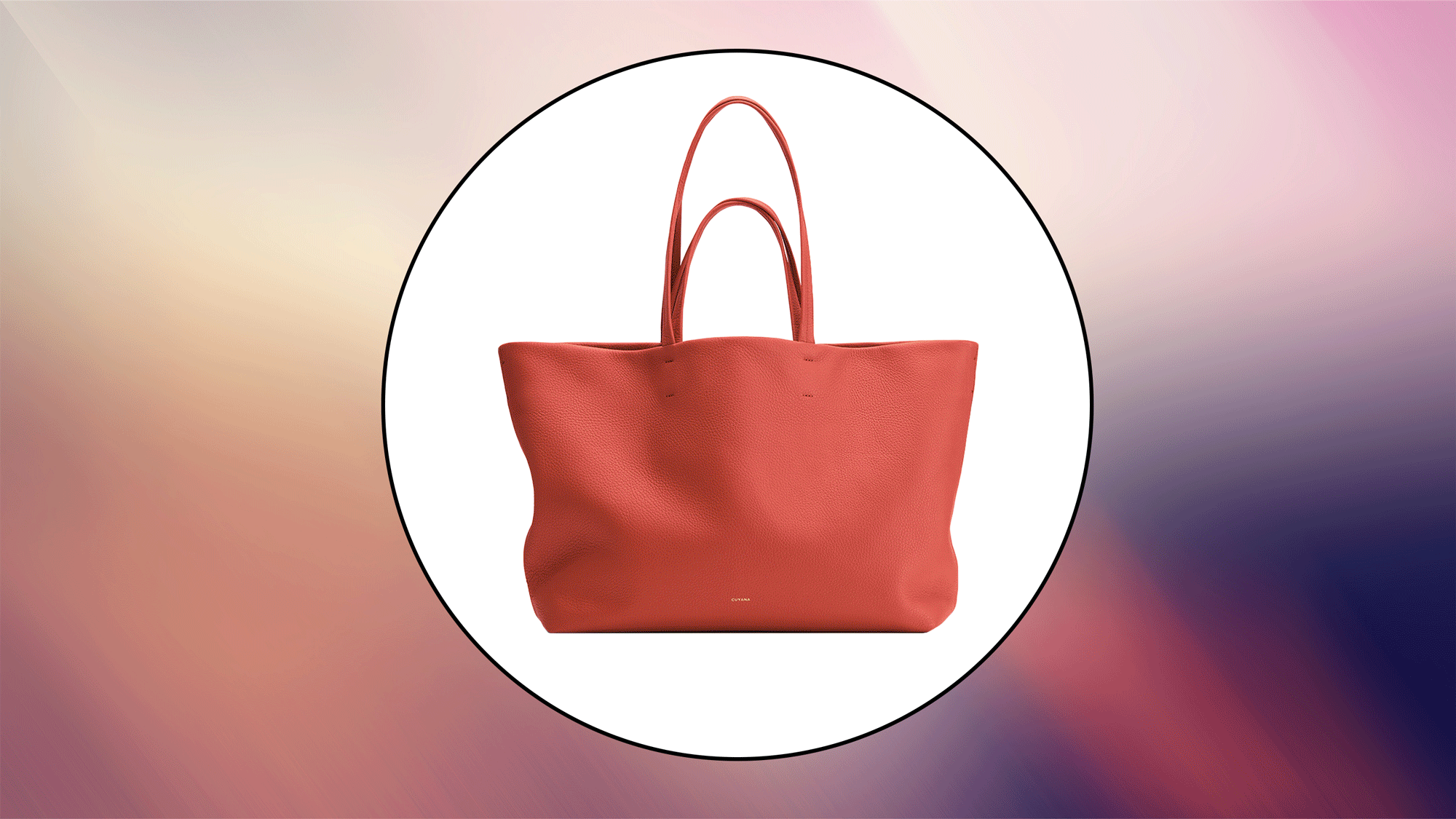 (Image credit: Future; Longchamp; Madewell; Freja; Cuyana)
If you're anything like me, you've long been on the hunt for a bag that carries your laptop but doesn't, well, look like a laptop bag. Chances are, you've already checked out the best laptop backpacks on the market and decided that you want to opt for a laptop-friendly tote instead. Or maybe your canvas bag simply isn't cutting it anymore. Whatever the reason, the editors at Marie Claire have rounded up the best laptop bags for women, and our picks are hard to beat. We spoke to designers and women on the go—from content creators to entrepreneurs to writers—to find the laptop bags to shop now (and carry forever).
To figure out what makes a great laptop bag the best laptop bag, I spoke to two women who design work bags for a living: Shilpa Shah, the co-founder of Cuyana, Leeanne Hundleby, the Co-Founder of Strathberry, and Jenny Lei, the founder of Freja New York. All three women cited versatility and ease of use at the top of their list. "A good laptop bag should carry you seamlessly from your office desk to a dinner reservation," Shah told me.
Why even invest in a dedicated laptop bag instead of using your favorite leather tote? Laptop bags are specifically designed to keep you organized, and will ultimately extend your other bags' lifespan. Lugging around your computer and the rest of your work essentials can get heavy, and you'll need to invest in a bag that can withstand the daily wear and tear.
"In this age of hybrid office life and working on the go, bags, and travel cases have become as important, if not more so, than the tools they house," says Hundleby. "I never know where my day may take me, and if I'll even make it into the office, so I always have my laptop. A great bag provides constant protection from physical damage and a classy, sophisticated look to any outfit. You instantly look and feel prepared and ready to take on the workday."
Another top priority is a laptop bag's ability to take its wearer from day to night seamlessly. "I live in NYC, so when I leave in the morning I'm often not returning home until 9 or 10 p.m.! My bag needs to work overtime too," echoes Lei. "That means being professional enough for work, roomy enough for my gym attire, and appropriate to bring to a nice dinner. I don't want to feel the need to hide it or stuff it under my chair!"
Overview
What to Look For In a Laptop Bag
It's all about structure, according to Lei. "Laptops can be quite heavy, and I need a bag that can stand on its own. I love a good slouchy tote as much as the next person, but it's not what I want when carrying a laptop," Lei says. "I need to be able to set my bag down without worrying that it will topple over. Structure also provides extra protection for your laptop."
Shop Deals on The Best Laptop Bags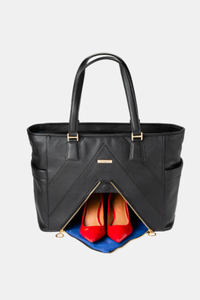 MinkeeBlue Madison 16" Laptop Tote Bag, $225 $179 at Amazon
This laptop bag is adored by Marie Claire''s E-Commerce Writer, Gabrielle Ulubay, for its versatility and unique assortment of storage compartments. Highlights include a dedicated insulated lunch bag and a fold-down compartment for your shoes. Shop it now for less than $200 on Amazon.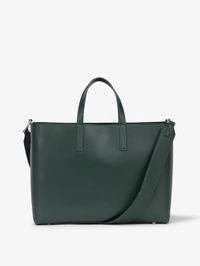 Haven Laptop Tote Bag, $178 $142 at Calpak
283 reviewers gave this laptop bag five stars, gushing, "It's fantastic, roomy, luxurious, keeps me organized!" It's made from sleek faux leather and comes in a rainbow of colors, so you'd be forgiven for stocking up. Inside, there's a laptop sleeve and enough room for all your essentials—and then some. It also has an adjustable shoulder strap and trolley sleeve.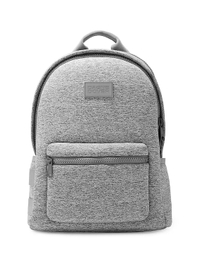 Dagne Dover Large Dakota Backpack, $215 $161 at Saks
Despite its minimal design, Dagne Dover's Dakota backpack is packed with technical details, making it perfect for traveling. Case in point: removable shoe bag and pouch, padded laptop compartment, and plenty of internal and external zipped pockets. Quilted shoulder straps make it comfortable enough for all-day use.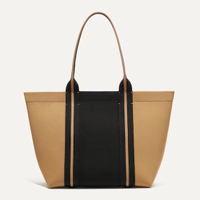 Rothy's The Essential Tote, $279 $220 at Rothy's
Rothy's aptly-named tote is made with around 816 grams of ocean-bound marine plastic, and it's currently on sale for $220, so it's about as close as it gets to a guilt-free indulgence. There's tonnes of space inside, and its neutral colorways make styling a breeze.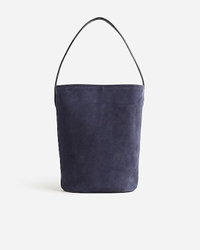 J.Crew Berkeley Bucket Bag in Leather and Suede, $198 $170 at J.Crew
J. Crew's sleek and timeless bag is deceivingly spacious, and the tonal-blue colourway is endlessly wearable. It's also super lightweight, which is always a plus in my book as someone who likes to carry, well, literally everything.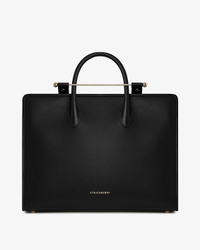 Strathberry The Strathberry Tote, $975 $731 at Strathberry
The Strathberry Tote exudes timeless elegance with its structured silhouette and luxe fabrication. It's been made in Spain from grained black leather that's punctuated with polished gold-tone hardware. It even has a soft microfiber lining to protect your essentials.
The Best Laptop Bags
How We Chose the Best Laptop Bags
There are plenty of laptop bags available to choose from, and it's my job as Marie Claire's E-Commerce Editor to discern which ones are worth the splurge. A few key factors that all of the options on this list share:
Internal pockets: Odds are, you don't want to rifle through your entire bag to find your laptop charger when your computer is about to die. That's why the bags on this list all feature some type of internal pocket. In some cases, that means that you'll find a laptop-sized sleeve on the inside; in others, you'll find a mini pocket for your wallet or keys. Plus, many of them have a secure fastening at the top, be it a zipper, a magnet, or a button flap.
Versatile: Laptop bags have to strike the balance between being functional and looking cool enough to work with every stage of your day. The laptop bags on this list all come in neutral colors and have a sleek profile, so they won't stick out from the rest of your outfit.
Comfort: If you've ever carried a shoulder bag and felt it physically ache, you know the importance of finding a well-constructed and comfortable option. Some of the laptop bags on this list have specifically designed padded straps, but they're all made with thick, durable ones that won't break or dig into your shoulder or arm. They're also lightweight by design, so you won't have to worry about adding your heavy laptop into an already-heavy bag.
High-quality materials: We want you to love the bag you choose, and to love it for a long time. The options below are made from durable, high-quality materials like nylon and leather so that they'll last years in your collection.
Best Laptop Bag on Amazon
Lubardy 15.6 inch Laptop Tote Bag
"This tote is my holy grail work bag! I bring anything I could possibly need to work just in case of an emergency—makeup, deodorant, dry shampoo, hairbrush, and gum. On top of all of that, I bring several notebooks, a water bottle, and my laptop so I need a bag that can carry it all and this Amazon pick does just that. All of my essentials have their own dedicated spots thanks to the tote's many pouches and sections. Plus it's completely waterproof and has held up well through months of everyday wear. " — Brooke Knappenberger, Editorial Fellow
Pros: Costs under $200; Comes in 12 colors and prints; Can hold a 16" laptop; Has several internal pockets for extra storage and organization; Has a zip closure.
Cons: Reviewers say it doesn't hold its shape.
Customer Review: "It's much more spacious than it looks. It's very sleek and stylish. I use it as my work bag and I find that it looks professional and has enough space for all of my stuff. I carry a laptop, pencil case, two books, makeup bag, water bottle, wallet, lotion, phone and laptop charger, and other small miscellaneous objects. Still plenty of space. And when you see carry it, it doesn't feel bulky or cumbersome. The bag does sag a bit after use. But has held up to wear and tear. I would recommend." — Amazon
Best Overall Laptop Bag
Madewell The Transport Tote
"This is truly the clown car of laptop bags, and I mean that in the best way possible. It's incredibly spacious so you can fit not only your laptop, chargers, and work necessities, but anything you need to go from day to night without a pit stop at home—gym shoes, an umbrella, a makeup bag, and a snack. And thanks to Madewell's timeless design and quality leather construction, the bag will hold up for years (probably longer than your laptop)." — Neha Prakash, Entertainment Director
Pros: Comes in three colors; Costs under $200; Has longer shoulder straps; Holds a 15" laptop.
Cons: Has only one interior pocket; Is unlined; No closure.
Customer Review: "I'd been pining after this back for a long time now. A friend had one in the brown color that I'd been eyeing for a while. I started a new job at the start of the year, and decided I'd break down and treat myself to a new bag for work. The bag is durable, spacious (fits my 14 inch laptop, folders, notebook, pens, etc) very comfortably. I decided to get the black bag with brown straps. Figured that way it'd literally go with any outfit. In addition to being practical, it is also so pretty, really soft leather, stylish shape. Would definitely recommend this bag to anyone!" — Madewell
Best Laptop Bag for Post-Grads
"My personal favorite, which is also perfect for a "first timer," is our Cuyana System Tote, created with a 3-in-1 approach in mind. The System Laptop Sleeve and System Flap Bag can be easily snapped in and taken out, all pieces can work together or stand alone. This tote was designed to effortlessly transition throughout the day with you, while holding everything you need." — Shilpa Shah, Co-Founder of Cuyana
Pros: Has customizable interior pocket options for purchase; Comes in several colors; Has thick shoulder straps; Comes in two sizes depending on the size of your laptop; Has a magnetic closure.
Cons: Costs over $200.
Best Faux-Leather Laptop Bag
Calpak Haven Laptop Tote Bag
"For far, far too long, I relied on an old canvas tote to carry all my belongings. Blame it on my obsession with emulating a farmer's market-frequenting It girl, but that ragged bag was my go-to—to the point where it became threadbare and no longer could keep my essentials safe. With no choice but to upgrade, I searched for a replacement, and that's when I found Calpak's Haven Laptop Bag. Made of durable faux leather, it's infinitely more sturdy than a measly canvas tote. It boasts multiple interior compartments and, best of all, features a removable laptop sleeve that can fit up to a 16-inch device. In short, this bag has changed my life, and I can't recommend it any more." — Emma Childs, Style Editor
Pros: Costs less than $200; Made of faux leather; Fits a 16" device; Comes in multiple colors;
Cons: Some reviewers say the strap comes loose.
Customer Review: "This bag is amazing! Great construction, easy to use, I love that the insert can come out, and it fits everything I need for work without being too bulky or too much like a utility bag." — Calpak
Best Carry-Everything Laptop Bag
"I'm embarrassed to admit to how many bag straps I've ripped over the years, but I will say that I accepted it as inevitable—until I started using Cuyana's leather tote. On the surface, the bag is well-proportioned, spacious, and, in the daffodil colorway, an instant mood-booster. The bag's low-and-wide design holds everything I usually carry—a 15-inch laptop, a lunchbox, my books, pens, and other miscellaneous doodads—with ease, and the flat base prevents things from becoming flipped around (a plus for someone who packs very saucy lunches). I toggle between the two strap lengths depending on what I'm carrying, and the soft leather design is comfortable on my shoulder, despite the fact that my things weigh approximately a million pounds." — Lucia Tonelli, Social Media Editor
Pros: Comes in several colors; Sustainably made from real leather; Fits a 16" laptop; comes in two depths; Has two strap lengths.
Cons: Costs over $200; Has only one interior pocket for your phone; No closure.