The 15 Best Laptop Bags for Women, According to Editors and Experts
They'll carry everything you need, and look good doing it.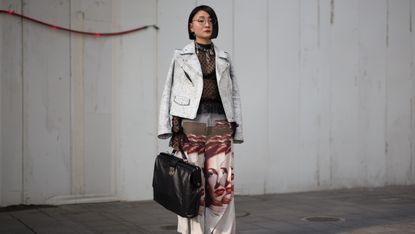 (Image credit: Getty)
If you're anything like me, you've long been on the hunt for a bag that carries your laptop but doesn't, well, look like a laptop bag. Chances are, you've already checked out the best laptop backpacks on the market and decided that you want to opt for a laptop-friendly tote instead. Or maybe your canvas bag simply isn't cutting it anymore. Whatever the reason, the editors at Marie Claire have rounded up the best laptop bags for women, and our picks are hard to beat. We spoke to designers and women on the go—from content creators to entrepreneurs to writers—to find the very best laptop bags to shop now (and carry forever).
To figure out what makes a great laptop bag the best laptop bag, I spoke to two women who design work bags for a living: Shilpa Shah (opens in new tab), the co-founder of CUYANA, and Jenny Lei, the founder of Freja New York. Both women cited versatility and ease of use at the top of their list. "A good laptop bag should carry you seamlessly from your office desk to a dinner reservation," Shah told me.
Another top priority? A laptop bag's ability to seamlessly take its wearer from day to night. "I live in NYC, so when I leave in the morning I'm often not returning home until 9 or 10 p.m.! My bag needs to work overtime too," said Lei. "That means being professional enough for work, roomy enough for my gym attire, and appropriate to bring to a nice dinner. I don't want to feel the need to hide it or stuff it under my chair!"
Best Deals on Laptop Bags
What to Look For In The Best Laptop Bag
It's all about structure, according to Lei. "Laptops can be quite heavy, and I need a bag that can stand on its own. I love a good slouchy tote as much as the next person, but it's not what I want when carrying a laptop," Lei says. "I need to be able to set my bag down without worrying that it will topple over. Structure also provides extra protection for your laptop."
The Best Laptop Bags to Shop
Details in Laptop Bags to Look For
"Thoughtful interior pockets are also important," says Lei. "If you're anything like me, I always wear my bag on the same shoulder (probably really bad) and have dedicated pockets for all of my items. It makes finding things on the go so easy, almost second nature. It's basically muscle memory at this point!"
Advice For First-Time Buyers
"You can't go wrong with something understated and timeless in a neutral color, made with quality materials," says Lei. "Bonus if the materials are also low-maintenance (not too delicate, easy to clean, and scratch resistant)."
Meet the Experts