The 14 Best Laptop Bags for Women, According to Editors and Experts
They'll carry everything you need, and look good doing it.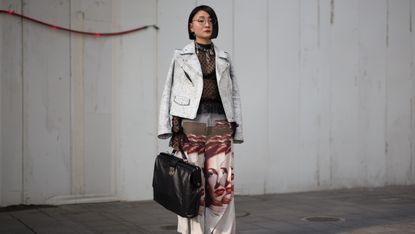 (Image credit: Getty)
Marie Claire newsletter
Celebrity news, beauty, fashion advice, and fascinating features, delivered straight to your inbox!
Thank you for signing up to . You will receive a verification email shortly.
There was a problem. Please refresh the page and try again.
If you're anything like me, you've long been on the hunt for a bag that carries your laptop but doesn't, well, look like a laptop bag. Chances are, you've already checked out the best laptop backpacks on the market and decided that you want to opt for a laptop-friendly tote instead. Or maybe your canvas bag simply isn't cutting it anymore. Whatever the reason, the editors at Marie Claire have rounded up the best laptop bags for women, and our picks are hard to beat. We spoke to designers and women on the go—from content creators to entrepreneurs to writers—to find the very best laptop bags to shop now (and carry forever).
To figure out what makes a great laptop bag the best laptop bag, I spoke to two women who design work bags for a living: Shilpa Shah (opens in new tab), the co-founder of CUYANA, and Jenny Lei, the founder of Freja New York. Both women cited versatility and ease of use at the top of their list. "A good laptop bag should carry you seamlessly from your office desk to a dinner reservation," Shah told me.
Another top priority? A laptop bag's ability to seamlessly take its wearer from day to night. "I live in NYC, so when I leave in the morning I'm often not returning home until 9 or 10pm! My bag needs to work overtime too," said Lei. "That means being professional enough for work, roomy enough for my gym attire, and appropriate to bring to a nice dinner. I don't want to feel the need to hide it or stuff it under my chair!"
What to Look For In The Best Laptop Bag
It's all about structure, according to Lei. "Laptops can be quite heavy, and I need a bag that can stand on its own. I love a good slouchy tote as much as the next person, but it's not what I want when carrying a laptop," Lei says. "I need to be able to set my bag down without worrying that it will topple over. Structure also provides extra protection for your laptop."
Details in Laptop Bags to Look For
"Thoughtful interior pockets are also important," says Lei. "If you're anything like me, I always wear my bag on the same shoulder (probably really bad) and have dedicated pockets for all of my items. It makes finding things on the go so easy, almost second nature. It's basically muscle memory at this point!"
Advice For First-Time Buyers
"You can't go wrong with something understated and timeless in a neutral color, made with quality materials," says Lei. "Bonus if the materials are also low-maintenance (not too delicate, easy to clean, and scratch resistant)."
The Best Laptop Bags to Shop
Best Laptop Bag on Amazon
(opens in new tab)
Lubardy 15.6 inch Laptop Tote Bag
"This tote is my holy grail work bag! I bring anything I could possibly need to work just in case of an emergency—makeup, deodorant, dry shampoo, hairbrush, and gum. On top of all of that, I bring several notebooks, a water bottle, and my laptop so I need a bag that can carry it all and this Amazon pick does just that. All of my essentials have their own dedicated spots thanks to the tote's many pouches and sections. Plus it's completely waterproof and has held up well through months of everyday wear. " — Brooke Knappenberger, Editorial Fellow
Best Carry-Everything Laptop Bag
(opens in new tab)
"I'm embarrassed to admit to how many bag straps I've ripped over the years, but I will say that I accepted it as inevitable—until I started using Cuyana's leather tote. On the surface, the bag is well-proportioned, spacious, and, in the daffodil colorway, an instant mood-booster. The bag's low-and-wide design holds everything I usually carry—a 15-inch laptop, a lunchbox, my books, pens, and other miscellaneous doodads—with ease, and the flat base prevents things from becoming flipped around (a plus for someone who packs very saucy lunches). I toggle between the two strap lengths depending on what I'm carrying, and the soft leather design is comfortable on my shoulder, despite the fact that my things weigh approximately a million pounds." — Lucia Tonelli, Social Media Editor
Best Low-Key Laptop Bag
Feja New York Lafayette Tote
"The Freja Lafayette Tote is my everyday bag and has been for the last year! It has the perfect amount of functionality, the oat color is so chic and pairs with absolutely everything, and the vegan leather is such a breeze to clean. The unique handles are a conversation starter and the contrast lining adds both a pop of color and hides any unsightly marks or stains. I also love how understated it is, and you'll probably never run into anyone else wearing the same bag. " — Jenny Lei, Founder of Freja New York
Best Laptop Bag for Summer
(opens in new tab)
Loewe x Paula's Ibiza Palm Leaf Basket Bag
"My favorite laptop bag I own by far is my Loewe basket bag. It's designer without being in your face, and the size is actually perfect for a laptop and other essentials. Since it's a smaller bag with wide straps, it doesn't feel too heavy or dig into my arm. I can run around the city for hours without it hurting my shoulder which is necessary since I'm always on the go - between events, designing florals for brands and being at my own store!" — Abby Price (opens in new tab), founder of Abbode
Best Fun Laptop Bag
(opens in new tab)
Rebecca Minkoff Mab Leather Hobo Bag
"For years I'd stash my laptops in bags that looked professional and uber-serious for the office. But in a new, power-casual world, I'm ready to sport fun work bags, especially for the summer days ahead. Rebecca Minkoff's M.A.B. Hobo Bag, with its silver dog clips and sleek zipper tassel, brings the right amount of accents. But it's still a practical pick: The Sand Dune leather option goes perfectly with sundresses and work outfits alike. It's roomy enough for a laptop (with an interior of 13'' W x 10.75'' H). The strap can convert to a shoulder or cross-body so that you can adjust it for comfort." — Tanya Benedicto Klich, Senior Editor
Best Laptop Bag for Post-Grads
(opens in new tab)
"My personal favorite, which is also perfect for a "first timer," is our Cuyana System Tote (opens in new tab), created with a 3-in-1 approach in mind. The System Laptop Sleeve (opens in new tab) and System Flap Bag (opens in new tab) can be easily snapped in and taken out, all pieces can work together or stand alone. This tote was designed to effortlessly transition throughout the day with you, while holding everything you need." — Shilpa Shah, Co-Founder of Cuyana
Best Canvas Laptop Bag
(opens in new tab)
Longchamp Large Le Pliage Tote
"It's no secret that I'm obsessed with the various iterations of Longchamp's Le Pliage, from the tiny backpack (opens in new tab) that somehow holds everything I need to the top-handle tote (opens in new tab) perfect for ferrying your laptop to and from the office. But for the ultimate do-everything Le Pliage, I love the Large Tote. Not only will it carry your laptop and other essentials in a waterproof, stylish package, but it can double as a weekender bag (opens in new tab) in a pinch." — Jenny Hollander, Director of Content Strategy
Best Chic Laptop Bag
(opens in new tab)
Kate Spade Spencer Universal Laptop Bag
"I use this laptop bag literally every. single. day. It goes with any outfit, whether I have on one of my power-lady blazers or something more casual (just add the crossbody strap!). I love that it looks polished and professional but not stuffy or boring. Plus, it's highly practical: There's a specific place for my laptop but also easily accessible pockets for my phone and keys, and a zippered closure—a must when commuting by subway." — Danielle McNally, Executive Editor
Best Quilted Laptop Bag
(opens in new tab)
MZ Wallace Metro Quatro Quilted Nylon Tote
"My love affair with this MZ Wallace tote started when my kids were infants. I transformed it into a makeshift diaper bag that kept me organized on-the-go. Now that my kids are out of diapers (thank God!), I still use it to carry everything: my laptop, makeup bag and all the beauty products I'm testing." — Deena Campbell, Beauty Director
Best Roomy Laptop Bag
(opens in new tab)
Madewell The Transport Tote
"This is the clown car of laptop bags, and I mean that in the best way possible. It's incredibly spacious so you can fit not only your laptop, chargers, and work necessities, but anything you need to go from day to night without a pit stop at home—gym shoes, an umbrella, a makeup bag, and a snack. And thanks to Madewell's timeless design and quality leather construction, the bag will hold up for years (probably longer than your laptop)." — Neha Prakash, Entertainment Director
Best Crossbody Laptop Bag
(opens in new tab)
Madewell Zip Top Transport Leather Carryall
Slightly different to the other Madewell tote bag on this list, the Zip Top Transport Leather Carryall deserves its own spot. "Madewell is my favorite brand for a leather tote and their Transport Carryall is the perfect size to carry my laptop, charger, and miscellaneous beauty products that are usually littered at the bottom of my bag. The straps are very durable and hold up when I wear it as a crossbody, best part is the adjustable strap belt!" — Alexis Gaskin, Freelance Beauty Writer
Best Faux-Leather Laptop Bag
(opens in new tab)
Everlane The Cactus Triangle Tote
"I was using just a plain canvas tote bag prior to this bag from Everlane, and I don't think I'll ever go back. It's made from organic prickly pair rather than leather, and holds up just as well. It's just over 20 inches wide so it holds my laptop without it moving around too much, features a sleek interior pocket for the valuables I want to keep on-hand, and comes in two neutral colors. I own the black iteration, and it has yet to show any signs of wear despite the fact that I've carried it on a near-daily basis since it debuted in April 2022. The exterior fabric is also super easy to clean!" — Julia Marzovilla, E-Commerce Writer
Best Machine Washable Laptop Bag
(opens in new tab)
Rothy's The Essential Tote
"I've long been a devout fan of Rothy's flats, which are repurposed from plastic bottles but—somehow!—feel like clouds on your feet. A couple of years ago, they started making bags as well, and The Essential tote became a fast favorite. Like their shoes, Rothy's bags are machine-washable and crafted from marine plastic and thread made from plastic bottles, and this tote (which comes in colorways for every mood and season, to my bank account's horror) fits my 15-inch laptop, a book, an extra pair of flats, and then some." — Jenny Hollander, Director of Content Strategy
Best Neoprene Laptop Bag
(opens in new tab)
Dagne Dover Dakota Neoprene Backpack
"Somehow this bag never gets dirty—and if there's one thing I want to feel in an airport, it's as clean as possible. I've traveled all over with this, and it still manages to look pristine (s/o to the neoprene material). Perfectly fits my 15" laptop along with all my other tech gadgets, and looks sleek + chic on top. Plus it slides over my suitcase handle....yes, I am in love with a backpack." — April Lockhart, Senior Manager of Influencer and Partnerships, ILIA (opens in new tab)
Meet the Experts
Jenny Lei is the founder and designer of Freja New York. After taking a detour from her original plans to pursue UX design, she decided to take a chance on herself and launch Freja to create functional foundation pieces for people to support their big life moments—something made ethically and responsibly with a story behind it. Functional, but still elegant. Jenny holds a Bachelors and Masters from Cornell University and currently resides in New York City where she has personally shipped every Freja package to date, adding a personal touch to every order.