40 Cheerful Birthday Gifts to Brighten Her Day
Send her something to brighten her day at home.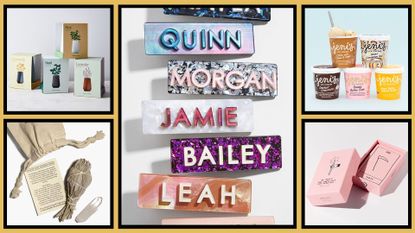 (Image credit: Morgan McMullen/Courtesy)
Marie Claire Newsletter
Celebrity news, beauty, fashion advice, and fascinating features, delivered straight to your inbox!
Thank you for signing up to Marie Claire. You will receive a verification email shortly.
There was a problem. Please refresh the page and try again.
Under normal circumstances, birthday experiences are the preferred option for celebrating the women in your life. A fancy dinner out, a weekend trip, or going to a show would be ideal, but for now those are off the table. But even with these options set aside, her birthday doesn't have to be a bummer. Now is the time to show your best gal some major love on her special day! We've rounded up a fabulous group of the most useful, delicious, and thoughtful gifts she'll really appreciate, especially if she's impossible to shop for. From house plant subscriptions to bougie olive oil to personalized celebrity greetings, we can guarantee the woman who has everything certainly doesn't have some of these. And she should! So scroll through and treat your birthday girl with little pick-me-ups that will lift her spirits and won't break your bank.
1/40
Polaroid Now i‑Type Instant Camera
To document daily life in quarantine, or friends once the party is started again, equip your pal with instant film like the good ol' days.
2/40
Daily Harvest 9-Item Gift Box
For $75, your best girl can customize her own 9-piece box of super fresh smoothies, soups, or Daily Harvest's latest addition, flatbreads, delivered to her door.
3/40
Wolffer Estate Summer in a Bottle White 2019
This is wine that you can ship to your best friend's house. Don't think we need to elaborate further than that...
4/40
Mejuri Small Hoops
Tiny stacking hoops are the perfect set-and-forget jewelry right now. Or, use these as a way to encourage her to get another piercing with you when salons open up again.
5/40
Dior Toile de Jouy notebook
For your sister who always tells you about her crazy dreams—now she can write them all down, and in style. This Dior notebook will look stunning on any nightstand.
6/40
Bauble Bar Wide Custom Hair Clip
Spell out her name or a funny word (under six characters) for a little pick-me-up that's truly her own.
7/40
The Sill Low Light Plants Monthly Subscription
Go in with your sisters or friends to cover a three-month subscription of plants for the green thumb girl in your circle.
8/40
Blueland The Clean Essentials Kit
Now that everyone has been spending a lot more time cleaning their homes, get a friend set up with a reusable cleaning supply kit that will save her money in the long run. The one-time buy bottles can easily be refilled for under $2.
9/40
Bala Weighted Bangle Set
Your bestie may already have handheld weights, but to maximize at-home workouts, hook her up with these fashionable wearable ones by Bala.
10/40
Jennifer Fisher Salt Trio
If your friend can't take off her Jennifer Fisher hoops, then she's likely to be just as obsessed with the jewelry designer's line of salts. A little sprinkle of the curry salt takes an avocado toast from basic to baller in a pinch.
11/40
Modern Sprout Smoked Glass Garden Grow Kit
For the lady in your life who loves a fresh herb on a salad or in a cocktail, teach a man to fish! These stylish kits are $25 a pop, but a group can go in on a full variety set for $100.
12/40
Shopbop @Home Rose Quartz Crystal Straw
If your crystal-obsessed friend has a sturdy collection already, how about one on a reusable straw? It's easy to remove for cleaning and makes drinking iced coffee that much more elegant.
13/40
Milk Bar Dozen Assorted Cookie Tin
Give your never-not-baking friend a break and hook her up with some cookies even she will be impressed by. Milk Bar, the New York baked goods authority, has a variety tin to sample all flavors.
14/40
Seed Phytonutrients Hand Salve
Her hands have no doubt been rubbed raw by quarantine hand-washing. She'll be able to soothe them with this fan-favorite balm.
15/40
We Are Knitters Nick Blanket Knitting kit
If the birthday girl is the kind who always needs to stay busy, try to slow her down with a productive activity: knitting! This easy blanket kit is an ideal project for beginners.
16/40
Skin Gym Gua Sha Stone
If you just want to send a little something for stress relief, a gua sha stone is incredible for eliminating jaw tension and for circulation.
17/40
Brightland Arise Olive Oil
For a friend who loves to be in the kitchen and has a strong personal aesthetic, hook her up with this gorgeously packaged lemon olive oil from Brightland.
18/40
HELIAS Sleep Essential Oil Blend
Everyone's sleep is a little, well, messed up these days. Give the birthday girl some essential oil to help her head get heavy. A good night's rest is the best gift anyone could ask for.
19/40
Bloomist Beach Stone Match Striker
Home décor gifts can be a little complicated if your friend is picky, but this match striker is neutral and chic enough to blend in any room that needs a candle.
20/40
Georg Jensen S/2 Bernadotte Chopsticks, Black/Silver
If she's a whiz in the kitchen or a has trigger finger for takeout noodles, she'll be eating in style either way with these super chic George Jensen chopsticks.
21/40
ADAMJK Tarot Card Deck
Now is a great time to begin to dabble with tarot–get your friend sorted out with this pretty pink set.
22/40
LEXON MINO Bluetooth® Speaker
Give your buddy the gift of sound–anywhere! No more ol' "phone in the cup" trick.
23/40
ZitSticka Killa Kit
You're a true friend to help your bestie with quarantine skin. Zit Sticka is a godsend when it comes to random stress blemishes popping up, but discreet enough to still wear on Zoom chats.
24/40
Minnetonka Limited Edition Thunderbird II
For a new easy shoe that's not quite a slipper—one your pal can wear on days indoors or easily slip on for daily strolls—these classic Thunderbird moccasins now come in poppy colors to cheer anyone up. Keep in mind that they do run a half size large.
25/40
Material Matcha MMU Starter Pack
Is her favorite matcha place closed at the moment? Now she can try to master it at home with a simple starter pack.
26/40
Piggi International Hermès Vintage Scarf Scrunchie
For your fancy but green pal, gift her a scrunchie made for upcycled Hermés scarves for a one-of-a-kind special treat.
27/40
Cast of Stones Sage and Quartz Crystal Pouch
Send your birthday girl some good vibes for the upcoming year. Literally. This little pouch has all the makings for bringing in positive energy!
28/40
Happy Socks Fruit Socks Gift Box
Socks are basically the new shoes these days, so why not help your best gal step up her game. These fruity ones are the 2022 version of an Edible Arrangement.
29/40
Grady's Cold Brew Kit
If you only see your coffee-break buddy on Zoom, send her this DIY kit from Grady's to share an iced coffee remotely.
30/40
Book of the Month 3-Month Subscription
Start a book club for you and the birthday girl and treat her to a three-month subscription to Book of the Month.
31/40
Philips Sonicare ExpertClean Toothbrush
One of those things that you'd never want to buy yourself, an electric toothbrush is not only useful but very "adulting."
32/40
Cameo Personalized Celebrity Greeting
If the gift receipt is obsessed with The Real Housewives, send her an unforgettable personalized video greeting from one of the many stars that Cameo has to offer. Keep in mind to do this in advance, as delivery times vary person to person.
33/40
Olive and June The Tool Box
We all have a pedicure buddy, and we all miss them terribly. In the meantime, send her a DIY kit to keep hands and feet looking fresh at home.
34/40
Package Free Zero Waste Market Kit
Since supermarket runs have replaced your brunch-going ways, there's no better time to set the birthday girl up with a zero-waste shopping kit. This way, she won't have to use those icky plastic bags for bulk or loose produce items again.
35/40
Papier Combed Marble
For a chic alternative to e-mail, nothing says "fancy" like beautiful paper to scrawl a handwritten letter on.
36/40
Top Sellers Collection (Jeni's Essentials)
There is no bad mood that ice cream can't fix (trust us, it's science), especially if it arrives at your doorstep. If your friend has never had Jeni's, the Top Sellers Collection will be the perfect place to start.
37/40
Crown Affair The Comb No. 001
For a "thinking of you" gift, send your buddy a chic comb that will look pretty on any surface she preps her beauty on.
38/40
Artifact Uprising Everyday Photo Book
If you can't plan a birthday trip with her, you can remember one from last year with a physical book, which is much nicer to look back at than an Instagram stories archive.
39/40
Marie Claire Give the Gift of Marie Claire
A tangible magazine is a great gift! Shameless plug on our part, but we have no doubt the recipient will love all the cool things we have coming up this year.
40/40
Madewell NATIVE UNION™ 120" XL Belt Charging Cable
Everyone loves phone chargers. Period, the end. This extra-long one allows your pal to lay comfortably in bed to scroll Instagram while keeping a charge.
•••
For more stories like this, including celebrity news, beauty and fashion advice, savvy political commentary, and fascinating features, sign up for the Marie Claire newsletter (subscribe here).
Celebrity news, beauty, fashion advice, and fascinating features, delivered straight to your inbox!
Julia Gall is the former Style Director at Marie Claire, covering all things fashion, as well as styling tips, wardrobe upkeep and sustainability. Check her out at @juliasgall.