26 Hostess Gifts She'll Actually Use
Go beyond a bottle of wine.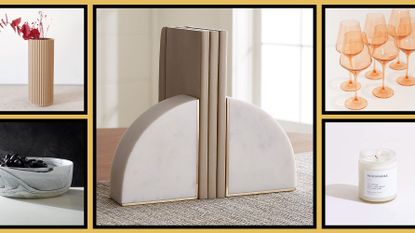 (Image credit: Design by Morgan McMullen)
Wine always seems to be the default housewarming gift, and though no one will ever turn down a free bottle—at least not me—if you're looking to go beyond a bottle of cabernet sauvignon, you've come to the right place. The trick to presenting your favorite hostess with a gift she'll love and actually use is figuring out her personality. Tailor the housewarming gift to her interests, skills, or whatever her home is still missing. (To any of my friends reading this, I'm always on the hunt for cool vases.) Once you've figured that part out, the search begins for a product that fits in your budget and looks classy or cool. I've kicked off the product hunt for you by rounding up 26 great gifts to give a hostess in 2023. These items are flexible enough that if you don't know the hostess that well, she can still appreciate and use whatever you pick from the list ahead.
1/26
HBotanicsWeddings Pampas Grass Dried Palm Spear Floral Vase Arrangement
For the Non-Green Thumb Hostess
Your friend is always saying she can't keep her plants alive, so rather than stress her out with a living thing, opt for dried florals. This colorful pampas grass bunch already comes with a vase, making it easy to gift it as is.
2/26
Blueland x Reformation Routine Clean Kit
For the Tidy Homeowner
She's all about living an eco-friendly lifestyle, from thrifting her clothes to reducing consumption of plastic. She'll definitely appreciate this collab from Blueland x Reformation, which features a cleaning kit that covers everything from laundry to the kitchen.
3/26
Brooklyn Candle Studio Candle Jar Minimalist Woodsmoke 8 Ounce
For the Nature Girl
This lightly scented candle will remind her of camp fires in the great outdoors, minus all the annoying mosquitos. She'll want to light it every night as she watches TV or reads while huddled under a blanket.
4/26
Uncommon Goods State by State Seasonal Food Guide
For the Farmer's Market Lover
Help her keep track of when produce is in season based on her region with this easy-to-read chart. All she needs to do is glance at this in her kitchen before heading off to the farmer's market.
5/26
Tea Forte Tasting Assortment Presentation Box
For the Tea Drinker
This assortment of 20 tea bags comes in a presentation-worthy box and the tea itself is scrumptious too. She can save them all for herself or share them with the unexpected guests who arrive at her doorstep.
6/26
Goodee Wine-O's Round Glass Markers
For the Wine Drinker
These colorful markers that go around the stem of your wine glass will solve all the "is this mine?" dilemma the next time you leave your drink on the table. Plus, this is the kind of gift you might not necessarily buy for yourself, but would appreciate receiving from someone else.
7/26
Uncommon Goods 3D Tic Tac Toe
For the Decor Expert
Fancy a good ol' fashion game of tic-tac-toe? This interactive piece also serves as the perfect decor item on the hostess' bookshelf or coffee table. The material is made by fair trade artisans from hand-carved Indian rosewood.
8/26
Ten Speed Press 3-Ingredient Cocktails: An Opinionated Guide to the Most Enduring Drinks in the Cocktail Canon
For the Cocktail Newbie
If her bar cart or liquor collection is missing this book, she needs it asap. With this in her arsenal, she'll become the best cocktail-making hostess of the group.
9/26
Tory Burch Lettuce Ware Hors D'oeuvres Bowl
For the Snacker
If she loves to snack and/or host game nights where snacking is as important as the games themselves, you'll need to get her this whimsical bowl for chips, dip, and more. The interlocking handles ensure no bowls go missing, too.
10/26
Crate and Barrel The Deluxe Edition Baby Keepsake Box
For the Hostess Who's a New Mom
She just had a baby and you're visiting her and the little one for the first time. Gift her this keepsake box that will allow her to preserve special items and more, so she can reminisce over the memories once the child is off to college.
11/26
COSORI Electric Gooseneck Kettle With 5 Variable Presets
For the Appliances Enthusiast
Forget stove top tea pots and the like, this electric one will make brewing tea (there are four different settings!) or coffee a breeze.
12/26
Be Rooted Be Rooted Slim Travel Journal Set
For the Writer
This journal set from a Black-owned small business is the perfect gift for the writer who journals at night or likes to document her travels in written entries. They're colorful and look great, whether displayed on her nightstand or tucked into her tote bag.
13/26
MinimumDesign Vase "Stockholm" Dry flowers
For the Vase Collector
Let her properly display her florals in this minimalist vase that has that Scandi touch. This vase is made in France from a mixture of recycled wood and bioplastic made from corn, so the composition is 100 percent biodegradable.
14/26
Crate and Barrel White Marble Bookends, Set of 2
For the Bookworm
Her bookshelf overflows with books and she's the one you go to for reading recommendations. Gift her this fashionable set of marble bookends that will keep her collection tidy and organized.
15/26
Estelle Colored Glass Stemmed Wine Glass
For the Party Thrower
It's an unspoken rule that everyone gathers at her place to party and she doesn't mind at all. Show her your appreciation for all the times you crashed on the couch afterwards (or accidentally broke a cup) by gifting her this beautiful set of colored wine glasses. They come in several other hues too, if this peachy-orange color isn't her vibe.
16/26
MoMA Self-Watering Wet Pots
For the Busy Plant Mom
She loves propagating her plants, but now she's having trouble keeping up with their different watering schedules. Ease her plant care load with this self-watering pot. It's pretty enough to display just about anywhere.
17/26
Secura Automatic Electric Wine Bottle Corkscrew Opener
For the One Who Drinks Twist Offs
If uncorking is not her forte, that's okay. Give her the confidence to open any bottle of wine with this automatic wine opener. It makes drinking a breeze, which could be good or bad.
18/26
c Five Two Silicone Oven Mitts & Pot Holders
For the Baker
Oven mitts and pot holders generally aren't the cutest, but Food52 easily solves that problem with this set of two very stylish pairs. (You can also buy the mitts individually.) The bundle is great for the hostess who spends most of her time in the kitchen whipping up delicious dishes.
19/26
Nordstrom Frosted Plush Robe
For the Homebody
It took all of her energy to host a small gathering with friends, so let her know that she did a great job and can relax after everyone's gone with this fluffy robe. She's a homebody and needs time to recuperate after super social events.
20/26
Italic Zest 6qt Cast Iron Dutch Oven
For the Serious Cook
This Dutch oven is made from premium cast iron and coated in porcelain a.k.a. it's durable and will withstand years of searing, braising, and sautéing. The orange coloring makes it a pretty gift to give and the hostess will surely want to display it front and center in the kitchen.
21/26
Uncommon Goods State Pride Coasters
For the Transplant
Remind her of where home is with these state coasters. Whether she just moved to the area or has lived there her entire life, she'll appreciate this sentimental, and functional, gift.
22/26
BLK and Bold Steeped Coffee: Limu, Ethiopia
For the Coffee Drinker
Gift the coffee drinker in your lift BLK & Bold's single serve stepped coffee packs. It's easy to make for those on the go and the coffee is freshly grounded that packs freshness and flavor.