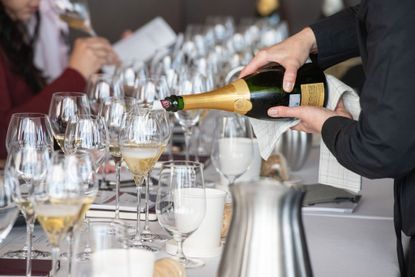 (Image credit: Future)
Wine clubs came into their own during the peak of COVID-19 lockdown, and the trend isn't slowing down. Providing us all with exciting libations direct to our doors, these clubs have changed how we drink wine, encouraging us to try new styles and grape varieties while learning more about them.
With so many wine clubs on offer, it's hard to know what's really good—wine, after all, is highly subjective The Decanter Wine Club, however, curates their club of top-scoring wines through ratings from their panel of experts. So you'll know that each and every each bottle has wowed experts in the field.
"Each shipment has been designed to offer a diverse and fascinating range of both old and new world wines in varying styles," says Editor-in-Chief of Decanter, Chris Maillard. "Every bottle has come through our rigorously independent tasting process and earned a top score from our panel of highly respected judges."
Suitable for all occasions, the club combines excellent everyday bottles with cellar-worthy ones, making it a "something for everyone" club that's worth the investment . It takes each subscriber on a journey of discovery, giving them the chance to try flavors and varieties you wouldn't find t elsewhere.
This year, . treat yourself to an exciting wine delivery from the Decanter Wine Club and enjoy a new curation of six fantastic, highly rated bottles every quarter.
Learn more about the Decanter Wine Club and the benefits of signing up.