Why Isn't Anyone Helping? An American Woman in Jordan Sheds Light on the Syrian Refugee Crisis
If the viral photo of the little boy on the beach upset you, it should have—but here's what else you need to know.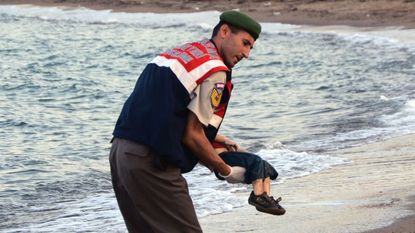 (Image credit: Getty)
Marie Claire Newsletter
Celebrity news, beauty, fashion advice, and fascinating features, delivered straight to your inbox!
Thank you for signing up to Marie Claire. You will receive a verification email shortly.
There was a problem. Please refresh the page and try again.
The photograph is unforgettable. A tiny boy lies facedown in the sand, near the break of ocean waves. Dressed in bold primary colors, he's so vivid against the dreary landscape that it takes a moment to realize he's not playing in the water.
The image of Aylan Kurdi lying dead on a Turkish beach went viral last week. He was three years old, fleeing his country's violent civil war. He drowned in the attempt, as did his mother and brother—and the shocking photo of him washed up on the shore is hard to shake.
It has grabbed the attention of the entire world in a way that four years of conflict and 11 million Syrians fleeing their homes to find safe haven never could.
I wish it hadn't taken this long.
I've met these children, these parents and families. As an American working for Oxfam in Jordan, every day I speak with people who have fled their homes in Syria in search of things most people take for granted—safety, clean water, food, an education for their children. Today there are over 4 million Syrian refugees displaced in neighboring countries like Jordan, Lebanon, and Turkey.
Each has a story that is more heartbreaking than the last. This week, I met Malak, 11, who has a two-inch scar peeking out of the wavy brown hair on top of her head. A bullet grazed her skull as she was fleeing a battle in her hometown, Homs. After extensive medical care, Malak was fine, but that close call was the last straw for her family. They fled to Jordan shortly after. Her father says their next stop is Turkey, then Europe.
After the shooting, Malak's sister was scared. "She said 'What if something happens and we have to run? I can't run as fast as you,'" recalls her father, Ahmed.
When the family first arrived in Jordan, Ahmed found work in construction. Food assistance came from the United Nations. Unfortunately, he learned that refugee status in Jordan does not guarantee a better life: not the ability to work, or the option for an indefinite stay.
He says refugees are scared to work because if they are caught doing so, they will get sent back to Syria. There's been a government crackdown on Syrians working without permits, so he is now unemployed. His food assistance was cut to $14 per month due to funding shortfalls.
But going back to Syria is not an option. More than four years into Syria's civil war, there's no political solution in sight. Government aircraft regularly drop barrel bombs on the city of Homs. The international coalition, led by the U.S., has been striking ISIS positions for over a year.
As the number of refugees rises and international aid dries up, neighboring countries have begun to restrict or close their borders. It's no surprise. Countries like Jordan and Lebanon already face water scarcity and high unemployment rates. The crisis is pressing on to Europe, where four hundred thousand new refugees are expected to reach Europe in 2015, according to a new statement from the UN.
While thousands of other refugees like Malak's father cast their gaze toward Europe, they only have one thing in mind. "All I want is for my children to have a future," he says. "I don't see that here."
Alexandra Saieh works in Jordan as a policy advisor for Oxfam America.
Follow Marie Claire on Instagram for the latest celeb news, pretty pics, funny stuff, and an insider POV.
Celebrity news, beauty, fashion advice, and fascinating features, delivered straight to your inbox!