Daughter of Sandy Hook Victim Says Hillary Clinton Is the Only Candidate Who Will Fight the NRA
Erica Smegielski's mother was the principal at Sandy Hook Elementary. Tonight, she will tell her story on the DNC stage.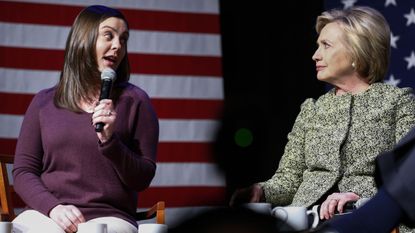 (Image credit: Getty)
Ever since December 14, 2012, Erica Smegielski has dedicated her life to ending gun violence. Her mother, Dawn Hochsprung, was the principal at Sandy Hook Elementary School in Newtown, Connecticut, and died while trying to protect students from gunfire. Four years later, Smegielski is the partnerships manager at Everytown for Gun Safety, a growing movement to stop gun violence in America–and she will make an emphatic case for gun control on stage at the Democratic National Convention tonight.
Both Hillary Clinton and her running mate, Senator Tim Kaine, have made gun control a cornerstone of their campaign. Smegielski even appeared in an ad for Clinton in which she talks about getting married without her mother by her side.
She also stars in a just-released video for the DNC, talking about the horror of that day:
Smegielski will speak alongside other women who have been impacted by gun violence: Felicia Sanders and Polly Shepherd, who survived the shooting the shooting in Charleston, South Carolina, and Christine Leinonen, Brandon Wolf, and Jose Arraigada, the mother of a victim and two survivors, respectively, of the Orlando nightclub shooting.
Smegielski spoke with MarieClaire.com before taking the stage about what gun control really means to her, and why the 2016 election is so crucial to her fight.
Marie Claire: What are you planning on addressing in your speech?
Erica Smegielski: The main point is that for many, many Americans, particularly many politicians and elected officials, the issue of gun violence prevention is really a faceless issue. The unique impact that survivors can have on that is really giving a face to the statistics that people see all of the time. Secretary Clinton has taken the time throughout the country to meet with survivors of gun violence, learn our stories, and, I mean, geez, she's dedicating a platform to gun violence prevention. For the first time, we're really seeing this on a national level. In 2012, just five months after the Aurora shooting, guns were not even talked about in the presidential election, and Hillary, she's running on guns.
@EricaSmegs practicing for her speech tomorrow. Standing OOOOOs. pic.twitter.com/Nmb19H9S2hJuly 26, 2016
See more
MC: What are the main differences between Democratic and Republican platforms on gun control?
ES: It's really a matter of common sense. What we hear a lot from the other side of the aisle is that it's all about mental health—we need to fix the mental health system. But say we did that, say we put all this money into mental health (and they're not even willing to do that). How do you know whether or not you're selling to a safe person if you don't do a background check on every gun sale? It's something the majority of Americans agree on, the majority of gun owners agree on, and the majority of NRA members agree on. But it's really the NRA leadership and the extreme powers of the gun lobby that think they can buy and sell politicians. And the 2016 election is absolutely going to be the tipping point.
MC: How did you feel about guns before the Sandy Hook shooting?
ES: A lot of my family members are gun owners. Right when my mother got into teaching, there was [the Columbine school shooting], and that terrified her. I grew up in a home where I wasn't allowed to have a Nerf gun. But I have family that live in rural Pennsylvania and that's just kind of part of their culture and way of life. I completely understand that, but there really is a balance between hunters having guns, having a gun to protect your home, having a gun because you like to collect them, and having a gun because you enjoy going to the shooting range. But do you need an arsenal?
MC: You're really active on social media, and I've seen you tweet about the convention. I have to assume that comes with a lot of backlash and abuse. How do you deal with that on a daily basis?
ES: Literally, in the past 24 hours, I have probably reported 100 people for harassment or abuse. Unfortunately it's such a controversial issue that there are going to be people who have the extreme opposite view, and think everyone should walk around with a gun on their shoulder. But I'm looking at it from the side of, why should I bring my nephew into a grocery store and say, "Look, sweetheart, I know you're 6, but that's an AR-15, that's the one that Grandma was killed with?"
MC: What has it been like to see these mass shootings continue? What goes through your mind every time something like Orlando happens?
ES: Orlando hit particularly hard because it took so long for the bodies to be identified and the families to be notified. I know what that wait is like, and it's excruciating. As crazy as this sounds, I was almost relieved, maybe, when they finally said, "OK, the 49th victim has been identified and we've communicated that with the family." The massive list of names could finally be released, and they're not feeling what I was feeling anymore. They're not going through that excruciating wait. Not that it's better to know, because it's not, but I just felt like when the wait was over, there was a sense of relief. But it really just shakes you to your core and brings you back to that day and puts you back in the room. You smell the smells, and you hear the sounds, and you can visualize the people every single time.
MC: What do you recommend people do if someone they know has been affected by gun violence?
ES: Don't ask them how they're doing. That is a question that drove me crazy for probably two years. I used to say a lot to my friends, and my now colleagues when I first started volunteering with [Everytown], take the kid gloves off and don't be scared to talk to me. Like, yeah, a really, really awful thing happened to me and my family, but what I appreciated the most was when people were real with me. I got angry, I would yell and scream and cry, and then not talk, and go through all of those varying moods. And what I needed was for somebody to call me on it, and say, "You know, you're being a little emotional today. Do you maybe want to go home and just watch movies? Or do you want me to take you out to dinner?" Try not to let your relationship change. Because that was one of the hardest things for me to deal with, is really trying to have to redefine what the terms "friends" and "family" meant to me.
MC: Why is Hillary Clinton the best candidate when it comes to gun control?
ES: She is the only person that has what it takes to stand up to the gun lobby. And I think it's that simple.
To read more about guns and mass shootings in the U.S., see our feature story here.
Celebrity news, beauty, fashion advice, and fascinating features, delivered straight to your inbox!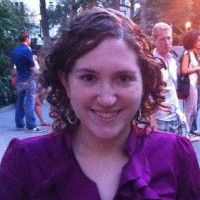 Megan Friedman is the former managing editor of the Newsroom at Hearst. She's worked at NBC and Time, and is a graduate of Northwestern's Medill School of Journalism.